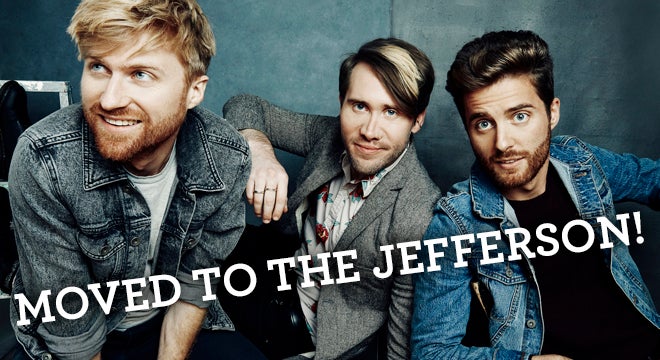 Jukebox The Ghost / San Fermin - *MOVED TO THE JEFFERSON*
Sat, Sep 30, 2017
Jukebox The Ghost / San Fermin - *MOVED TO THE JEFFERSON*
with Secret Weapons
Due to popular demand, Jukebox The Ghost / San Fermin with Secret Weapons has been moved to the Jefferson Theater. All tickets purchased through the Southern will be honored.
About Jukebox The Ghost:
Jukebox the Ghost is a band of musical survivors, a decade-strong trio that has carefully considered how to make a lasting statement while grinding out more than 150 shows a year. With their new self-titled album, Jukebox the Ghost unmistakably makes that statement…in the form of a big, lovable pop record. Jukebox the Ghost may be the tortoise in the race, but they've slowly, steadily made their way to the top.
Ben Thornewill, Tommy Siegel and Jesse Kristin had tossed around a few names for the album title between themselves but none expressed the confidence they had in the new material as much Jukebox the Ghost. Everything is clicking on Jukebox the Ghost: the intricate rock arrangements are juxtaposed with juicy sing-along choruses, and the whip-smart, searingly honest lyrics are delivered with beaming confidence and irresistible warmth. By looking at themselves in the mirror—Thornewill calls the album a "self-evaluation," while Siegel describes it as a "reinvention" – Jukebox the Ghost has come up with its strongest album to date, and easily its most accessible.
Jukebox the Ghost was released on October 21, 2014 on Yep Roc Records. Later that year, after hearing "The Great Unknown" in a movie trailer for 2014's hit The Judge, Martin Kierszenbaum's daughter brought the band's new record to his attention, and in early 2015 he signed the band to Cherrytree Records, his successful imprint known for releasing juggernaut pop artists like Ellie Goulding, Disclosure, Feist, and more. Cherrytree will reissue the self-titled album with a special bonus disc in February of 2015.
"After the work and care we put into the songs, in choosing them and arranging them, by the time it was finished, we all came around to feeling like this record is who we are," says pianist-vocalist Thornewill.
Instead of hurrying through the follow-up to 2012's Safe Travels, the trio took its time piecing the track list of Jukebox the Ghost together, coming up with 50 demos over a 10-month period. There was only one goal, and it was uncompromising: to mine the best songs of the group's career.
"Even after the song selection was done, we really took a closer eye at the arrangements than ever," Siegel says. "As a result, the instrumentation is a pretty big departure from anything we've done before. We tried to step outside of the guitar-drums-piano box and do whatever textures seemed to fit for each individual song."
Jukebox the Ghost is the band's fourth album, its second produced by Dan Romer (A Great Big World, Ingrid Michaelson), and its first with additional production by Andrew Dawson (Kanye West, fun.). Unleashing more catchy melodies in its first six tracks than one might expect to hear from a career pop artist's entire catalogue, there is ample proof on Jukebox the Ghost of how fierce the paired songwriting powerhouse that is Ben Thornewill and Tommy Siegel, combined with Jesse Kristin's razor-tight and musical drumming, has become after years of road and studio experience. Trading multi-song suites and theatrical turns commonly featured on previous Jukebox records for the song format it knows best, Jukebox the Ghost's self-titled album is curated as an unapologetic pop record start to finish. Yet, one hears the band taking bold risk and adventure.
While lead single "The Great Unknown" soars with anthemic rock adrenaline that stays close to the band's long-honed piano-rock sound and has seen the band's highest success at alternative radio, the songs "Made For Ending," "Sound of a Broken Heart," and "Postcard" all take a different direction and combine the band's power-pop composition with R&B and hip-hop flair. Punchy drum samples and rhythmic synthesizers cast glitter upon Jukebox the Ghost's ever-strong songwriting core on Jukebox the Ghost, making it the band's most modern-sounding and ambitious work. On "Girl" singer-pianist Thornewill showcases his soulful vocal ability, powerful as ever, crooning over a steady mid-tempo number flush with snaps, a bass groove, and little else. The track "Postcard," produced by Andrew Dawson, throws Thornewill's confident vocals and punchy piano performance against a backdrop of lush synths and hip-hop-inspired grooves to create something truly new for the band. Uncharted territory doesn't stop there.
The nostalgic acoustic anthem "Long Way Home," features guitarist-vocalist Tommy Siegel and Thornewill trading lead vocals, an alternating-lead-vocal style used for the first time on a Jukebox the Ghost record. If that isn't enough new ground, for the first time, drummer Jesse Kristin provides lead vocals on "Hollywood" over a lounge-jazz piano prelude that quickly descends into punchy pop distinctive of the band's past, but through a considerably new lens. Amidst so much studio experimentation, one of the most groundbreaking and exciting steps for the band while making this record, was (somewhat counterintuitively) playing less. Sparseness reigns supreme on the haunting vocal-and-Rhodes showcase "Undeniable You" and on the crushing album-closer "Show Me Where It Hurts," the latter of which features just Siegel's vocals, Thornewill's piano, and a heartbreaking string arrangement by producer Dan Romer reminiscent of his score for the Oscar-nominated film Beasts of the Southern Wild.
Jukebox the Ghost arrives after years of accruing a diehard following while remaining one of the hardest-working live acts in music. The group's quirky songwriting and breathtaking performance skills have led the trio to share stages with Ben Folds, Jack's Mannequin, Motion City Soundtrack and Guster, while being one of Yep Roc's lynchpin artists since signing to the label in 2010. Jukebox the Ghost has dazzled on big stages, such as when the group rocked The Late Show with David Letterman, showcasing the vibrant pop-rock workout of "Schizophrenia" on late-night TV. The band recently returned to late-night TV where they performed the song "Postcard" off of the new self-titled album on Conan.
After nearly a decade of incessant touring, recording, and hard work to establish a passionately devoted fanbase, Jukebox the Ghost has finally given its ghost logo, sketched during the first hours of the band's existence, the album cover of its proudest effort yet.
About San Fermin:
San Fermin's third studio album, 'Belong,' marks a shift in songwriting perspective for bandleader Ellis Ludwig-Leone. "In the past I'd usually write through characters from books or movies, as a way to try to distance myself from what I was writing about," says the Brooklyn-based artist. "As I've become more confident as a songwriter, I decided that I could drop some of the artifice and write something more direct." In bringing a more personal slant to his music, Ludwig-Leone found himself confronting such matters as disconnection, displacement, and -- perhaps most significantly -- everyday anxiety. "Anxiety is something I've dealt with since I was a kid, but on this album I talked about it more explicitly than I ever had before," he points out.
Produced by Ludwig-Leone and brought to life by his fellow performers -- lead vocalists Charlene Kaye and Allen Tate, trumpet player John Brandon, saxophonist Stephen Chen, violinist Rebekah Durham, drummer Michael Hanf, and guitarists Tyler McDiarmid and Aki Ishiguro -- 'Belong' unfolds in warm, intoxicating textures that both contrast and intensify that sense of unrest. The album's hypnotic sound is embodied in "No Promises," a shimmering pop opus about the fear of disappointing those who've placed their trust in you. On the quietly frenetic "Bride," San Fermin conveys a fear of commitment by juxtaposing the idyllic imagery of wedding flowers with a detailed account of suffering a panic attack. And with "Dead" (a song about "not wanting anybody to depend on you," according to Ludwig-Leone), the band telegraphs defiance in a gorgeously jagged arrangement built on clattering rhythms and Kaye's penetrating vocal performance.
Elsewhere on 'Belong,' San Fermin explores the intersection of desire and danger (on the subtly sinister "August") and paints a tender portrait of self-destruction (on "Perfume," a sweeping and cinematic track laced with piercing lines like "You can lose anything that you put your mind to"). On the brightly charged and bravely candid "Better Company," meanwhile, Tate's intimate vocals meet with stomping beats and furious strings. "That song is about my lifestyle when I'm not on tour, how I just sit in the basement and work on music and the house is kind of a wreck," says Ludwig-Leone. "It's recognizing how I don't always keep myself the best company." One of the album's most powerful tracks, the slow-building "Belong" finds Tate and Kaye trading off verses to conjure up moments of gentle devastation. "'Belong' is about loving someone really deeply but also having the sad realization that you're not always present with them," says Ludwig-Leone. "But at the same time it's also saying that that's not necessarily wrong. It's about acknowledging the isolation within love."
Throughout 'Belong,' San Fermin brings both elegance and raw passion to their performance, an achievement that Ludwig-Leone attributes to the band's increasingly potent chemistry. "One of the nice things about this record was that, for the first time, I was writing for people I know super well and have performed with hundreds of times," he says. "I feel like I really understand these musicians now and know what they want to do."
For Ludwig-Leone, one of the greatest joys in making 'Belong' was bearing witness to his band's evolution. "It's amazing to me that this thing I started by myself now has a shared consciousness and a life of its own," he says. Describing 'Belong' as "a record about realizing that you can't always live with yourself, and finding a way to be okay with that," Ludwig-Leone also notes that the album allowed him to reexamine the possibilities in songwriting. "There was a catharsis to writing these songs, where I was dealing with stuff that had been bubbling under the surface for a while," he says. "I don't think writing actually fixes anything -- but it helps you to name the problem and maybe figure out how to live with it, and sometimes that's enough."
Originally from Massachusetts and raised by artists, Ludwig-Leone began making music at age eight and later studied music composition at Yale University. After a job assisting composer Nico Muhly, he founded San Fermin and released their full-length debut in 2013, which NPR called "one of the year's most ambitious, evocative, and moving records." The band's sophomore album 'Jackrabbit' arrived in April 2015, debuting at #8 on Billboard's Heatseekers chart and solidifying the band's spellbinding live show. Lauded as "explosive" (The New York Times) and "exceptional" (The Wall Street Journal), San Fermin has sold out shows worldwide, appeared at such festivals as Lollapalooza and Austin City Limits, and has opened for the likes of St. Vincent, The National, Arctic Monkeys, and alt-J.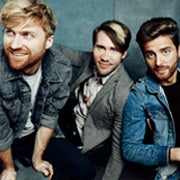 SHOWINGS
This event has already occurred.