Fri, Jun 27, 2014
Mingo Fishtrap
with William Walter & Co.
It's been quite the rollercoaster ride, but the eight members of Austin's critically-acclaimed soul collective Mingo Fishtrap have found their sweet spot. Now four albums deep, the eight piece outfit has honed its sound, rubbed shoulders with musical idols, and delivered powerhouse live shows to crowds of thousands in the years since the band's inception in a tiny dorm room in Denton, Texas. "We've experienced a lot of milestones and challenges in our lives together," says founder Roger Blevins, Jr. "It's easy to reminisce, even about moments that have just happened, but you reach a place in your life where you finally feel comfortable that that's where you're supposed to be."
Mingo's fourth full-length record, the aptly-named On Time (due June 3 on Blue Corn Music) blends punchy horns and gritty Memphis grooves with N'awlins funk to create sounds steeped in both modern pop and sixties soul sensibilities, that transcend both era and genre. "My first love is classic sixties soul, funk, and Motown," says Roger. As the band has grown, this early love affair has become a bigger part of Mingo's musical landscape. "There was a time early on when we were really into these crazy, bombastic arrangements," he explains. "Now it's more the song, the groove and the overall feel."
The infectiously catchy "End of the World" gets the record off to a sizzling start with buttery vocals, dance-floor-ready drums, and the plaintive refrain — if tomorrow never comes, "would you love like it's the end of the world?" Muted drums segue into swirling vintage keys and sax on "Mason Jar," while title track "On Time" serves up saucy Motown grooves. "Sugadoo" keeps the good times rolling as Blevins belts, "Sugadoo, what you gonna do? Have yourself a slice of my pie, too," atop smoldering vocal harmonies and funky brass arrangements.
"Our first couple albums were made more traditionally, in that we went into the studio for a couple of weeks and did everything in one place, under one set of 'rules'," says Roger. "On Time was made more guerilla style as we've gotten busier with touring in the past few years. About half the songs are ones we'd been living with on the road for a while, and others we haven't played live once since the studio." The result is a record that feels simultaneously familiar and fresh — a sound the band also strives for in their dynamic live shows.
Audiences can always expect spontaneity and heart from a Mingo set, where the band intermingles fresh takes on songs from their extensive catalog with their twist on a few select soul standards. "When something feels a little a stale, we'll change up the arrangement to keep it feeling new," says Roger. "You don't want to change so much about a tune that it becomes completely unfamiliar, but folks who are a part of our musical world also expect some experimentation. We don't want a solid wall of sound; we want to create a whole night of music, with a natural ebb and flow."
Mingo Fishtrap are Roger Blevins, Jr. on lead vocals and guitar; Dane Farnsworth on vocals, organ, and keyboards; Chip Vayenas on vocals and drums; Mikel Urdy on percussion; Roger Blevins, Sr. on bass; Steve Butts on trumpet; Dan Bechdolt on tenor and alto saxophone; and Zol Waterhouse on trombone. "Folks that come from a big family can probably relate," says Roger of the experience writing, recording, and touring with such a big, diverse group. "There are lots of mouths to feed, but also so much talent and so many resources."
Mississippi native Roger first formed Mingo while studying music at the University of North Texas in Denton, Texas. Despite the band members' impressive musical résumés and technical prowess, Roger emphasizes that what really makes a song meaningful is its ability to connect with listeners of varied backgrounds. "We're not trying to play music just for musicians," he explains. "You can listen to a great orator speaking in a different language, and while you may not get all the details, you can still feel the passion if he really emotes. If you're passionate about the idea of a tune, it'll come across."
What started as a casual jam session with friends blossomed over time into an impressive eight-piece ensemble that evoked fond memories of listening to soul music as a kid. "Pops [Mingo's bassist, Roger Sr.] always had soul and R&B on the stereo, and then he was playing those tunes every night. So that was what I grew up with. Then, when I was maybe eight or nine and living on an Air Force base, all my little friends used to go to Catholic Sunday School on Sunday mornings, so I'd tag along. After that let out, we heard this gospel music wafting from the chapel," explains Roger. "The deacon saw our raggedy jeans and cut-off shorts and said we weren't really dressed for an audience with the Lord, but he let us watch from the balcony. That became our regular stop. It was really moving, even though I didn't fully understand it at the time."
While the band's name comes from a crossroads just outside of Denton, Mingo has long since extended its reach onto the national music scene, sharing stages with the likes of Trombone Shorty, Parliament, Sting, Little Feat, Earth Wind & Fire, Robert Randolph, Galactic, and MOFRO — but they still experience their fair share of humbling moments. After playing a show at MusikFest in Bethlehem, Pennsylvania, they noticed an oddly familiar-looking gentleman dancing in the crowd. "We got offstage, and when he walked up, he handed me his business card," recalls Roger. "It was Bernard Purdie, one of the session drummers with James Brown. He'd recorded some of the very songs we'd just played. And he was dancing… Those kinds of moments are hard to beat."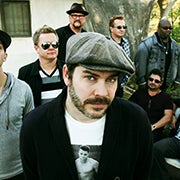 Doors

7:30 PM

Show

8:00 PM

Price

$12 Advance

$15 Day of Show
SHOWINGS
This event has already occurred.