Fri, Jun 15, 2018
New Boss
with The James Badfellows and LADADA
Charlottesville, Virginia's New Boss is the brainchild of guitarist Thomas Dean (Order, Invisible Hand). The lineup is rounded out by Parker Smith (drums, also Order), Jordan Perry (guitar/vocals, Eat Forever, My Mind), Scott Ritchie (bass, Errantry, Great Dads), Nick Rubin (keys), and Devon Sproule (vocals).
Since 2015 New Boss has churned out recordings and has played spots like Raleigh's Slim's, Chapel Hill's Cave, and DC's Rock 'n Roll Hotel, as well as the fabled 9:30 Club. New album Third Sister (Warhen Records) is the first to feature vocals by Devon Sproule.
Re: New Boss
Vibrant, rambling power-pop […] an expert and exciting take on the swagger and style of its various rock and roll influences--from the loose grooves of late-era Velvet Underground to Big Star and Belle and Sebastian, and all the places in between. – 9:30 Club, Washington, DC
Ecstatic, stompy+stormy power pop with riffs to die for. – Gallery 5, Richmond VA
Listening to New Boss is like sending your brain to the beach. Their lo-fi approach is well-executed and carries their sound perfectly, with the right amount of twang and dance beats provided by premium drumming. The melodies are easy to lose oneself in, but they're hard to leave behind. If you like Yo La Tengo or Belle & Sebastian, you'll love New Boss. – Jonathan Goodwin, The Deli DC
The perfect mix of indie and pop. – Work Release, Norfolk VA
Re: Third Sister: This is quickly becoming one of my go-to records. I am a big fan of New Boss and for good reason. – Jack Bishop, WJKO Radio
Re: Home Problems:
The high-brow pop and glam moves are on full blast…chord heavy songs with huge guitar riffs, keyboard hooks and intricate vocal arrangements stay just on the rocking side of baroque. – The Modern Folk Music of America
Fuzzy, hook-driven, psych pop goodness. – 3hive.com
Re: Twee Boogie Vol. 1 & 2 (Funny/Not Funny):
Just a solid cassette full of rock that can go back in time and be modern at the same time. You've gotta love it. – RaisedByGypsies.blogspot.com
New Boss wears several influences on their sleeves throughout this tape, including pioneers in the 'twee' genre mentioned in the title […] as well as some serious glam moves. […] A journey through the possibilities of a thinking man's pop/rock'n'roll. – The Modern Folk Music of America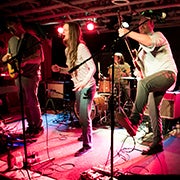 Doors

6:30 PM

Show

8:30 PM

Price

$7 General Admission
SHOWINGS
This event has already occurred.