Sun, Nov 18, 2018
Six Pack Songwriter Series to Benefit PACEM
with Chloë Ester, Rob Cheatham, Susie and The Pistols, Justin Storer, Rusty Speidel, and Andrew Neil
Founded in February 2012, The Six Pack Songwriter Series' Mission is simple: To provide a broader audience to songwriters who call Virginia home. Over the last three years, the show has relocated from Lovingtston to Charlottesville and performed to thousands.
About PACEM:
PACEM is a grassroots organization that coordinates space and volunteers to provide shelter for individuals in our community who are homeless. More than 80 faith congregations and community groups and 3,000 volunteers in the Charlottesville area come together each winter to address the need for shelter by opening their doors, serving evening meals, giving financially, and providing companionship. PACEM believes that a welcoming, safe place to shelter is the first step to addressing the crisis of homelessness.
About ​Chloë Ester:
Chloë Ester is Charlottesville-native songwriter who pours indie and folk roots into her distinctively raw music; the resulting songs layer aching melodies over the urgently honest lyrics that have earned her the nickname 'Melanchloë.'
About Rob Cheatham:
Rob Cheatham is a singer/songwriter from Charlottesville, VA. He has played in hard working bands for many years such as, The Nice Jenkins, Gunchux, and The Borrowed Beams of Light. Rob was born and raised in Richmond, VA. He left Richmond for Philadelphia, PA in 2002 where his desire to write and produce music became reality. Rob began working with Joe Moore in a small studio in the Fairmount neighborhood of Philadelphia. He worked with musicians from many different genres and learned about the craft of writing and creating. He then moved to Charlottesville, VA where he co-founded the The Nice Jenkins, an indie pop band with cacophonous sound and energy. He then quickly became entrenched in the Charlottesville music scene where he remains an active and vocal leader. His music reflects the character of the places where he has lived and grown. The newest album "Villains and Ghosts" is an Americana/Country album that paints detailed portraits of American life. at www.robcheatham1.bandcamp.com and Rob Cheatham Music on Facebook.
About Susie and The Pistols:
With a good-timing mix of sawdust-floor honky tonk, 70's barroom feels, outlaw country, Cajun vibes, blue eyed soul, and exquisite three part harmonies, Susie & The Pistols is an Americana Rhythm and Blues band dedicated to making music that feels good and sounds great.
Featuring Susannah Hornsby (Red Rooster) on vocals and accordion, Andrew Green (Roosevelt Dime) on vocals and guitar, Michael Clem (Eddie From Ohio, Michael Clem Trio) on vocals and bass, and Paul Rosner (Trees on Fire, Bobby Midnight Band) on vocals and drums, this veteran group of accomplished musicians' thoughtfully penned original songs and classic deep-cut favorites are equally right at home on rowdy Saturday nights and clear blue Sunday mornings.
About Justin Storer:
Charlottesville-based singer/songwriter Justin Storer fronts the Brooklyn/Charlottesville Americana quintet The Working Effective. The band's songbook features memorable melodies and jangling rhythms, delivered with Storer's amiable and often quietly hilarious stage presence. The Working Effective will take you places, with stops at all the major junctions of modern adulthood. From sharing drinks and dreams with friends and lovers, to the hard deals we make to get by in the world—the songs are a rail ride through American life.
The band's frontman and ace songwriter, Storer is a geographical wonder—a West-Coast born Southern who made his bones as a songwriter in the Brooklyn folk scene. As a fixture of the Big City Folk and Local Correspondents musical collectives, Storer has toured nationally and internationally, and he's appeared on a staggering number of records not least of which are his own solo debut Hot Water Sunday and The Working Effective's Dear Brooklyn. On nights when he's not fronting the full band, he's often playing solo—road testing a new batch of songs on a stage somewhere between NYC and North Cackalacky.
About Rusty Speidel:
Rusty Speidel is a long-time Charlottesville resident and musician. He started playing solo and duo shows in Cincinnati OH as a high school kid and has been doing it ever since with SGGL, his long-time band, and a multitude of musical partnerships with other regional bands and solo artists. In addition to four SGGL albums, Speidel has contributed to a variety of local and regional albums from Michael Clem, Michael Coleman, John Kelly, Ashley McMillen, John Tracy, Kingdom of Mustang, Big Circle, and many others. He's also a songwriter in his own right, and will contributing those talents in particular to this event.
About Andrew Neil:
Andrew Neil Maternick (born August 9, 1988) also known as "Andrew Neil", is an American singer-songwriter, musician, and poet who is a rising figure in outsider [1] and lo-fi,[2] music scenes. Most of his work consists of self recordings he recorded alone in his home and at Western State Hospital while he was a patient there from 2014 – 30 Apr 2017. His music is often cited for its authenticity and an almost childlike, yet uncompromising lyrical approach.
Maternick has spent extended periods of his adult life in psychiatric institutions and has been diagnosed with Schizoaffective Disorder and Complex Post Traumatic Stress Disorder (PTSD). He has gathered a small, but significant following by posting his music on various music sites such as Reverbnation and soundcloud. He would also pass out CD's of his music to random strangers.
In July 2013, he stabbed his younger brother in the arm during a psychotic episode. He was found Not Guilty by Reason of Insanity (NGRI) and committed to a State Hospital in Virginia.[3] While a patient at Western State Hospital, he wrote and self-recorded nearly 70 songs in the confines of his room. Upon conditional release from the hospital, he and his father decided to select a number of those songs and produce an album called "Code Purple - Andrew Neil".[4] This Album "Code Purple - Andrew Neil" is the only record album ever produced in which all the songs were written and recorded in a State Mental Hospital.
Andrew Neil released his first studio album, "Merry Go Round" on 1 September 2018. The album was produced by songwriter and music producer Andy Waldeck,[5]a founding member of the late 1990s Alternative Rock band Earth to Andy and who has collaborated in songwriting endeavors with Robert DeLeo and Chris Daughtry. Notably "Merry Go Round" features drummer Nathan Brown, a founding member of the 1990s Alternative Rock band Everything (band), best known for their 1998 hit "Hooch". The title track to "Merry Go Round" has been described as having "a seemingly math rock and shoegaze imbued aesthetic. His riffs are reminiscent of bands like Polvo and Slowdive.[6]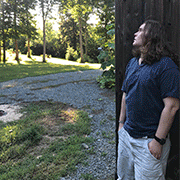 Doors

5:00 PM

Show

7:00 PM

Price

GA Seated with Standing Room

$10 Advance

$12 Day of Show
SHOWINGS
This event has already occurred.