Thu, Dec 13, 2018
Strong Water & Rob Cheatham
with Wylder
About Strong Water:
In 2013, Strong Water lead singer and guitarist Greg Brennan finished his American Literature course with something better than an A: the perfect name, borrowed from the Puritans, for his whiskey drinking, Americana/Folk band.
And like a good shot of its namesake, Strong Water is smooth with a raw, inexplicable bite, garnering inspiration from artists such as Noah Gundersen, Mumford and Sons, and The Lone Bellow, yet remaining unafraid to break the conventions of its genre with a pulsing drum beat or a reggae breakdown. Metaphor-laden lyrics are inspired by the intersection of seeming opposites: love and loss, anticipation and nostalgia, courage and fear, and by the surrounding beauty of the Shenandoah Valley. Their textured sound is, "Complete with howling banjos, two-part vocal harmonies and driving drums" as described by The Burg, a Lynchburg outlet that named Strong Water as one of five acts to watch at music festival Lynchstock 2017.
Originally formed as a duo in Harrisonburg, Virginia's vibrant college town, Strong Water swelled to a six piece before dropping off to its original founder, Brennan, as band mates graduated and moved away from the "Friendly City." What could have easily died a nostalgic college memory was reborn with the addition of classically trained fiddle player JJ Hostetter, drummer Evan Hunsberger, and banjo player Tim Cannon.
Strong Water graduated from the term college band after releasing an EP in 2014 that received overwhelming support from Harrisonburg's thriving underground music community. In 2016, Strong Water responded with a 14 track self-titled album and began touring the Mid Atlantic on the weekends, gaining attention from larger venues and artists, all while holding down full-time jobs.
Most notably, in September of 2017, they opened for the Grammy-Award winner, The Steel Drivers at a sold-out show at The Hamilton in Washington, DC .
Shortly after, in October they released their single "Bearfoot," the title track in their upcoming album (out Sept. 22, 2018), before taking a brief hiatus from touring as three band members get married and the album is finalized.
About Rob Cheatham:
Rob Cheatham is a singer/songwriter from Charlottesville, VA. Rob grew up in Richmond, VA but has lived back in forthbetween Charlottesville,VA and Philadelphia,PA in recent years. The new record, Villains and Ghosts, is an Americana/Country album that paints detailed, real portraits of American life. The first single, I know you're gonna break my heart is in rotation on stations across the U.S.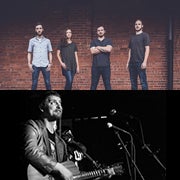 Doors

6:00 PM

Show

8:00 PM

Price

$7 General Admission
SHOWINGS
This event has already occurred.