Thu, Sep 7, 2017
The Anatomy of Frank
with Wes Swing
About The Anatomy of Frank:
Balancing grand ambition with delicate art in the face of adversity is a fine line to walk, but The Anatomy Of Frank learned to thrive while enduring. With a goal to record an album on each of the seven continents, the Charlottesville, VA band moves one step closer with "South America." Recorded in Ecuador, the album is an exploration of nostalgia, relationships and mortality through introspection and assured indie-rock, and this concert will mark its release.

Following 2015's North America, the band found themselves in a state of disarray with the departure of two members. Condensing into a three-piece after half a decade, the change forced Kyle Woolard (guitar, vocals), Jimmy Bullis (keyboards) and Max Bollinger (drums) to re-orchestrate their sound and evolve into something new. During this time, morale sank deeply, but the transformation also proved advantageous—this unexpected change breathed new life into the band's identity, allowing a fresh sound to persevere.

Armed with this newfound motivation and a tight sound for what would become South America, The Anatomy Of Frank were set to begin recording in Ecuador. But more challenges unfolded when the band experienced the loss of a loved one, which would affect each member personally, and inevitably, their work. How do you process pain without succumbing to it? The tendency toward escapism is a programmed reaction, but one that the band would avoid by doing the exact opposite: they dove right in and began exploring their emotional turmoil through their art.

South America was recorded with Stephen Cope in a private farmhouse in the Ecuadorian mountains in 5 short weeks, as the band tackled anxieties of fear and loss head on. With a drip-feed of family and friends providing a source of inspiration during the recording sessions, the trio would take trips to the Amazon or spend time in the mountains to rejuvenate their spirit.

South America is a triumph of powerful and captivating human experience that brings forth questions which plague all of our seemingly unique experiences. Do past mistakes define who we are today? Are we worthy of love when we are told we're covered in sin? Why is it easier to forgive others than it is to forgive ourselves? Can we do away with regrets and live with love? As the band cracks open their subconscious, they find the answers they long for.

With a quiet hush that packs an emotional punch, the album provides profoundly descriptive stories and melodies that are immersive and entrancing in their tenderness. By exposing their own vulnerabilities, The Anatomy Of Frank allow their listeners a look behind the curtain into their most personal thought processes, reassuring the listener of the endurance of spirit and the courage that lies within.
About Wes Swing:
Wes Swing is a singer, cellist, multi-instrumentalist and composer from Virginia. Swing's style of composition draws on classical, folk and alternative rock influences to create a "rich and lilting soundscape" of "beautifully swelling cello-folk." In live performance he loops his cello and violin to create deeply enveloping string sections to which "Swing demonstrates his vocal prowess with delicate intonation," delivering lyrics imbued with poetry.

The new full-length album And The Heart is an ambitious blend of Swing's signature chamber-pop songwriting with analog electronics produced by Paul Curreri. Using deliberately sparse and stark instrumentation, the album offers stunning vocal performances on "Sing To Me" and "Mirrors." These sections of intimate and personal performance transition beautifully into electronic escapades and flourishing full-band crescendos. With this album, Swing takes another step into the avant-garde of alternative folk.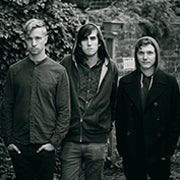 SHOWINGS
This event has already occurred.