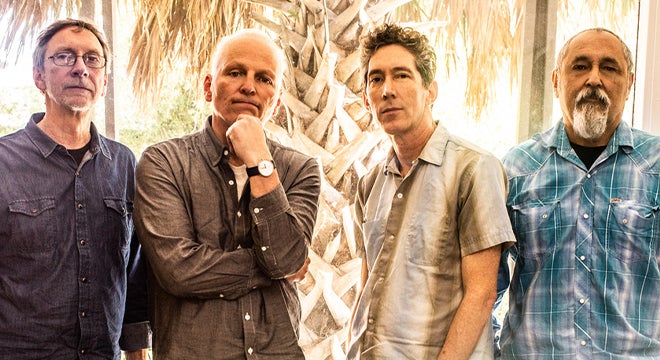 Sat, Aug 17, 2019
The Iguanas
with Lynn Drury
What if Americana actually encompassed ALL of North America? You'd have the Franco Acadian inflections of Canada, as best exemplified by the accordion, blues and jazz, the only truly indigenous music the US has ever produced, and the lilting grace and fiery passion of the music of Mexico. You'd also have New Orleans' premiere distillers of this continental musical melange, The Iguanas, and their new album Juarez.
Taking their cues from all of the above influences and then some, Juarez, the band's first studio album since 2012's Sin to Sin, redefines the notion of Americana, crossing cultures, styles, eras...and even languages. It's as if Rue Bourbon, Muscle Shoals and Plaza México were all within earshot of each other and The Iguanas were the musical conduit between them. Based out of New Orleans for the past couple of decades save for a short, Katrina imposed exile in Austin the members of the Iguanas have (collectively or individually) played or recorded with everyone from Charlie Rich, Alex Chilton, and Willie DeVille to Emmylou Harris, Allen Toussaint, and Pretty Lights.
Their two decade ride has taken them all over the map musically and geographically, yet the inescapable patina of their hometown infuses every note they play. Through eight studio albums, countless tours and Jazz Fest appearances, and a flood that did its best to take their adopted city with it, it's a testament to the band's endurance that the same four guys that started playing in the early 1990s are still together.
Joe Cabral is philosophical about the band's persistence in the face of challenges that would have felled indeed have felled lesser bands. 'First of all, this is all we know how to do; we're musicians. But more than that, he continues, 'we respect the power of the band as an entity, and each individual in the band steps up to play his part. When it's good, that's really what it's all about.'
Rod Hodges agrees. 'I don't want to get all heady and mystical about this, but it's not really an outward reward we're looking for. We all enjoy playing music, we all get along, and finding a group of people who can say that after all this time is a rare thing.'
About Lynn Drury:
A PERFORMER SINCE CHILDHOOD, LYNN DRURY'S FIRST ACCOLADE WAS AT THE AGE OF FIVE. SHE WON A 4-H POLE-BENDING COMPETITION IN HER NATIVE MISSISSIPPI. THOUGH HER RODEO CAREER DIDN'T FOLLOW HER INTO ADULTHOOD, SHE WAS PRIMED AND READY FOR THE SPOTLIGHT BY THE TIME SHE FIRST PICKED UP A GUITAR NEARLY TWENTY YEARS LATER.
BORN IN YAZOO CITY, MS AND RAISED IN CARRIERE, MS, DRURY RELOCATED TO NEW ORLEANS, LA IN THE MID-NINETIES AND PERFORMED HER UNIQUE STYLE OF ROOTS ROCK ON MOST OF THE STAGES IN THE CITY. OVER THE PAST TWO DECADES, THAT METICULOUSLY CULTIVATED STYLE – NOLAMERICANA® – HAS BROUGHT DRURY'S ORIGINAL MUSIC TO STAGES ALL OVER THE WORLD. HER MUSIC, ALONG WITH HER PERSONALITY, IS REFLECTIVE OF HER TWO HOMETOWNS – "MISSISSIPPI GRIT – NEW ORLEANS GROOVE," AS DRURY CALLS IT.
DRURY'S IMPRESSIVE CATALOGUE INCLUDES "CROSSING FREQUENCIES" (2001), "BLACKBERRY WINTER" (2002 WITH BAD MAYO), "SPUN" (2003 WITH BAD MAYO), "ALL YOU NEED" (2006), "DAL VIVO (2009), "SUGAR ON THE FLOOR " (2011), "COME TO MY HOUSE" (2014), AND 2017'S CRITICALLY ACCLAIMED "RISE OF THE FALL." SHE HAS EARNED MULTIPLE NOMINATIONS AND AWARDS FROM NEW ORLEANS' MOST PROMINENT PUBLICATIONS.
HER LATEST RELEASE, "RISE OF THE FALL" SHOWCASES DRURY'S "EXPONENTIAL GROWTH AS A SONGWRITER" AND WAS HAILED AS "ANOTHER BREAKTHROUGH" BY OFFBEAT'S JOHN SWENSON. SHE IS CURRENTLY ON TOUR IN SUPPORT OF THE RELEASE AS SHE WRITES MATERIAL FOR HER NEXT EFFORT.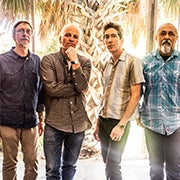 Doors

6:00 PM

Show

8:00 PM

Price

$18 Advance

$20 Day of Show
SHOWINGS
This event has already occurred.