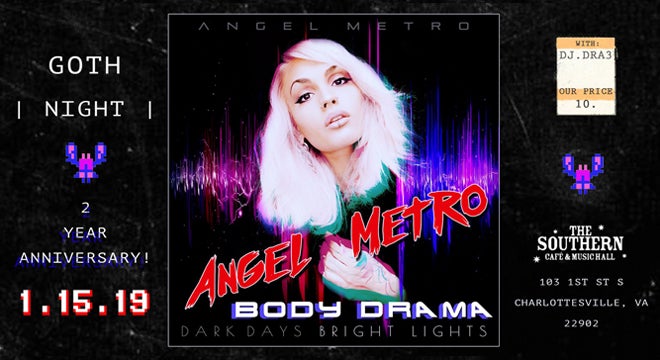 Angel Metro CD Release (GOTH NIGHT 2 Year Anniversary)
Tue, Jan 15, 2019
Angel Metro CD Release (GOTH NIGHT 2 Year Anniversary)
with BODY DRAMA & DJ Drae
Can it be?! TWO Years of GOTH NIGHT Madness ALREADY?!
Join us as we celebrate GN's 2nd birthday and the CD release of Angel Metro's debut album: DA/RK DA/YS BR/IGHT LI/GHTS!

ANGEL METRO
"Angel Metro blends the elements of heartbreak and hope to create an electronic sound nestled in Dark Magic.

Based out of Charlottesville, VA she was the front woman for the fairytale gothic rock band Gild The Mourn and now creates dark electronic pop. The first album from the project, Dark Days Bright Lights, is set to release Winter of 2018.

She finds her inspiration in horror, sci-fi, vintage Hollywood glamour, and high fantasy."

About BODY DRAMA:
Squirrelly electronic/science fiction by Seth Wilkins based out of Harrisonburg, VA.

Music Includes:
'70s
Joy Division, The Damned, Bauhaus, The Cure, The Bolshoi, The Misfits, The Cramps, The Chameleons, Virgin Prunes, Ramones, Siouxsie and the Banshees, Einstuerzende Neubauten, Cocteau Twins,Throbbing Gritle, Cabaret Voltaire, Killing Joke, Kraftwork, The Human League No More, Tuxedomoon

'80s
Sisters of Mercy, Specimen, Clan of Xymox, KMFDM, Ministry, Dead Can Dance, Alien Sex Fiend,Skinny Puppy, Nick Cave, Flesh For Lulu, The Cult, Nine Inch Nails, This Mortal Coil, Red Lorry Yellow Lorry, Assemblage 23, Rosetta Stone, Switchblade Symphony, Front LineAssembly, TKK, Camouflage, Attrition, Sista Mannen På Jorden, Sexbeat, Cranes, The Mission, Depeche Mode, Eurythmics, The Church, Siekiera, Guerre Froide, Sex Gang Children, Skeletal Family, Legendary Pink Dots
'90s
The Last Dance, The Cruxshadows, Bella Morte, The Dagons, Children on Stun, Theatre of Tragedy, The Birthday Massacre, London After Midnight, Faith and the Muse, Garmarna,
I Monster, Ebony Bones, Peaches, Goldfrapp, Eivør, Fever Ray, Synthetic Division, Ego Likeness, The Horrors, Voltaire,
Hanzel und Gretyl

'00s
Tying Tiffany, IAMX, I Love You But I've Chosen Darkness, I Break Horses, Agent Side Grinder,The Twilight Sad, Velvet Condom, oOoOO, O. Children, HEALTH, Liars, HTRK, Blaqk Audio, Austra, SURVIVE, Faunts, Dead Man's Bones, Amesoeurs, Frustration, Twin Shadow, She Past Away, Esben and the Witch, Molice, Veil Vanish, The Good Natured, Yeah Yeah Yeahs, Neon Horse, The Horn and the Hunt, A Place To Bury Strangers, Grimes, Faun,The Spiritual Bat, Crystal Castles

'10s
Purity Ring, 3TEETH, Nostalghia, Nicole Sabouné, Niki & The Dove, The Rain Within, Infinity Shred, Linea Aspera, Youth Code, Icky Blossoms, Mellow Grave, DIIV, TR/ST, EASTER, White Ring, Mujuice, TEEEL,Beastmilk
AND MANY MORE!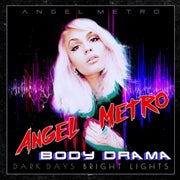 Doors

6:30 PM

Show

8:00 PM

Price

$10 General Admission
SHOWINGS
This event has already occurred.