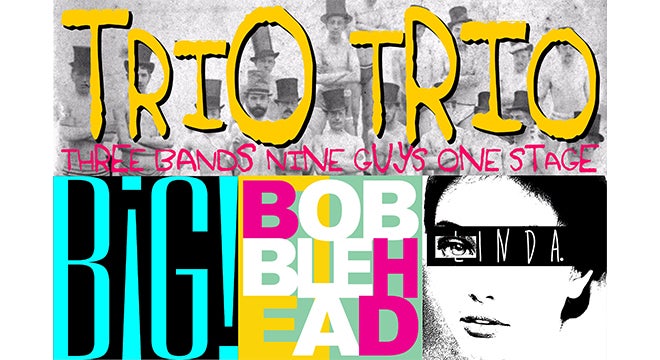 Sat, Jan 4, 2020
BiG!
with Bobblehead and LINDA
About BiG!:
21st Century Blues-Rock
(and a little Folk)
Passion and Pain… From a Whisper to a Scream… BiG! holds nothing back and has been lauded for its emotion and authenticity.
Originally a spinoff of Alt-Western Pioneers Ice House Road, BiG! features the guitar mayhem and broken vocals of Charlottesville music veteran Gary Hawthorne; "Mr. Positive" JR Stoffel on drums, and background vocals; and Bryan McKenzie on bass and stylish haberdashery.

BiG! began as an acoustic guitar/Cajon duo. However, they longed to "plug in" and really get big, and brought in longtime friend, bassist Bryan McKenzie, to jump start the new Electric Powerhouse 21st Century Blues and Rock and Roll machine.
BiG! released its first full length record, "small" on Ranch Hand Records in August 2019: A collection of songs about the whirlwinds of life, love and time. The Charlottesville-centric song "People" (#peoplewholove) receives regular local airplay.

But when asked "What's your genre?" The BiG! boys ask: Can you hear the influences? -- Willie Dixon, Muddy Waters, Bob Dylan, ZZ Top, John Denver, The Who, Pink Floyd, The Cure, U2, NIN. All are there, and more, in bits and pieces. But what is it? Its BiG!, its Loud. It is anything you want it to be.

About Bobblehead:
BOBBLEHEAD's contagious boogie gets in your head, lands in your feet, and rattles everything in between. This fun and quirky three-piece band showcases unconventional lyrics sung in robust harmonies by Frank Bechter and Doug Bishop, driven by bold guitar and edgy bass lines and carried by David Jacob's tight drum work.
With influences like the Beatles, Devo, the B-52's, Cole Porter, Kate Bush, the Clash, and Elvis Costello, you get a sound that fits no radio station genre. BOBBLEHEAD throws them all on the floor and picks them up in no particular order.
The trio recently released its first self-titled EP, and is featured on Charlottesville's annual local music compilation CD, C'ville Suitcase. "Mississippi Mud" receives regular play on 106.1 The Corner.
BOBBLEHEAD recently headlined Fridays After Five, and has played numerous venues, such as Rapture, The Whiskey Jar, Tea Bazaar, Batesville Market, Shebeen, Dürty Nelly's, and WTJU's Lambeth Live.

About LINDA:
Loud alternative rock 3 piece featuring Walter Lundwall (ex-Fire Sermon) and Mike K Johnson (of Ego Likeness, The Rain Within, Spider Lilies, ex-Fire Sermon) joined by "Dynamic" Rick Brown.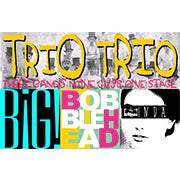 Doors

6:00 PM

Show

7:45 PM

Price

$7 Advance

$9 Day of Show
SHOWINGS
This event has already occurred.