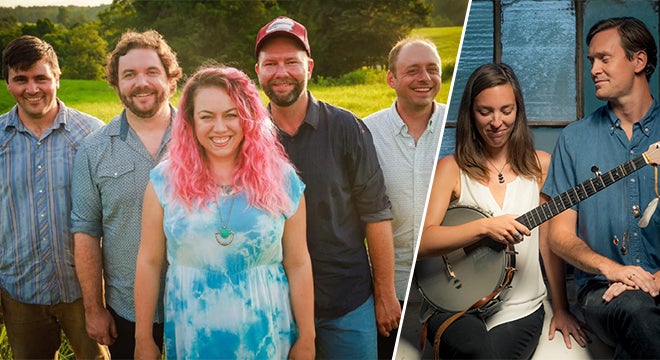 Front Country & The Honey Dewdrops
Thu, Mar 9, 2017
Front Country & The Honey Dewdrops
About Front Country:
Don't ask Front Country what kind of music they play. Just listen.

What started as a group of friends playing bluegrass in San Francisco's Mission District has morphed into a touring powerhouse of song and sound, transcending their humble stringband roots. Front Country's dynamic instrumental textures take flight with grace and gravitas while rooted in the relentlessly soulful vocals of lead singer-songwriter Melody Walker. Along with mandolinist Adam Roszkiewicz, guitarist Jacob Groopman, violinist Leif Karlstrom and bassist Jeremy Darrow, this quintet has been called "passionately intoxicating" and "orchestral" and Melody's bluesy vocals have been described as "rafter-shaking". Seldom traditional, always original, Front Country's new album Sake of the Sound is out now.

About The Honey Dewdrops:
In the summer of 2014, after a long stretch of living on the road, performing and writing across the U.S., Americana songwriters and Virginia natives Laura Wortman and Kagey Parrish, collectively known as THE HONEY DEWDROPS, decided to settle down in Baltimore, MD. "Touring is like collecting images of landscapes, sounds of voices, contents of stories, moods of places and environments," says Wortman. "All of that can be useful. It tells you something about human nature, about how the world works, little by little." And so the couple took their experiences on the road, and dug in to write and record their fourth album, TANGLED COUNTRY, in their new home. It's a beautiful and engaging take on modern American roots music and the first album of theirs entirely written, arranged, and recorded in one place; a testament to the power of home.

Excellently produced, engineered, mixed, and mastered by Nicholas Sjostrom, who also joins The Honey Dewdrops on bass, piano, and Wurlitzer, the songs, all original compositions by Wortman & Parrish, tell stories that engage and resonate in a delicately creative way, blurring the line between narrative and prose. Wortman tells a story about a machine shop across the street from their house when they first moved to Baltimore. "Constant noise from power tools and what sounded like metal hammers banging out the shapes of giant steel swords, and with the regular hum of the city and traffic moving up and down the street, this took some getting used to." But then they noticed the times, sometimes lasting only seconds, sometimes hours, "where everything came to a stop, slowed down, quieted, like everything was paused." This became the basis for Tangled Country's closing tune and only instrumental track, "Remington," as they tried to capture the feeling of "playing tunes together on the porch in those hushed moments in between" when the world seemed to have come to rest.

The closeness of sound and the musical compatibility that The Honey Dewdrops possess is unmistakeable. On Tangled Country, each share vocals and guitars, augmented by Parrish's mandolin and Wortman's work on banjo and harmonica. "I think it comes from spending a lot of time together and knowing the inner workings of each other creatively," says Wortman. And while comparisons to the music of Gillian Welch & David Rawlings are inevitable here, that's because there's something to this marriage of matrimony and music. Wortman and Parrish's musical chemistry is so vivid here in recorded form that it's not surprising to learn that their live performances are often described as "mesmerizing," "evocative," and "genuine." The culmination of three years of writing and arranging, Tangled Country captures and communicates this as the duo weave dynamics and harmonies from one track to another, proving that The Honey Dewdrops bear the mark of musical maturity – in performance, arrangement, and songwriting.

Throughout Tangled Country, Wortman and Parrish perform as if the most honorable thing to be is honest in themselves. In the song "Guitars," Wortman's voice considers the long lineage of songwriters and stewards of the American roots tradition: "We are born unto our own, sapling seeds from old growth...many hands and many years gone...everyone with a song to teach, some sing pain, some sing peace." But through this long convergence of tradition and history, the chorus makes clear the binding factor: "Sing we all true songs / We sing them right, we sing them wrong / Tuned up tightly and passed along / Like old guitars, we breathe songs." Tangled Country bears witness to The Honey Dewdrops' simply being themselves, stewards of the Americana tradition, having seen the world and grown a little older and now finally come home.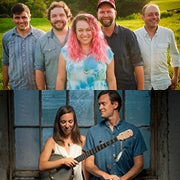 Doors

6:00 PM

Show

8:00 PM

Price

GA Seated with Standing Room

$12 Advance

$15 Day of Show
SHOWINGS
This event has already occurred.