Mon, Mar 5, 2018
High Waisted with Shagwüf
& Cold Fronts
Quirky 60's garage rock is re-imagined from the nose of a surfboard, making High Waisted feel like a psychedelic lullaby. NYC surf rockers with pop sensibilities and an affliction for rock and roll. They've been called NME Magazine's "Buzz Band to Watch," declared "The Ultimate Party Band" by GQ and have received praise from Consequence of Sound, Noisey, and Paste. With their sophomore album underway, the band released an interactive 360 degree music video for their track "Hey Hey" in collaboration with Refinery29, performed a live session at Nylon Magazine, Paste Magazine, as well as a stripped down set for Sofar Sounds. The group spent most of 2016 and 2017 touring the country, playing both Riot Fest in Chicago and Denver as well as supporting such acts as Har Mar Superstar, Jessica Hernandez, La Sera, Diarrhea Planet, and La Luz. Dye also performs with The Hold Steady. High Waisted were declared one of the buzziest bands at SXSW 2017 and just completed a 6 week tour supporting a split 7" (Little Dickman Records) debuted on Billboard followed by with a music video premiered on UPROXX. The group's sophomore record is underway, produced by Tad Kubler (The Hold Steady) and mixed by Arun Bali (Saves The Day). Every show is a party when High Waisted's lo-fi fuzzy bass, reverb drenched guitars and radiant harmonies mesh to create the melodies of your wave-crashed daydreams.
About Shagwüf:
"Shagwüf's first full-length album unleashes heavy psychedelic blues on the ears of an unsuspecting public. There is a lot to unwrap here. The dense musicality suggests a mastery of instruments. Mood and tempo change quickly within songs courtesy of drummer Pablo Olivieri, while Ivan Christo's organ-esque keyboard wailing helps define the swampy atmosphere. The lyrics suggest a primal, violent undercurrent. "Run O' Bad Luck" begins almost as a self-empowering dance track before vocalist Pete Stallings turns to the listener to snarl questioningly, "How does it feel to be someone else's meal?" "Fight Like a Girl," with bassist Sally Rose on lead vocals, exhibits the best attributes of a top-notch Kim Deal-fronted Pixies song, one-upping Julius Caesar with the refrain, "She came, she saw, she broke my jaw." The garage energy blazes toward "Cassolette," the five-minute churning typhoon at the album's center. Once there, all instruments explore the parameters of their existence with many a noodle. SR and Sweet complement each other's vocals throughout. In spite of the intensity, the songs have a strong throughline of humor as well, one necessary to sell the charming couplet, "I'm in my cheetah chariot / I feed my cheetahs on baby carrots.' "
-Whurk Magazine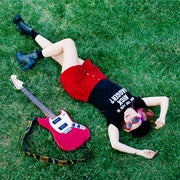 Doors

6:30 PM

Show

8:30 PM

Price

$7 General Admission
SHOWINGS
This event has already occurred.