Sat, Jun 14, 2014
Melanie Martinez
with Dresses
About Melanie Martinez: Melanie Martinez is a remarkable 18-year-old artist from Long Island, New York – a stunning and provocative singer, songwriter and visual presence, who is currently collaborating with Robopop (Jessie J, Lana Del Rey), and Kinetics & One Love (B.o.B) to produce her debut EP, THE DOLLHOUSE, due out on Atlantic Records May 20th. Having spent much of 2013 selling out clubs across the country, Martinez will celebrate THE DOLLHOUSE EP with her biggest national tour to date, while simultaneously finishing her eagerly awaited debut album. Her first official single "Dollhouse," which Martinez co-wrote with the aforementioned, GRAMMY Award-nominated tunesmiths Kinetics & One Love, is a brutally honest depiction of a family falling apart, set to a spare dance beat. The song "positions Martinez as an American version of Lorde," writes Newsday. "(Martinez) sings about a picture-perfect family that is much more troubled under the surface," declared Us Weekly, noting that Martinez – a former contestant on NBC's smash reality singing competition series, The Voice – "might be the show's first real breakout star." Melanie captured the country's imagination with her arresting performances on the highly rated Fall 2012 season of NBC's The Voice, driving her unique renditions of "Too Close" and "Seven Nation Army" to top 5 sales on the iTunes Store. In addition, her rendition of "Toxic" lit YouTube on fire, earning more than 6 million individual page views.
About Dresses: Sure, you've probably heard of a boy named Sue, but what about a girl named Timothy? The distinctive female forename happens to belong to the equally unique singer of Portland-based indie-pop band Dresses. Comprised of Timothy Heller (vocals/ukulele/piano) and Jared Ryan Maldonado (vocals/guitar), the frock-rock duo have been playing music together since January 2012 and are eagerly anticipating the release of their SideOneDummy debut album, Sun Shy, digitally on September 3 and physically on October 22, 2013.

Though Heller and Maldonado, both 21, lived only two miles away from each other in Stumptown, it wasn't until discovering they had a bunch of mutual friends in common online that they decided to connect and try to write music together. "She was coming over one day after school and I was really nervous because I had nothing to work on. I had never written with someone else," says Maldonado, remembering the first IRL encounter he had with Heller. "As she was actually getting off the bus, I wrote the first few lines of 'Blew My Mind.' She came in, I played it for her and she loved it."

Not only is "Blew My Mind" the first song Dresses ever wrote together, but it's also the first single off Sun Shy and perfectly summarizes what the band is all about, musically: Sunny melodies and dynamic guitars with a lyrical undercurrent forced by bruised hearts and broken dreams. Whether listening to "Back To Life," a playful tale of new love, or "Tell A Lie," a refined romp about making every moment count, Heller and Maldonado are able to artfully balance introspection with affection. In fact, writing about love comes easy to the couple, which happens to be dating in real life.

"It's nice because we enjoy spending time together and I love listening to what she writes and sings," says Maldonado of the pair's personal and professional partnership. Adds Heller, "It makes things really easy, nice and comforting. Showing music you're working on to others can be difficult, but it's a lot easier to show Jared something personal I wrote because we're so close." For now, though, the lovebirds are concentrating on the release of Sun Shy and sharing the beautiful music they make together.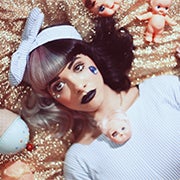 Doors

7:30 PM

Show

8:00 PM

Price

$12 Advance

$15 Day of Show

$40 VIP
SHOWINGS
This event has already occurred.