Thu, Feb 5, 2015
Nettles Record Release Party
with Ned Oldham
Come celebrate the release of Nettles' first full-length album, Locust Avenue. 1 copy of the new record included with each ticket purchase!
Nettles is the songs of Guion Pratt, set to arrangements loosely based in the British Isles folk tradition. Guion is accompanied by an all-star cast of Charlottesville players who bring the arrangements to life while managing to keep the songs themselves front and center.
Flying under the radar for the last four years as bandmates worked on their own projects (The Hill and Wood, Camp Christopher, and the Michael Coleman Band have all lent members at one time or another to Nettles' rotating roster), Nettles is stepping out with its first properly recorded statement.
On Locust Avenue (out February 3, 2015), there are faint glimmers of the traditional Irish folk Guion and long-time band member Juliana Daugherty started playing together six years ago. The band have crafted astonishing arrangements that are lyrically impressionistic while aiming to keep the instrumentation minimal and consistent.
The songs on Locust Avenue cover topics as disparate as astronomy, a friend's tragic accidental fire injury, and Paul Cezanne's paintings, but the universal question of what it means to be a body bound in time stays in the forefront. Make no mistake—even when singing about planets without orbits or, in the titular track, the migratory patterns of locusts, these songs are intensely personal—and definitively human.
"Dude can play guitar." — C'Ville Weekly
"The vibe is serene indie-folk in the vein of Sufjan Stevens and Iron & Wine (though Nettles are way more interesting than most everybody else who's doing that sort of thing right now)." —Nailgun Media
People can hear two songs from their album now at https://nettles.bandcamp.com.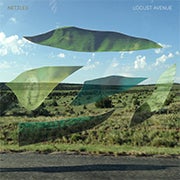 Doors

8:00 PM

Show

8:30 PM

Price

$10 Advance

$10 Day of Show

GA Seated

Album Download Code Included with Ticket
SHOWINGS
This event has already occurred.