Fri, Aug 3, 2018
Rob Cheatham & Sarah White
with Kat Somers
Rob Cheatham is a singer/songwriter from Charlottesville, VA. He has played in hard working bands for many years such as, The Nice Jenkins, Gunchux, and The Borrowed Beams of Light. Rob was born and raised in Richmond, VA. He left Richmond for Philadelphia, PA in 2002 where his desire to write and produce music became reality. He then moved to Charlottesville, VA where he co-founded the The Nice Jenkins, an indie pop band with cacophonous sound and energy. He then quickly became entrenched in the Charlottesville music scene where he remains an active and vocal leader. Rob and his band were also thrilled to perform last August at the Kennedy Center in Washington,DC. His music reflects the character of the places where he has lived and grown. The newest album "Villains and Ghosts" is an Americana/Country album that paints detailed portraits of American life and is available everywhere now. It received an 8/10 rating from Americana UK. More at www.robcheatham1.bandcamp.com

Born and raised in the two Virginias, Sarah White's musical style is as familiar as it is hard to define - not quite country, not quite rock, not quite folk - but a little bit like all of the above. A chameleon-like performer with ever changing line-ups over the last decade, White has grown into a talented songwriter with a sizable body of poignant, catchy, and moving songs. Backed by a full band including pedal steel, keyboards, and guitars, White heads into 2018 with a new album and a bigger, brighter and accomplished sound.
High Flyer has the folk and country and Americana sound we all know and love, but between the blues tinged voice of White and the production from Stewart Myers, there's a subtlety to the sound that's refreshing. ~ SHAWN UNDERWOOD, TWANGVILLE
Recorded with producer Stewart Myers (Agents of Good Roots) at Montrose Studio in Richmond, VA, the album features eleven of White's best songs, performed with Daniel Clarke on piano and keys, Charles Arthur on guitars, Charlie Bell on pedal steel, and Stewart Myers on bass.
"Sarah's music kills me; beautifully from the ground up, no plastic," Matthews says of his fellow Virginian ~ Billboard, 06/20/18

Dave Matthews appears on the album as a vocalist on "Sweetheart." Other special guests include Carter Gravatt of Carbon Leaf on guitars; Brian Jones on drums; Resound and Austin and Michael York of Sleepwalkers on vocals; and JC Kuhl, and Bob Miller on horns.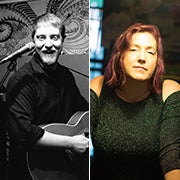 Doors

6:00 PM

Show

8:00 PM

Price

$10 Advance

$12 Day of Show
SHOWINGS
This event has already occurred.