Fri, Jun 1, 2018
Roosevelt Dime
with Goodnight Moonshine feat. Molly Venter
About Roosevelt Dime:
Seamlessly combining the feel-good groove of classic Rhythm and Blues with acoustic Americana instrumentation, Roosevelt Dime has crafted an infectious style and sound truly their own. Eben Pariser fronts the band with searingly soulful vocals, belted and whispered with a passion and panache straight from the juke joints. Andrew Green's innovative piano-inspired banjo style, equal parts boogie woogie and bluegrass, lock in with the New Orleans clave rhythms of Tony Montalbano's drums and Craig Akin's syncopated upright bass. The swampy chords and swinging blues lines of Pariser's semi-hollow electric guitar thicken the sound further still. By following the strains of Americana back to its roots, they not only combine aspects of different genres, but challenge the notion of these differences at their core. Hailing from Brooklyn, New York, the band started in the age old New Orleans street busking tradition, only it was the bustling avenues of the Big Apple rather than the Big Easy that first nurtured their sound. All walks of life were drawn to the undeniable positivity and crowd-sourced spontaneity at these revelries, and this literal grassroots community-building stuck with the band as they took their joyous beat from the city's parks and subways to seek that same heartfelt connection with audiences worldwide. Armed with original songs of hope, love, and conviction that sound birthed from the cradle of American music yet still crucially relevant to the times in which we live, their performances are a "perpetual crowd pleaser" (NY Times) in any setting.
About Goodnight Moonshine:
Every once in a while, an album comes along that's a breath of fresh air...a statement of substance and grace that reminds us of life's bigger picture: keeping a marriage afloat, raising children, dealing with death, loving your partner, finding yourself, claiming your independence. On Goodnight Moonshine's upcoming June 1st 'I'm the Only One Who Will Tell You, You're Bad,' the duo delivers a funny, smart, explicit, raw, honest, mature, witty collection of Folk-Pop songs that reflect the messiness of 'partnership' (in its many forms,) parenthood and growing up, while evoking the emotionally resonant aesthetic of Shawn Colvin and Patty Griffin. For Goodnight Moonshine's wife and husband duo Molly Venter and Eben Pariser, the journey was cathartic and, as Venter describes, "an exploration of post honeymoon, post-kid relationship in all it's heart-opening and door-slamming glory!" Pariser adds, "The album chronicles a revolutionary time in our lives, and the country and world at large." The semi-autobiographical CD's opening track and first single, 'Settle Down', opens with blunt cleverness: "We never got to experiment with psychedelics before you knocked me up, We never had that 3-way in the heart of Paris, and now we're all grown up...Baby I love our life, but I don't want to settle down." Other highlights on the album, from 'I Love You Goodbye' to 'January Skies' to 'Scientist', blur real-world themes with invented details.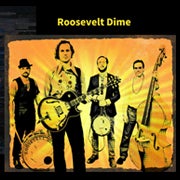 Doors

6:30 PM

Show

8:30 PM

Price

$12 Advance

$14 Day of Show
SHOWINGS
This event has already occurred.