Wed, Mar 29, 2017
Shagwüf & High Waisted
About Shagwüf:
"Shagwüf's first full-length album unleashes heavy psychedelic blues on the ears of an unsuspecting public. There is a lot to unwrap here. The dense musicality suggests a mastery of instruments. Mood and tempo change quickly within songs courtesy of drummer Pablo Olivieri, while Ivan Christo Christopher's organ-esque keyboard wailing helps define the swampy atmosphere. The lyrics suggest a primal, violent undercurrent. "Run O' Bad Luck" begins almost as a self-empowering dance track before vocalist Pete Stallings turns to the listener to snarl questioningly, "How does it feel to be someone else's meal?"
"Fight Like a Girl," with bassist Sally Rose on lead vocals, exhibits the best attributes of a top-notch Kim Deal-fronted Pixies song, one-upping Julius Caesar with the refrain, "She came, she saw, she broke my jaw." The garage energy blazes toward "Cassolette," the five-minute churning typhoon at the album's center. Once there, all instruments explore the parameters of their existence with many a noodle. Rose and Pete Stallings complement each other's vocals throughout. In spite of the intensity, the songs have a strong throughline of humor as well, one necessary to sell the charming couplet, "I'm in my cheetah chariot / I feed my cheetahs on baby carrots.' "
-Whurk Magazine
About High Waisted:
High Waisted is a NYC based surf band with pop sensibilities and an affliction for rock and roll. Every show is a party. Fronted by Jessica Louise Dye, and backed by three long haired hunks, a quirky 60's garage rock aesthetic is re-imagined, making High Waisted feel like a summer's dream. Named "best party band" by GQ magazine, catch them on tour this winter playing a city near you!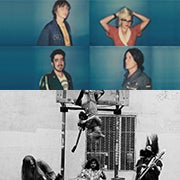 Doors

7:00 PM

Show

9:00 PM

Price

GA Standing Room

$7 General Admission
SHOWINGS
This event has already occurred.