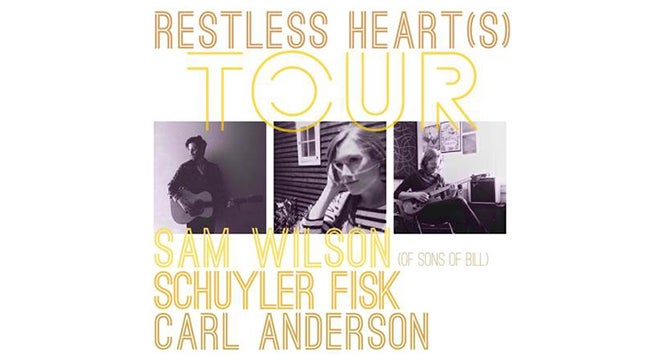 Fri, Dec 9, 2016
The Restless Hearts Tour
Sam Wilson (Sons of Bill), Schuyler Fisk, and Carl Anderson
About The Restless Hearts Tour
Following up Schuyler Fisk's album Blue Ribbon Winner, Carl Anderson's Risk of Loss and Sam Wilson's Sons of Bill album Love and Logic, these Virginians have decided to team up and blend their voices on the road for the "Restless Heart(s)" tour.
Written and performed by Fisk and Anderson and produced by Wilson and Fisk, "Restless Heart" is available now on iTunes, Spotify, and all other digital services.
"Restless Heart was the first writing collaboration for Carl and me and it came out of us so quickly, it was almost like the song wrote itself. The recording of this song came about just as effortlessly and innately as the writing of it. Carl and I recorded it live at our good friend Sam Wilson's East of the Sun studio. To me, this song feels like hanging out with an old (heartbroken) friend…in the best way." explained Fisk.
SAM WILSON
Sam Wilson is the eldest of the brothers in the cosmic Americana group Sons of Bill, whose four studio albums and decade of international touring has garnered praise from some of the world's top critics including The Guardian who dubbed them "Virginia's scholarly heirs to R.E.M." A classical guitar major who spent years as a jazz musician in New York City, Sam is also an adept producer, studio owner, and multi-instrumentalist, lending his full range of talents to this new collaborative single.
It's easy to say that Sons of Bill can sound more like Townes Van Zandt or early R.E.M. depending on the track, even moving into their own brand of down-home psychedelia that American Songwriter described as a "countrified Pink Floyd." But the real achievement of Love and Logic is the songwriting, the Wilson brothers' ability to craft literate and deeply introspective lyrics while still managing to deliver it all as a rock and roll band. It's a soul-searcher's soundtrack for an over-stimulated age. A roots rock album that stands out in 2014.
Sons of Bill became more than Charlottesville's best kept secret with the release of the Sirens LP, a brash rock and roll record, which debuted on the Billboard top 200 and #12 on the Heatseekers chart in 2012. The band toured extensively on both sides of the Atlantic for a year and a half and gained some notoriety for their fiery live performances and road dog work ethic. But Love and Logic certainly marks a turning point for the band-- a more sober, reflective, version of themselves-- the sound of a band coming into its own.
SCHUYLER FISK
Schuyler Fisk is a songwriter and singer and actor. Her debut album The Good Stuff debuted on Billboard's Heatseekers Chart and at #1 on the iTunes Singer/Songwriter Chart. Schuyler has since released a sophomore record Blue Ribbon Winner, a Christmas record Sounds of the Holiday and an LP under her side-project band's moniker, FM RADIO, called Out of the Blue. Her active grassroots following has garnered her hundreds of thousands of monthly spotify subscribers and over 7 million plays on a single songs. She has toured North America, Europe and Japan with artists including Sheryl Crow, Tori Amos, Rachael Yamagata, Joshua Radin, and The Weepies. She's been very active in writing and recording for film and tv projects, as her music has been featured on soundtracks such as The Last Kiss, Safe Haven, Dear John, Hart of Dixie, andUgly Betty. As an actress, Schuyler has appeared in several films and television shows, including Orange County, I'm Reed Fish, Law & Order: SVU, Gus Van Sant's Restless and The Best of Me. Schuyler is currently working on her next solo record and has a handful of acting projects set forrelease this year.
CARL ANDERSON
"I think the first thing I heard from the record was 'Separate Ways' and it immediately reminded me of the best parts of what I liked about Bob Dylan's Time Out of Mind. It took me back a bit to think that there wasn't a wider audience that had heard it yet, and I wanted to figure out a way to change that." It's high praise to be compared to the gentleman who arguably invented the job description for every songwriter that came after him, especially on a debut record. But Don DiLego, who is releasing Carl Anderson's LP Risk of Loss on Velvet Elk Records, is onto something. Carl Anderson, a young singer and songwriter from Virginia, has a rare authenticity, a quality that manages to be both self-assured and yet decidedly free from pretension– a subtle confidence and humility that puts him in step with an older stock of songwriter. It's a voice that manages to be both virtuosic and yet free from airs; never outshining the simplicity his words; words that never outshine the song. And like all great songs, they always seem to dictate the motions of our hearts before our heads have time to figure out exactly what they're about.
Carl Anderson's story reads like the stuff of legend. It's almost too perfect– like a page torn from the annals of the American Songbook, or the unread script of a made-for-TV special on what we want our artists to look like. Carl was born in rural Wolftown, Virginia to a father who was a part time folk singer and full-time wanderer. Known simply as "Virginia Slim" to his fellow travelers in the "hobo circuit", Carl's father had been riding trains across the country singing and working dead end jobs since leaving home at 10 years old. Though Carl was raised on the fidelity of a single mother that gave everything to her family, he still carries with him vague memories of his father as a charming man with a beautiful melancholic tenor that Carl's mother would come to recognize in her own son. He was a man with obvious gifts, but with a darkness inside of him that only those who were closest to him were able to see. It was a darkness that wrecked his family, and left him unable to cope with a life that wasn't in a constant state of unrest. Carl's only distinct memories are of his mother gathering his brother and sister to leave the house in the dark of night when he was only 6 years old– fleeing a situation that had become too painful to bear.
When Carl hit his teenage years and found himself unequivocally drawn back to the same vocation of a father he barely knew, it must have been both enchanting as well as terrifying. As Carl sings on Different Darkness: "We're not that different / same wanderlust, met with a different darkness / I can see his face in mine." While the story itself might seem a like a vignette of songwriting folklore, for those who have to live with it, the pain is all too real.
The fact that Carl Anderson inherited a rare gift is clear, but what every artist can never know is the reality of whether that gift is going to save him or destroy him. The whole vocation is an act of faith that it's worth the risk.
It's this tension at the heart of Risk of Loss, not simply the story, that gives this particular collection of songs an unmistakable authenticity that hits you as a listener long before the depth of meaning sinks in. The substance and source of the melancholy and yearning that runs throughout the record remains deceptively elusive. It's sometimes unclear precisely who the singer is addressing– a former lover, a father he barely knew, or even God– but this is precisely what makes Risk of Loss as purely compelling and universal as some of the best in a long tradition of American songwriting. It's the sort of authenticity that can't be cheaply bought like the archaic instruments and anachronistic outfits that plague the genre. Carl is finally doing what every great writer does– he is writing to discover who he is. A young man who was born to sing.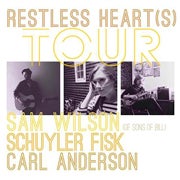 Doors

6:30 PM

Show

8:30 PM

Price

GA Partially seated with Standing Room

$13 Advance

$15 Day of Show
SHOWINGS
This event has already occurred.