Sun, Jul 20, 2014
Tony Lucca & Tyler Hilton
with Anna Rose
Join us for a special Southern Acoustic Happy Hour featuring a few songs from Tony & Tyler in the dining room from 6:30-7:30 PM! Enjoy food from our Restaurant Week $16 prix fixe menu and great drink specials.
----
About Tony Lucca: It is nearly impossible to find a current singer/songwriter between the ages of 20 and 40 who doesn't have a seemingly identical list of influences as their peers. Whether its the soul-bearing lyrics of Stevie Wonder, or the gritty folk music of Bob Dylan, the unbridled creativity of Dave Matthews, or the overwhelming truth of Ray LaMontange, somehow these artists all seem to inform the landscape of the modern singer/songwriter. What tends to separate an artist from that pack is experience, confidence and self-exploration. 8 full-length albums into his career, Tony Lucca has become a standard-bearer to some, a torch-bearer to others, and all the while Lucca's confidence is matched only by his humble appreciation for his path in the wild world of entertainment.
There have been quite a few milestones along the way for Lucca, and it all began for him as a Mousketeer on the Mickey Mouse Club. Lucca's rise to fame also included a brief stint on an Aaron Spelling prime time drama coupled with a rather public relationship with actress Keri Russell. Fast forward a few years and find Lucca working with fellow former Mouse Club co-star Justin Timberlake, starring in a commercial directed by Timberlake for his own 901 Tequila. Lucca then played himself in an episode of NBC's hit show "Parenthood". In 2012, Lucca returned to Hollywood, this time as a finalist on Team Adam (Levine) of the hit show The Voice on NBC. All the while honing a craft that somehow managed to remain the primary focus of his heart, soul and passion – songwriting.
A master of observation, Lucca seems to have stored away every last experience and anecdote as a stepping off point, a palette and canvas with which to turn his impressions of life and relationships into beautiful, thoughtful and often emotionally painful songs that tend to find their way deep into the cracks and crevices of his listeners' hearts. With almost 20 years of industry experience, Lucca has taken great pride in maintaining a thorough connection with his fans at his dynamic live shows, and by always attempting to stay out in front of the endless barrage of changes, the ups and downs that have left so many in the music business in their own wake. Lucca had the foresight to establish www.tonylucca.com long before the proliferation of social media, yet he has also successfully embraced the ever-changing tech landscape, garnering over half a million followers on twitter (@luccadoes). Lucca truly has embodied the notion that independent doesn't mean alone: he remains dedicated, determined and nothing if not eternally grateful for what has been an unimaginable ride, with an entirely original soundtrack.
About Tyler Hilton: Tyler Hilton is best known for his role as Chris Keller on the CW hit-show "One Tree Hill", for playing Elvis Presley in the Johnny Cash biopic, "Walk The Line." In both notable roles, he plays a musician, indicative of his real-life musical talent. After a long wait, he has broken free from the creative restraints of his record label, and is excited to finally be introducing the world to the new music of Tyler Hilton--on his own terms.
His most recent album, "Forget The Storm", is his first full-length release in over 8 years and unleashes a new side of the artist combining multiple genres. Today, Tyler is happy to be on the scene as an independent artist, touring the U.S., Canada and Europe, as well as working on new film and TV projects, including the new CBS series "Extant", which stars Halle Berry.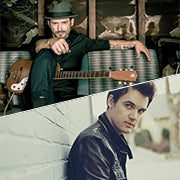 Doors

7:30 PM

Show

8:00 PM

Price

$12 Advance

$15 Day of Show
SHOWINGS
This event has already occurred.