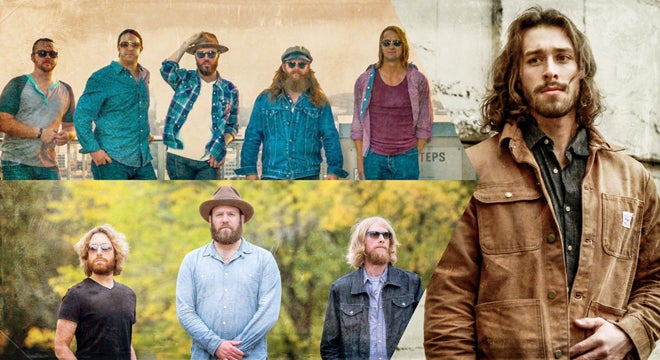 Vegabonds, Will Overman Band, and Cris Jacobs
Fri, Feb 24, 2017
Vegabonds, Will Overman Band, and Cris Jacobs
About Vegabonds:
After seven years of touring the world, a few original projects under their belt and an unwavering devotion to their craft, The Vegabonds have completed what might be considered their best work thus far. "What We're Made Of" consists of hard-hitting lyrics that don't hesitate to touch on real-life situations like growing up, moving on, heartbreak, loss and the struggles that accompany it all.

The debut single, Oh My Lord, embodies the real-life inner battles of front man Daniel Allen. "It happened really organically," states Allen. "We were all just jamming in our rehearsal space and the next thing we knew there was a chant in the room that said "Oh My Lord." From there I wrote some lyrics about the recent loss of my grandfather and whirlwind of changes that were happening in those months. We all knew right away that we wanted that to be our first single."

The Vegabonds' seamless harmonies and flawless instrumentation is created by Daniel Allen (lead vocals/guitar), Bryan Harris (drums), Richard Forehand (guitar/vocals/pedal steel/mandolin), Paul Bruens (bass) and Beau Cooper (piano/organ/vocals). This group of skilled musicians incorporates their instruments into every song, making not only the lyrics come alive but awakening listeners' senses allowing them to feel the emotion in every note. From the heartfelt,stripped down lyrics of Hope She's Still Mine, to the reminiscent chorus of Where We Used To Go, that uses the pains of growing older and loosing touch; "What We're Made Of" is a musical journey that rose out of the experiences of life's highs and lows.

Well versed, two-time Grammy nominated producer and engineer, Tom Tapley (Destiny's Child, Elton John, Bruce Springsteen), applied his soulful roots background and passion for rock 'n' roll to bring The Vegabonds' vision to fruition. The combination of Tapley's unmistakable chops, the groups impeccable instrumentation and vocals andthe raw sound from the analog console creates a genuine style that is exclusively their own. This 12-song journey is their fourth project as a group and the first release they have had since 2012. Over the past 3 years The Vegabonds have discovered what they're made of and are eager to share their adventure and self-discovery with the masses.

The Vegabonds are...

Daniel Allen (Lead Vocals)
Richard Forehand (Guitars/Vocals)
Paul Bruens – (Bass)
Beau Cooper – (Keys/Vocals)
Bryan Harris – (Drums)
About Will Overman Band:
The music of Will Overman Band, call it "amped-up folk rock", is as energetic as it is passionate. The Charlottesville, Va based band has a unique sound that can be both haunting and evocative, yet sincere and sweet.
Musically and lyrically, the band draws from its Virginia roots, producing a rare combination of enticing harmony and straight-ahead, hard-charging rhythm and riffs. Or, as one fan put it, "hearty as a home-cooked Southern meal."
The band is composed of Overman, on guitar and vocals; Daniel McCarthy, guitar; Brittney Wagner on guitar and vocals; J Wilkerson on bass; and Camry Harris on drums. Drawing comparisons to The Avetts and Jason Isbell, the band carries an unwavering commitment to its music — and to its fans. That music and those lyrics, as the Huffington Post wrote, seem to draw " … from the experiences of someone much older", as is evident in their new single "All I Say".
The past year has been a busy one. In the past 12 months WOB has broken into the festival circuit with appearances at renowned fests such as Merlefest and Rooster Walk. They've played hundreds of shows from Burlington, VT to Columbus, OH to Nashville, TN, and they've managed to release a debut record in the meantime.
On June 4th WOB released its first full length LP, self-titled "Will Overman Band", at The Southern Cafe and Music Hall in Charlottesville, VA. Having been recorded just down the road at Monkeyclaus Recording Studio in Roseland, Va, WOB's debut album is full of reverence for their roots, honest reflection, and is a personal statement by a young band taking their first steps on the long journey ahead.
The album has since received critical acclaim from national publications such as The Huffington Post and No Depression. The Huffington Post said, "WOB's debut album is a strong start to what promises to be a long, successful musical journey." No Depression shared a similar opinion expressing that, "Overman's record lays it all out, a rich start for an auspicious musical career."
Soulful and unforgettable. Addictive and sometimes playful. Meaningful and real. Those factors, plus a transcendent passion and unyielding commitment to craft, are what truly define this rising, must-see group of talented young musicians.
About Cris Jacobs:
Whether alone with just the guitar and his voice or surrounded by a full band, Cris Jacobs enchants listeners with his inspired, poignant songwriting, virtuous guitar playing, and soulfully transcendent voice. Artists across the board have discovered Jacobs' musicianship and supple versatility, resulting in an impressive variety of formats in which he has played over the last few years. After a decade, five records, and 200 shows a year as principal songwriter and frontman for beloved Baltimore-based band The Bridge from 2001-2011, Jacobs wasted no time continuing to write music of his own and exploring different configurations for his craft. He released his debut solo album, Songs for Cats and Dogs, in 2012, and continued to perform relentlessly, both with his new band and as a solo artist. In doing so, he quickly garnered the admiration of a variety of predecessors and peers: rock legend Steve Winwood saw Jacobs perform in 2014 and soon invited him to open his national tour. The following year, Sturgill Simpson extended the same invitation. Never limited by genre, Jacobs and New Orleans heavyweight Ivan Neville recorded a collaborative album under the band name "Neville Jacobs", which will be released in 2017. As an adapting, evolving, versatile musician who has survived on his own merit, Jacobs continues to win over audiences of many tastes, as he brings his characteristic authenticity and soul to every set.
Jacobs feels there are common threads across many genres of music, and he has harnessed over a decade of trans-genre exploration on his second solo album, Dust to Gold, due for release on October 21, 2016, from American Showplace Music. The album is a soul-stirring expression of the current chapter of his creative evolution, featuring twelve well-crafted songs that masterfully weave through the sweet and rugged landscape of soul, country, folk, blues, gospel, and rock and roll. Through every turn, one can easily feel Jacobs' reverence to his influences, but the result is an original, eclectic record with a sound that is authentically his. In a given moment, Jacobs' guitar playing is gritty, soulful, rich, and lyrical. It's subtle, yet adventurous. His voice is at once sweet and sultry, with a honeyed whiskey croon that delivers his thoughtful, expressive lyrics.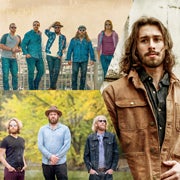 Doors

6:30

Show

8:30 PM

Price

GA Standing Room

$12 Advance

$15 Day of Show
SHOWINGS
This event has already occurred.