Tue, Apr 8, 2014
The Vespers
with SHEL - CURE U Tour
The Vespers are one of those bands that have built an extensive underground following simply through word of mouth and heavy touring. The band is uniquely made up of two sibling duos; the Cryar sisters, and the Jones brothers. The four have distinguished their sound with an arsenal of acoustic instruments and harmonies only siblings can create. Their showmanship generates a roller coaster of sight, sound, and emotion and their inherent chemistry and instrumental versatility continues to set them apart.
The band has independently released two full-length records and left a reputable impression on both Americana and Christian audiences. They have toured all over the United States in their short 3 years, playing all different environments from colleges and festivals to listening rooms and theaters.
SiriusXM's Top 10 New Folk Albums of 2012
Huffington Post's Best Concerts of The Year (which included Wilco, The Civil Wars, and Jack White)
"The Vespers are on the verge of breaking through The Fourth Wall. The Vespers better get ready to lead a life less normal."
- Huffington Post
"The miracle of The Vespers is their ability to meld youthful energy with a spiritual background that can be traced to gospel tunes of The Carter Family. In fact, they have as much in common with that famous family as they do with the Louvin Brothers, as well as contemporaries like the Avett Brothers and Mumford & Sons — the Vespers are just that good."
- Awaiting The Flood
"they can — and do — appeal almost as much to a bunch of good old boys out in a bluegrass-festival cow pasture as to a hip urban audience."
- Nashville Scene, Jon Weisberger
"If you enjoy The Decemberists, The Be Good Tanyas, Iron and Wine, Avett Brothers, Mumford & Sons…your dreams just came true."
- Brite Revolution
"North Carolina has the Avett Brothers, Texas has Cadillac Sky, Boston has Crooked Still & we are lucky here in Nashville to have the Vespers." – Music City Interactive
"I was just about knocked off my stool by the vocals of the Cryar sisters. The Vespers are refreshing, have impeccable musicianship, and the vocals are enchanting. " – No Depression
"The Vespers are fresh and infectious. The sisters ethereal look and sound is grounded by the brothers tight and creative rythym section. I've seen them mesmerize audiences live several times and look forward to having them back." – Todd Mayo, Music City Roots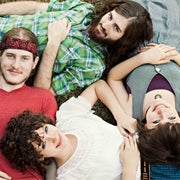 Doors

8:00 PM

Show

8:30 PM

Price

$12 Advance

$15 Day of Show
SHOWINGS
This event has already occurred.