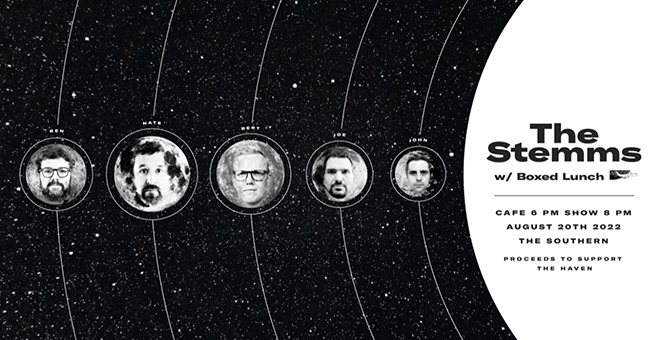 Benefit for The Haven with The Stemms
Sat, Aug 20, 2022
Benefit for The Haven with The Stemms
and Boxed Lunch
Lost in New York as bushy-tailed lads, Bert Stemmler and Nate Benforado became quick friends after realizing a mutual love of songwriting and karaoke. The Stemms started as a duo cooped up in a studio apartment fiddling away on guitars and drum machines, graduated into local bars, and then became a full band playing gigs all over NYC, with Ben Noland on drums, John Stamatis on bass, and Joe Armao on guitar. From rock, to soul, to grunge, to pop, The Stemms are hard to categorize but have always featured strong vocals from the whole band, pumping out fun and unique tunes.
The Stemms are excited to open the next chapter at the Southern, and even more excited to partner with The Haven for this show. The artists are donating all proceeds to The Haven--a multi-resource day shelter in downtown Charlottesville providing a welcome and safe place for anyone in need.
Boxed Lunch joins The Stemms on this mission to rock and roll while helping out a critical organization in our community. Boxed Lunch is a Charlottesville VA based indie pop/rock band led by the melodic songwriting duo of Justin Storer (drums/vocals) and Joel Streeter (guitar/vocals), along with Emily Gardiner (vocals), Zack Beamer (bass/vocals) and Chad Page (lead guitar). Boxed Lunch is known for their high-energy live shows and killer harmonies.
Justin and Joel have been following each other around the country for years without knowing it, finally meeting and joining forces in 2018. Both formerly of San Francisco and Brooklyn, they share a love for The Beatles and a gift for songwriting. Justin has released two albums of original music -- a solo record (Hot Water Sunday) and a record with his Americana quintet, The Working Effective (Dear Brooklyn) -- and has toured both nationally and internationally. Joel has two albums of his own, Hear Me Out and Matador, the latter of which features contributions by members of Counting Crows and Train, and was hailed by CD Baby as "a classic sounding pop album full of bounce, melodic arch, and lyrical substance." As a solo artist, Joel has played iconic venues such as San Francisco's Fillmore Auditorium (opening for Phil Lesh and Friends).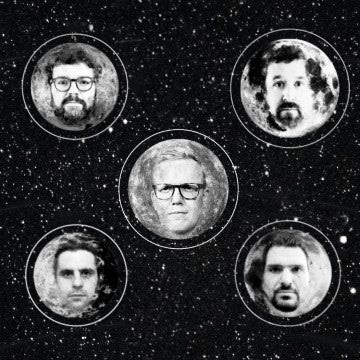 Café

6:00 PM

Doors

7:30 PM

Show

8:00 PM

Price

$20.00
SHOWINGS
This event has already occurred.