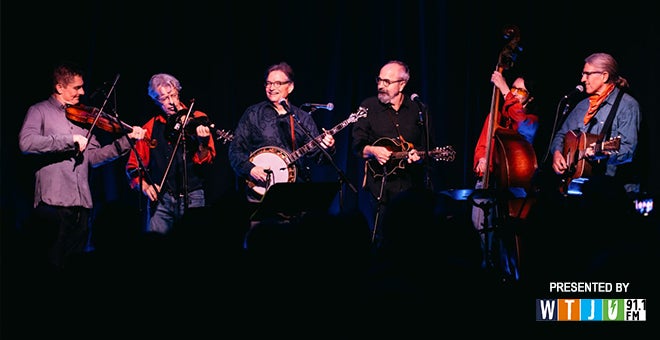 California Bluegrass Reunion presented by WTJU
Wed, Sep 28, 2022
California Bluegrass Reunion presented by WTJU
ft. Bill Evans, Darol Anger, John Reischman, Sharon Gilchrist, Jim Nunally and Chad Manning
NOTE: This is a partially seated General Admission show.
Every year since 2012, banjo master Bill Evans has brought together a stellar collection of banjo players from all over the world, joined with an all-star California-based band, and presented his California Banjo Extravaganza. In 2021, Bill changed the format with a special gathering of well-loved Bluegrass musicians with strong California connections. Featuring legendary fiddler Darol Anger, the California Bluegrass Reunion was born. The band features Bill's longtime collaborators John Reischman on mandolin; Jim Nunally on guitar; Sharon Gilchrist on bass and mandolin, and Chad Manning on fiddle. The musicians of the California Bluegrass Reunion have made music together in different combinations for decades, and this band features many of their new and original compositions.
Freestyle fiddler, composer, producer and educator, Darol Anger is at home in a number of musical genres, some of which he helped to invent. Exceptional among modern fiddlers for his versatility and depth, Anger has helped drive the evolution of the contemporary string band through his 40+ year involvement with numerous pathbreaking ensembles such as his Mr Sun, The Republic Of Strings, the Turtle Island String Quartet, the David Grisman Quintet, The Montreux Band, his Duo with Mike Marshall, Psychograss, and others. He has performed and taught all over the world with musicians such as Dr. Billy Taylor, Bela Fleck, Edgar Meyer, Bill Frisell, Tony Rice, Tim O'Brien, The Anonymous 4, Marin Alsop and the Cabrillo Orchestra, the Detroit Symphony, Bruce Molsky, Mark O'Connor, and Stephane Grappelli. A Professor Emeritus at the famed Berklee College Of Music, he runs an innovative online Fiddle School at Artistworks.com. For more, visit darolanger.com.
Bill Evans is one of the world's most beloved bluegrass performers and teachers. He has been involved with bluegrass music and the banjo for over forty-five years as a player, teacher, composer, writer and historian. He occupies a unique niche in the banjo world: celebrated worldwide for his traditional as well as progressive bluegrass banjo styles as well as his innovative original compositions, he also enjoys a reputation as an outstanding instructor as well as being an expert player of 19th century minstrel and classic banjo styles. One of his latest accomplishments is writing Bluegrass Banjo For Dummies, his second book for Wiley Publications, the famous yellow and black book publishers. Bill currently performs with flatpick guitar legend Dan Crary and tours with his solo show The Banjo in America. In over twenty-seven years as a California-based performer, he has performed with David Grisman, Peter Rowan, Jody Stecher, Eric & Suzy Thompson, David Bromberg, Tony Trischka & Alan Munde, among many others. His latest CD is "Prime Time," recorded with Crary and bassist Wally Barnick. For more, visit billevansbanjo.com.
Grammy Award-winning musician John Reischman has been a foundational mandolinist, composer, bandleader, and musical educator in bluegrass and North American roots and folk music since emerging from the vibrant "new acoustic" music scene of the Bay Area in the 1980s. A founding member of the groundbreaking Tony Rice Unit, Reischman's mastery of bluegrass, old-time, swing, and multiple Latin American musical styles, coupled with an Old Masters sense of tone, taste and musicality, has brought him a global reputation as one of the finest mandolinists of his era. John was a founding member of the California band The Good Ol' Persons and he has led John Reischman & The Jaybirds for over twenty years. For more, visit johnreischman.com.
San Francisco Bay Area native Jim Nunally is a musician, composer, record producer and teacher – all in addition to being one of the finest guitar players in the world. His third-generation traditional music roots began in Arkansas with this guitar-playing grandfather who taught Jim's father who in turn taught Jim. This pedigree contributes to his unmistakably traditional sound. For the last several years, Jim has co-led the Nell & Jim Band with Nell Robinson, performing a unique mix of original Americana sounds based around their outstanding duet singing and Jim's arranging. Jim has performed with the David Grisman Bluegrass Experience, John Reischman & The Jaybirds, and Keith Little as well as leading the path-breaking California band Due West. For more info, visit jimnunally.com.
Sharon Gilchrist has long made her home in the American acoustic music scene. You may have seen her playing mandolin or upright bass, singing a traditional ballad, or performing an original piece on a concert or festival stage anywhere in North America. She has performed with the Peter Rowan and Tony Rice Quartet, Scott Nygaard and John Reischman, Darol Anger's Republic Of Strings, Laurie Lewis and the Right Hands, Scott Law and the Bluegrass Dimension and others. She earned a degree in Mandolin Performance from Belmont University in Nashville, Tennessee, and has taught mandolin for 15 years both privately and online at Peghead Nation and at some of the nation's finest music camps. Sharon currently resides in Nashville, TN. Learn more at sharongilchristmusic.com.
Chad Manning is a Bay Area bluegrass, old-time, and swing fiddler who currently plays with the David Grisman Sextet and the David Grisman Bluegrass Experience. For many years he was also a member of Laurie Lewis and the Right Hands. He has performed and toured with many bluegrass greats such as J.D. Crowe, Curly Seckler, Alan Munde, and Tony Trischka, to name a few. Chad also finds great joy in teaching and working with all levels of fiddle students. He and his wife, Catherine, run Manning Music, a bluegrass/old-time/traditional music school in Berkeley, California where currently 250 students take lessons. Chad is also an instructor at Peghead Nation where he currently offers three courses. Learn more at chadmanning.com.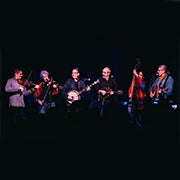 Café

6:00 PM

Doors

7:30 PM

Show

8:00 PM

Price

GA Partially Seated
$35 - Advance
$40 - Door
SHOWINGS
This event has already occurred.