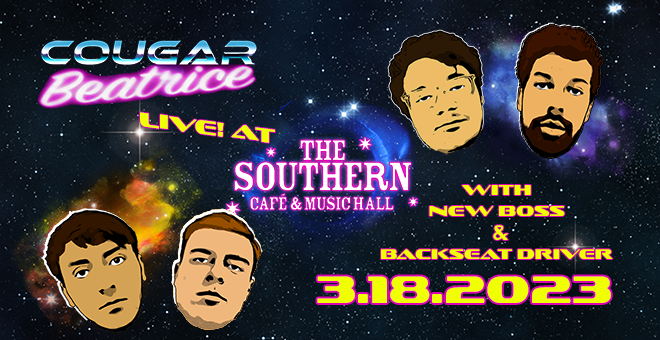 Sat, Mar 18, 2023
Cougar Beatrice
with New Boss and Backseat Driver
Delivering thick instrumentation and raw tones, Washington, D.C. based Cougar Beatrice is a rock band with roots in 2000s alt rock, blues, pop, and vintage rock. Known for their energetic live performances and vivacious stage personalities, Cougar has made a name for themselves across the region as a must-see act on a mission to galvanize the rebellious rock and roll spirit innate in all peoples.
Their debut album, entitled "Colors of I" debuted on May 28th, 2020, is available on all streaming platforms. The album wrestles with overcoming apathy, first through experiencing emotional pain and eventually journeying to acceptance and finding joy and escape in creating and performing music. The band continues to upload content to their Instagram and YouTube pages, intent on one day dominating the world.
---
Charlottesville, Virginia's New Boss is the brainchild of guitarist Thomas Dean (Order, Invisible Hand). The lineup is rounded out by Parker Smith (drums, also Order), Jordan Perry (guitar/vocals, Eat Forever, My Mind), Scott Ritchie (bass, Errantry, Great Dads), Nick Rubin (keys), and Devon Sproule (vocals).

Since 2015 New Boss has churned out recordings and has played spots like Raleigh's Slim's, Chapel Hill's Cave, and DC's Rock 'n Roll Hotel, as well as the fabled 9:30 Club. New album Third Sister (Warhen Records) is the first to feature vocals by Devon Sproule.

Re: New Boss:

Vibrant, rambling power-pop […] an expert and exciting take on the swagger and style of its various rock and roll influences--from the loose grooves of late-era Velvet Underground to Big Star and Belle and Sebastian, and all the places in between. – 9:30 Club, Washington, DC

Ecstatic, stompy+stormy power pop with riffs to die for. – Gallery 5, Richmond VA

Listening to New Boss is like sending your brain to the beach. Their lo-fi approach is well-executed and carries their sound perfectly, with the right amount of twang and dance beats provided by premium drumming. The melodies are easy to lose oneself in, but they're hard to leave behind. If you like Yo La Tengo or Belle & Sebastian, you'll love New Boss.
– Jonathan Goodwin, The Deli DC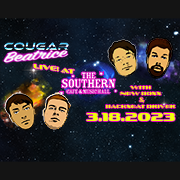 Café

6:00 PM

Doors

7:30 PM

Show

8:00 PM

Price

$10 - Advance
$12 - Door
SHOWINGS
This event has already occurred.