Sun, Oct 24, 2021
Emily Wolfe
with Willie DE
The second full-length from Emily Wolfe, Outlier, released June 25th, 2021 on Crows Feet Records, is an album built on exquisite tension: an endless push-and-pull between desire and resistance, determination and self-sabotage, the instinctive need to belong and the urge to strike out on your own. For help in channeling that complexity of feeling, the Austin-based singer/songwriter/guitarist explored and obliterated the boundaries of rock-and-roll and modern pop, mining equal inspiration from the likes of Judas Priest and Ariana Grande in her bold but masterful genre-bending. Produced by Michael Shuman of Queens of the Stone Age and Mini Mansions, the resulting body of work finds Wolfe upending the conventions of each genre, ultimately arriving at a guitar-drenched sound that's wildly unpredictable and immediately magnetic.
---
Willie DE, a young artist based in Central Virginia, blends folk, blues, and a dash of jazz to create a fresh, original sound. Growing up on his father's Bob Dylan and Van Morrison records, Willie busked on Charlottesville's downtown mall and outside football games at UVA's Scott Stadium, performing original material and most anything the crowd asked for.
At the age of thirteen he formed a band called The Wave. The young band's success landed them at major festivals like Floydfest where the group took the Main Stage in 2011. The Wave recorded two full albums and one EP worth of Willie's original rock songs.
Willie has performed as a solo artist all through Central and Northern Virginia, as well as in Manhattan, Western Virginia, Brooklyn, and throughout the Southeast as far as Austin, Texas. He's shared the stage with the North Mississippi All-Stars and has opened for a diverse group of top-flight musicians including David Olney & Sergio Webb, Ivan & Alyosha, Alash Ensemble, and The Hackensaw Boys.
His first solo album, Egg Cracked, The Bird Went Wild, features original songs of rebirth and regeneration.
His second album, Thunder Train, comes as the result of a long period of development. Willie went off to VCU in 2011 to study jazz guitar. There he learned the art of improvisation, arranging and jazz composition, and sharpened his guitar playing skills.
His third album, Runaway Child, brings together sophisticated strings, steady grooves, and the best of blues-rock music.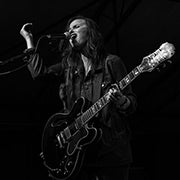 Café

6:00 PM

Doors

7:30 PM

Show

8:00 PM

Price

$12 - Advance
$15 - Day of Show
SHOWINGS
This event has already occurred.