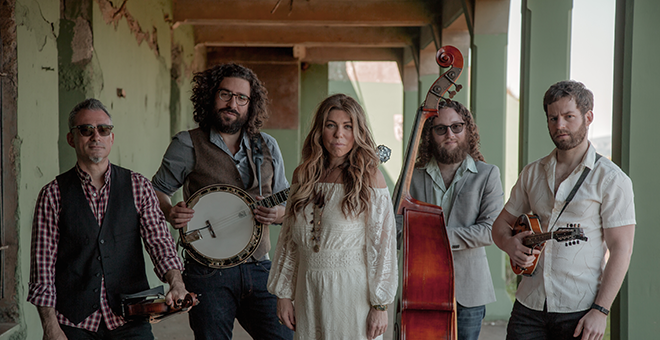 Fri, Jul 8, 2022
Nefesh Mountain
with Palmyra
<iframe style="border-radius:12px" src="https://open.spotify.com/embed/track/1f6rLwCmfJYbBwlB5l03Mi?utm_source=generator" width="400" height="115" frameBorder="0" allowfullscreen="" allow="autoplay; clipboard-write; encrypted-media; fullscreen; picture-in-picture"></iframe>
Since their arrival on the scene in 2015, Nefesh Mountain has been hailed as one of today's formative boundary pushing Bluegrass/Americana bands. In a testament to the unbridled imagination and extraordinary grace of their musicianship, each track on Songs for the Sparrows ineffably evokes the sensation of roaming through the unknown. True to the album's spirit of loving inclusivity, Lindberg and Zasloff, have created an elegantly wayward sound by melding elements of everything from Americana and Appalachian bluegrass to Celtic folk and Eastern European music. Not only a reflection of their vast musical knowledge, that open-hearted embracing of so many eclectic genres also speaks to the joyful curiosity that animates every aspect of their artistry.
Writing thirteen of the fourteen tracks, the duo looked back on a life-changing trip to Eastern Europe in 2018. "We tracked down the towns where our families are from, and it was devastating to see the destruction of the Holocaust firsthand, and to know that we're not so far removed from that time," says Lindberg. "" 'Songs For The Sparrows' ultimately came from that experience, and from thinking about the many groups of people who are horribly discriminated against in the U.S." Zasloff adds: "To us, sparrows represent a small but mighty voice. That's why we chose to name the album for them—they're often overlooked, but they're beautiful and everywhere." Lindberg and Zasloff are the heart of this eclectic band, alongside longtime bandmate and fiddle player Alan Grubner, David Goldenberg on mandolin, and Max Johnson on bass.
In addition to the core band, the album also features an all-star lineup of musicians including Jerry Douglas (Dobro), Sam Bush (mandolin) and Bryan Sutton (guitar) "Jerry and Sam are part of this amazing group of bluegrass musicians who really blew the doors off the whole genre back in the '70s and '80s, and paved the way for folks like us to bring in all kinds of influences," says Lindberg. "So, while this record is in many ways a celebration of American music, it's also our attempt to introduce some otherworldly elements that you may not get from pure Americana." In that spirit, Lindberg and Zasloff brought aboard Celtic phenoms John Doyle (guitar/bouzouki) and Mike McGoldrick (whistles) to help achieve this global sound. "Celtic music is such an integral part of our lives as American roots musicians" says Lindberg. "We wanted to share our love of Scots-Irish music in a number of these songs as a way to bring in a European influence, and for us was such an honor to record and collaborate with two of our favorites; John and Mike"

Additionally, the album features stellar players, Jeff Taylor (accordion, piano, dulceola), Wes Corbett (banjo), and John Mock: (bodhran).
Drawing from the sounds of Appalachia and Midwestern Americana, Palmyra captures the collective spirit of three Virginia natives, Teddy (he/him), Manoa (he/him), and Sasha (they/them). With an ever-expanding sonic palette, Palmyra's live set explores the fusion of traditional folk string instruments, three part harmonies and foot percussion. The burgeoning trio sounds like a distant cousin of the progressive folk band, Punch Brothers, mixed with elements of Fleet Foxes or the Avett Brothers. Palmyra's songs are intimate and contemplative, with three-part vocal arrangements that allow them to create the illusion of a full, larger-than-three ensemble. Palmyra met in the Shenandoah Valley, which is incredibly apparent through their stirring craftsmanship and dedication to create a folk-driven, innovative experience through their live performances.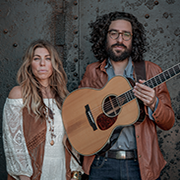 Café

6:00 PM

Doors

7:30 PM

Show

8:00 PM

Price

$25 - Advance

$30 - Door

$70 - VIP