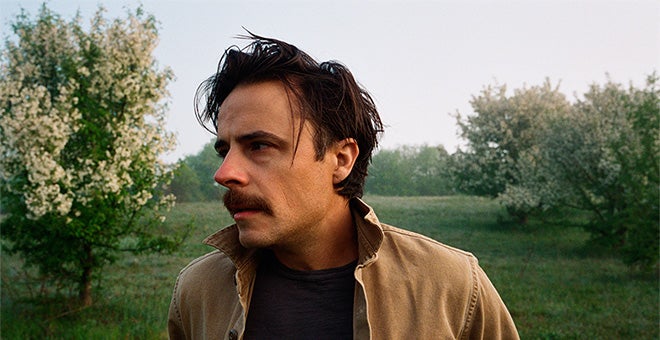 Tue, Oct 17, 2023
The Bones Of J.R. Jones
With Jarrod Dickenson
Photo Credits: Chloe Horseman

ABOUT THE BONES OF J.R. JONES:
"There was no 'a-ha' moment," says Jonathon Linaberry, "no life-changing revelation, no singular flash of inspiration. It was just a fierce, steady, undeniable energy, a force of nature I had to wrestle and wrangle with for years until I could harness it."
It's easy to understand, then, why Linaberry—better known as The Bones Of J.R. Jones—would call his mesmerizing new album Slow Lightning. As its title would suggest, the collection is raw and visceral, pulsating with an understated electrical current that flows just beneath its seemingly placid surface. The songs are restless and unsettled here, often grappling with doubt and desire in the face of nature and fate, and frequent collaborator Kiyoshi Matsuyama's production is eerily hypnotic to match, with haunting synthesizers, vintage drum machines, and ghostly guitars fleshing out Linaberry's already-cinematic brand of roots noir. The result is a moody, ominous work that's equal parts Southern Gothic and transcendentalist meditation, an instinctual slice of piercing self-reflection that hints at everything from Bruce Springsteen and Bon Iver to James Murphy and J.J. Cale as it searches for meaning and purpose in a world without easy answers.
About Jarrod Dickenson:
Jarrod Dickenson is a guitarist, singer, songwriter and producer, originally from Waco, Texas, now based in Nashville. His two albums, The Lonesome Traveler and Ready The Horses, along with his EP, Under A Texas Sky have earned him critical acclaim and a devoted audience on both sides of the Atlantic. Not one to fear an exhausting tour schedule, Dickenson has entranced crowds all over Europe and the US and shared stages with such legendary artists as Bonnie Raitt, Don McLean, The Waterboys, Jools Holland and Jimmie Vaughan. He has performed at prestigious festivals such as Glastonbury and Cambridge Folk Festival. In addition to his origin as a Texan, his current status as a Tennessee resident, and the fact that he dropped enough rent over the years to deserve to call himself a New Yorker, Dickenson is also an adopted son of Belfast. It was in the Northern Irish city where he met wife and bandmate Claire Dickenson whose luscious, versatile vocal has become a central ingredient of his sound on stage and on record.
After a baptism of fire in the world of the major labels, Jarrod Dickenson now exists as a fiercely independent artist, a look that suits him well and allows his creativity to follow whatever path it damn well pleases. Nowhere is this attitude better encapsulated than in the bluesy rock and roll growl of his uncompromising new album BIG TALK, released worldwide February 3rd, 2023 via Hooked Records.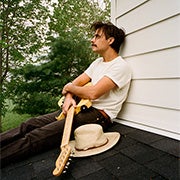 Café

6:30 PM

Doors

8:00 PM

Show

8:30 PM

Price

$17 - Advance
$22 - Doors