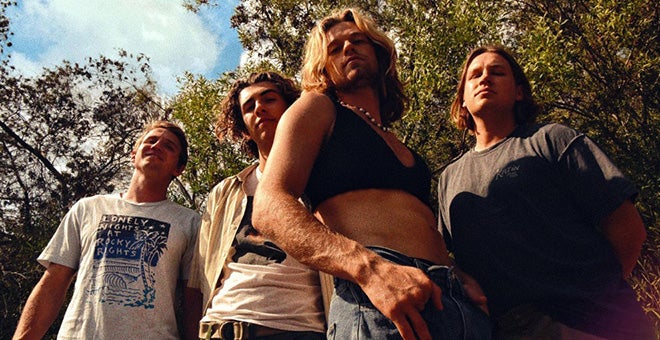 Tue, Dec 5, 2023
The Moss
with Future.exboyfriend
One dollar from every ticket sold will be donated to One Tree Planted.
About The Moss:
In a musical landscape with fewer boundaries than ever before, THE MOSS's exuberant brand of alternative rock spans genres, eras, and even oceans.
The Utah-via-Hawaii group was born on the shores of Oahu in 2015, as teenage buddies Tyke James (vocals/guitar) and Addison Sharp (guitar) picked up a gig serenading diners at local taco trucks in between surf sessions. Naturally, their songs took shape in the spirit of the island, imbued with the joyfulness and breeziness of reggae culture yet cut with the introspection and communal spirit of mainland indie acts like Pinegrove and Cage the Elephant.
By 2018, the duo had grown, enlisting Willie Fowler on drums and Addison's brother Brierton on bass, and traded in beaches for the Great Salt Lake. They hit the stage at spots like local cornerstone Kilby Court, live-testing their modern-indie-meets-'60s-blues with a wide-eyed exuberance that translated effortlessly into their 2019 self-released debut, Bryology.
Colored by the sound of Stratocasters jamming through reverb-cranked Fender amps, all backed by bouncy rhythms, Bryology marked a big step for the still-young quartet – but, true to The Moss's nature, was still hard-coded with a DIY ethos. "We basically had no budget," James remembers fondly. "We bought some nice mics and an interface and I ended up learning how to mix while we were recording."
The follow-up, 2021's Kentucky Derby, brought a more aspirational, blue-sky tilt to the foundation they'd laid on Bryology, expanding the group's sonic arsenal while keeping the relatable lyrical style and sun-soaked sentiment at the forefront. "I'm really proud of how we've evolved as a band over time," Addison Sharp says. "It feels like we've taken every different influence and mashed them all together to create something that feels really special."
"Bryology seemed like a collection of separate songs we put together to make an album, whereas Kentucky Derby is a similar thought and story coming together to collectively make a more cohesive album," adds Brierton Sharp says, noting the album's tracks are sneakily arranged in pairs of two that seamlessly flow into one another. "Each song could be listened to on its own, or you could listen to them all and get a broader sense of our intention."
No matter how listeners choose to interact with The Moss's music, the band just hopes they feel something. It's that kinetic relationship between band and audience that makes their live performances – including a pitch-perfect recent set for Audiotree – so compelling. "No matter what we do, we want to make sure the songs are fun to play live," says Fowler. "We pride ourselves on being a band people want to see live."
"There's something special that happens when you get an immediate reaction to a song," says James. "Whether it's during a live show or even just a songwriting session, if there's a reaction from people in the room, you know you're on the right track."
About Future.exboyfriend:
future.exboyfriend (Tyler Harris) explores themes of loss, love and solitude through catchy, DIY electro-pop. Sporting a unique and addictive vocal tone, Harris became recognizable in the local music scene as the lead singer for indie-pop group Mojave Nomads.

future.exboyfriend is Harris's first solo venture, characterized by sweeping synths, contemplative lyrics, and his undeniable, distinguished vocals. Having recorded and released his debut album "Party in a Lonely Head" in 2020, Harris is slowly but surely finding his sound.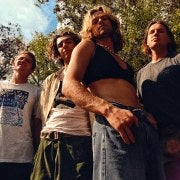 Café

6:00 PM

Doors

7:30 PM

Show

8:00 PM

Price

$19 - Advance
$21 - Door
SHOWINGS
This event has already occurred.