Thu, Oct 6, 2022
Underground Springhouse
with Chestnut Grove
"More of the good, less of the bad." That's the motto upon which Underground Springhouse have built their sound and style. Exploring reggae, country, and funk influences within a rock 'n roll context, Springhouse has crafted a genre-bending catalog that takes listeners from beaches to back roads with ear-worm hooks and head-bobbing grooves.
Their debut single, "Joyfell" (2018), has caught the ears of listeners around the country, galvanizing the band to become the touring and recording machine that they are today. Springhouse has since released a full length album, "Underground Springhouse" (2021), and an EP, "Tom Foolery" (2019), as well as a number of one-off singles. Their most recent release, single "I'll Be Fine" (April 2022), sees the band incorporate southern rock and blues influences while staying true to their motto with the song's chorus: "Gonna find myself an exit, a few cold beers, and a late-night breakfast and I'll be fine."
The band's consistent recording output and dedicated touring schedule have helped grow their audience from a college town phenomenon into a frenetic mass of music lovers, particularly in the Southeast where Springhouse has headlined such venues as Athens' Georgia Theatre and 40 Watt, Nashville's Exit/In, Birmingham's Avondale Brewing, Asheville's Salvage Station, and Atlanta's Aisle 5. Fans should expect the unexpected at a Springhouse concert as no two shows look the same. The band's fondness for improvisation and segues, and use of mashups and surprise covers make each show a unique experience, and keep fans coming back night after night.
Members Charlie Haas (guitar/vocals), Jackson Thompson (bass/vocals), Max Motley (keyboard/vocals), Mitch Davidson (guitar/vocals), and Jacob Sherwin (drums/percussion) met in Athens, Georgia while students at the University of Georgia. Underground Springhouse is a product of Athens' renowned music scene, slowly evolving as the group grew from a dorm room project into the polished outfit they are today. Fall 2022 will see the group make their first trip to Texas, playing venues in Dallas, San Antonio, and Austin. They'll also be making their festival debut at The Ramble Festival in Darlington, MD, as well as stopping at familiar venues like the Georgia Theatre and the Raleigh Pour House.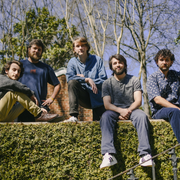 Café

6:00 PM

Doors

7:30 PM

Show

8:00 PM

Price

$10 - Advance
$15 - Door
SHOWINGS
This event has already occurred.