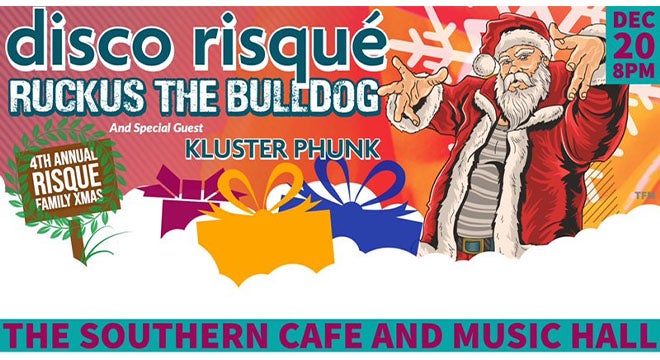 A Risqué Family Xmas featuring Disco Risqué
Fri, Dec 20, 2019
A Risqué Family Xmas featuring Disco Risqué
with Ruckus The Bulldog and Kluster Phunk
About Disco Risqué:
DISCO RISQUÉ IS ENERGY! SCREAMING GUITARS, POUNDING DRUMS, THUMPING BASS, BLARING HORNS AND RAW VOCALS COME TOGETHER IN A CONTROLLED CHAOS THAT LEAVES LISTENERS ASTOUNDED AND HUNGRY FOR MORE. FORMED IN 2014 AND PERFORMING WITH THE CURRENT LINEUP SINCE MID 2015. DISCO RISQUÉ HAILS FROM CHARLOTTESVILLE, VA AND HAVE SPENT THE LAST YEAR DEVELOPING A SIGNATURE SOUND ATTRACTING A FIERCELY LOYAL FOLLOWING OF DEDICATED FANS. WITHIN THE FIRST YEAR OF PLAYING LIVE THE GROUP DELIVERED THEIR EPONYMOUS DEBUT DOUBLE-ALBUM (AVAILABLE ON ITUNES, SPOTIFY, BANDCAMP, ETC.), PERFORMED WITH UP AND COMING GREATS SUCH AS TAUK, PIGEONS PLAYING PING PONG AND PEOPLES BLUES OF RICHMOND AND WERE CHOSEN TO BE 1 OF 4 VIRGINIA BANDS TO PERFORM AT LOCKN 2018. COMBINING ELEMENTS OF ROCK, FUNK, HIP-HOP, HARDCORE AND POP DISCO RISQUÉ TAKE THEIR LISTENERS TO PREVIOUSLY UNTRODDEN SONIC REALMS. WITH A GRUELING PRACTICE SCHEDULE AND A SEEMINGLY LIMITLESS DESIRE TO TAKE THEIR MUSIC TO THE NEXT LEVEL DISCO RISQUÉ HAVE QUICKLY PROVEN THEMSELVES AS A FAST-RISING POWERHOUSE. WITH THE HIGHLY-ANTICIPATED RELEASE OF THEIR SECOND STUDIO ALBUM THE DR CREW IS CHOMPING AT THE BIT TO SHOW THE WORLD EXACTLY WHERE THEY CAN GET SOME!

About Ruckus The Bulldog:
Ruckus The Bulldog is a rock duo from Charlottesville, VA. The band consists of Billy Castle on guitar and Jimmy Czywczyski on drums. These two nugs share a passion for heavy face-melting riffage played at ear damaging volumes. They also enjoy a nice Sunday brunch atop a mountain of their vanquished enemies.
Genre: Rock, Punk, Metal, Funk, Comedy

About Kluster Phunk:
Formed in early 2016 out of Wilkes-Barre, PA, Kluster Phunk's founding member Silas Farrow (Guitar) began piecing together the band while he attended college in Nanticoke, PA. With the goal of playing original and improvisational music that got its audience up on the dance floor, he quickly convinced his longtime friend James Morrissey to play guitar and front the band. What started out as an acoustic duo quickly turned into an electric jam band with a rotating cast of musicians that would include percussionists, pianists and drummers, with James and Silas at the core. Throughout 2016 and 2017, the band went through many incarnations until they found their first patch of solid ground when they approached Sean Hodge to fill the keyboard/synth position and Warren Charles on drums. Shortly after, the next change occurred in January 2018 when Justin Sollenne stepped in on Bass, and finally with Jovon Jordan on drums after Warren left for the Navy.

The real work began after the band settled on its members. With an already semi-developed following around the Northeast region, Kluster Phunk further solidified its hold by getting heavily involved in the summer music festival scene. Sharing the stage with bands such as Goose, Flux Capacitor, Peter Prince and Moon Boot Lover and playing with members of Pigeons Playing Ping Pong, they realized they were gaining traction in the industry and needed to capitalize on their progress. Now they are developing a following in key rooms in the jam band scene such as The River Street Jazz Cafe, Sprout Music Collective, Stella Blues and many more.

With Kluster Phunk's release of their debut album "Two Blue Buddies," they are carving their own path to being a household name in the jam scene.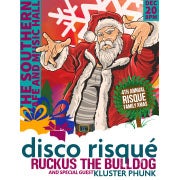 Doors

6:30 PM

Show

8:30 PM

Price

$10 Advance

$10 Day of Show