Thu, Jan 17, 2019
Asher McGlothlin and Mo Lowda & The Humble
with Sunday Gravity
About Asher McGlothlin:
Asher McGlothlin is a musician based out of Charlottesville, Virginia, but proud to be from Grundy, Virginia, a small town located in the heart of the Appalachian Mountains. Asher grew up playing guitar and singing in the choir at his church on Sundays while also being inspired by the bluegrass and southern rock that played throughout his hometown. All of these genres flow together in his music to create a sonic experience that pays tribute to one of America's most rich and unique music cultures, while taking on a unique life all its own.

Asher's debut EP Bardo was released on January 9th, 2018. The term bardo is a Buddhist term that means the intermediate state between two lives on earth. The bardo can be pleasant or treacherous, depending on one's perspective. Asher views the transition from youth to adulthood as being a transitional period similar to the bardo, and view the songs on this EP as telling the story of his own experience in this intermediate state.

In March of 2018, Asher began a thru-hike of the Appalachian Trail, a journey that lasted nearly 6 months and saw him travel over 2,000 miles. Asher has since returned to Charlottesville with a mind flourishing with musical inspiration that he is now ready to share with the world.

C-VILLE Weekly: "Asher McGlothlin perfectly captures the spirit of his childhood in the Appalachian Mountains, as well as the leap from teenager to adulthood, on his January 2018 debut EP Bardo, which takes its name from the Buddhist term describing the halfway place between death and rebirth. Able to be both chaotic and delightful, McGlothlin takes on this beautiful unbalance in the diversity of his six songs, touching on happy and sad, upbeat and downtrodden, accompanied by rich vocals and soulful instrumentation."

About Mo Lowda & the Humble:
Known for their progressive song writing and energetic live performances, Mo Lowda & The Humble's beginnings were in the beer-soaked basements of Philadelphia. Following the release of their first full length album in 2013, the trio, consisting of Jordan Caiola, Shane Woods, and Nate Matulis began playing venues throughout the city. After experiencing the high of multiple sold out hometown shows, Mo Lowda took their act on the road and began consistently touring the country. Their 2016 sophomore release, 'Act Accordingly', was a short and sweet embodiment of the band's natural progression; refining their already formidable sound. Following that release, Jeff Lucci stepped in as the new bassist, bringing his unique songwriting and tasteful use of effects pedals into the mix. On the heels of playing over 100 shows nationwide in 2017, Mo Lowda is set for a full US tour In 2018, in support of their upcoming Full-Length entitled "Creatures".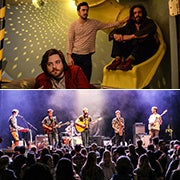 Doors

6:00 PM

Show

8:00 PM

Price

$10 General Admission

$30 4-Packs ($7.50 per ticket)
SHOWINGS
This event has already occurred.