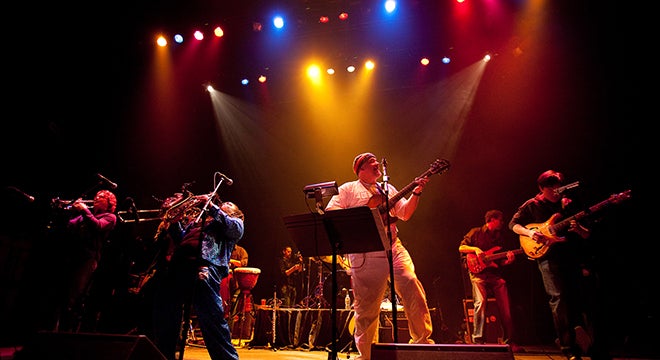 Fri, Sep 14, 2018
Baaba Seth
with Kai Crowe-Getty (of Lord Nelson)
Baaba Seth got their start in 1991, soon after the birth of lead singer, song writer, and guitarist Dirk Lind's son (and the soon to be band's namesake), Seth. It all started on original guitarist Kevin Lynch's front porch on Virginia Avenue, with casual jam sessions that included Lynch, Boyd Tinsley, current member Len Wishart (percussion), and others. As fans of African music, they decided to create a sound that incorporated the positive mood and infectious grooves of modern African music into distinctly American songwriting.
The band's first album, Crazy Wheel, was released in February of 1996. The album was greeted eagerly by fans and the media alike, garnering positive reviews in local papers as well as major publications such as the Washington Post and New York's Village Voice. MTV picked up a song from the album for one of its early reality shows.
Baaba Seth's second album, "Live... at the End of the World," was recorded live during a Charlottesville Fridays After Five show and released in 1998. During this time the band had a rigorous touring schedule, playing colleges and clubs from New York City to the Carolinas.
In 2000, Lind moved to Arizona to live on the Navajo Nation. Though it marked the end of Baaba Seth as a touring ensemble, the band didn't feel that it was time to retire their unique brand of high energy original worldbeat afro-funk-jazz-rock vibe music. Although the members scattered over the years since, and pursued careers both in and outside of music, all felt that Baaba Seth was something special that no one wanted to leave behind. These days, Baaba Seth doesn't refer to their shows as "reunions." As Lind says, "we're simply a band with a very light schedule!"
Since its inception, Baaba Seth's various iterations contained some of the area's top musicians. The current lineup (which many fans consider to be the band's strongest) consists of Dirk Lind-vocals and rhythm guitar, hugs and tickles; Hope Clayburn-vocals and sax, flute and dance madness; Mike Chang-lead guitar, vocals, minister of propaganda; Dylan Locke-bass, Floyd County crackalaka; Jim Ralston-drums, master illusionist/dancer; Len Wishart-congas, djembe, percussion, and DNA cloning technology;Tim Lett-trumpet and the original Jazzneck; Mark Maynard-trombone and official story teller, will travel for peanut butter.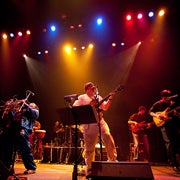 Doors

6:30 PM

Show

8:30 PM

Price

$12 Advance

$15 Day of Show
SHOWINGS
This event has already occurred.