Sat, Nov 2, 2019
Dylan LeBlanc (Solo) and Night Moves Presented By WNRN
Dylan LeBlanc knows second chances don't come around often. But, neither do voices like his.
Overwhelmed by the speed his gift would take him, from Applebee's server to "the new Neil Young" in a matter of months, he walked away from an unlikely major label deal after releasing two critically acclaimed albums. He slipped into a blur of booze and self-doubt. Exhausted and damaged at just 23-years-old, Dylan came home to Muscle Shoals, Alabama to write a new life for himself.
In between the moments of clarity and a few familiar falls, he also wrote a new album, Cautionary Tale: a collection of shimmering, arresting songs with the same haunting vocals that caught the attention of Lucinda Williams and Bruce Springsteen, now with a sharpened edge honed by hastened maturity.
"This record is about me getting honest with myself," says Dylan. "I had to let the guilt about the past go and find a new truth within myself. This time, I felt like I really had something to say."
To help him say it, he sought out long-time friend Ben Tanner, the same guy who had secretly helped Dylan record his first songs after hours while working at fabled FAME Studios. (He also introduced a 16-year-old Dylan to Wilco, George Harrison, and Ryan Adams by way of an external hard drive). In between touring with Alabama Shakes, Ben was beginning to engineer records again at the label he started with another friend of Dylan's, Grammy Award-winning musician John Paul White, formerly of the Civil Wars. The two both produced and played on Cautionary Tale.
"They prevented me from burying my words," says Dylan. "Doubt can often be my first instinct, and I'll try to cover things up with more elements to hide my voice, but I made up my mind to trust them. I heard Merle Haggard say once that the singer is secondary to the song, and they both helped me build a strong foundation for the emotions I was feeling."
The stripped down aesthetic that John Paul and Ben have made their label's calling card sets Dylan's voice in a light bright enough to see the patina the last few years has left behind.
"I spent a lot of time writing about programming and conditioning and the idea of ego," says Dylan. "I don't want to rely on my circumstances or the past to say why I am the way I am anymore. A lot of my songs like 'Cautionary Tale' and 'Look How Far We've Come' are about trying to break out of a vicious cycle. I was wondering if I could find my solutions from within—if I could believe in something beyond the present."
If Dylan was wandering through a cemetery with his first album Paupers Field ("Songs are like headstones to me," he told The Guardian), Cautionary Tale is an abandoned desert town. He reflects on what once was, and if anything could be again. At times, he wonders if the signs of life he sees on the horizon are real or just a mirage. Phantasmic, warbling voices in the background rise to meet his own and fade into the ether; ghostly guitar riffs echo in the emptiness around him.
Finding the right arrangement and words was a more deliberate effort for Dylan this time. After feeling lost in the "mania" of recording his first two albums, he relied on Ben and John Paul to help him collect the pieces of his vision.
"I've definitely become more disciplined. I don't count on things like inspiration anymore," says Dylan. "I learned so much from putting songs together with John Paul. Anything he does, it's always going to be well-thought-out and well-placed. I'm naturally an improv guy, but now I see how that can be more limiting than planning your next move."
That new-found discipline shows. Never one to write out parts, Dylan methodically scored the stunning string sections with violinist Kimi Samson and cellist Caleb Elliot. To form the polished rhythm section he wanted to drive songs like "The Easy Way Out" and "Beyond the Veil," he paired drummer Jeremy Gibson with Alabama Shakes bassist Zac Cockrell ("I wanted it to feel like a Bill Withers record or Al Green—soulful, but tight.")
While Dylan will be the first to admit he wasn't ready to stand on the stages he played early in his career, there's no doubting he is now. With a recalibrated compass, he's back on the road opening sold-out shows for British singer-songwriter George Ezra, another artist praised for a wizened voice beyond his years.
Dylan will continue to support George through September 2015, including a show at Nashville's legendary Ryman Auditorium. Next, he'll embark on his solo tour with dates throughout the South, Midwest, and New England.
"After everything I've gone through, I still love putting records out and singing for people, no matter how big or small the crowd," says Dylan. "It's the only thing I want to do, and now I get to keep doing it as a more well-rounded person. I guess I'm blessed or whatever the hell you want to call it."
Night Moves new album, Can You Really Find Me, pulsates and glows with the same sublime energy that radiated from breakout single "Carl Sagan" in 2016, however in the intervening years, John Pelant and Micky Alfano have grown up. The songwriting, while still steeped in super-catchy, velvety riffs and pure pop glaze, feels more sophisticated and modern. Since the pair met in high school, awestruck by such ear-candy wizards as Brian Wilson, Todd Rundgren, Stevie Nicks and Lindsay Buckingham, they set off to craft their version of what sophisticated, emotional modern pop music can and should sound like. 2016's Pennied Days was a breakthrough, and set a new bar for the members of Night Moves. After spending the subsequent two years on Can You Really Find Me, they've scaled new heights, where the sounds are still just as sweet, but now smarter, more evocative, and perfectly designed for a summer release.
So how did something that feels so warm and breezy – like the perfect summer soundtrack – emerge from the dead of a bleak and frigid Minneapolis winter? Pelant and Alfano sequestered themselves, dreaming their way out of the cold by writing songs like "Coconut Grove," a whirly psychedelic love song, and "Ribboned Skies," a blazing ode to guitars and syncopation. Minneapolis has always played a part in the creative process for these dyed-in-the-wool locals. Long heralded as local hot shots in the cold, desolate, land of Prince, Westerberg and Dylan, John and Micky have still never stopped working the grind; in donut shops, bakeries and restaurants, toiling to make ends meet yet trying find beauty in the mundanity, and in the tranquil midnights.
Pelant, as a writer, thrives in the gloom of isolation; a cold void, "I think it's this type of environment that helps me feel focused. Zero distractions. Focused in a way where I can tap into certain emotions. I think some of the best music transports you to a place in time where your memories become potent visualizations. When writing closed off like this, you can see the images easily and your brain will pick the right chords and tones and guide you where you ought to go. I think being alone during that type of hibernation season is a great space in which to create."
Once they emerged from their creative cocoon, it was down to the warmth and mythical allure of Austin, TX to bring the album to life. If Minneapolis was about hunkering down in cold isolation, Austin was about heat and life, working with producer Jim Eno (founding member and drummer of Spoon) out of Public Hi-Fi Studios, alongside live band members Mark Hanson and Chuck Murlowski, to record the ten tracks that make up Can You Really Find Me.
The tunefulness of this collection is not by accident. As Pelant deadpans, "Wouldn't it be great if we could make a record that sounded like it has a lot of singles on it?" Whether it's the infinitely hooky "Strands Align," the up-tempo synth flourishes of "Recollections," or the buttery soul of "Saving the Dark," each song so adeptly sticks to the album premise of feeling "single-like" that you wonder how they will even choose any.
In the grab bag of modern pop genres, from neo-psychedelia to shoe-gaze, ambient pop to cosmic country, Night Moves dream big on Can You Really Find Me and deliver a genuinely sparkling set that corrals all of these styles into one cohesive collection.
Reflecting once more on the new album, Pelant feels it functions in part as a rumination on aging; a period piece denoting his last 3 years, "I told myself at 18 I wanted to dedicate my 20's to music and if nothing came of it, I would move on. So now closing out my 20's, I feel there is still ground left to cover, I'm not quite satisfied yet. Our last album saw us hit a lot of hurdles; despite the successes we had, we parted ways with our management and lost a founding member of the band. While it's proven to be a bumpy ride, I feel it just may be worth the trouble. I think I'm more comfortable now in my skin than I was at 24."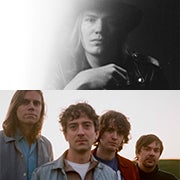 Doors

6:00 PM

Show

8:00 PM

Price

$15 Advance

$15 Day of Show
SHOWINGS
This event has already occurred.