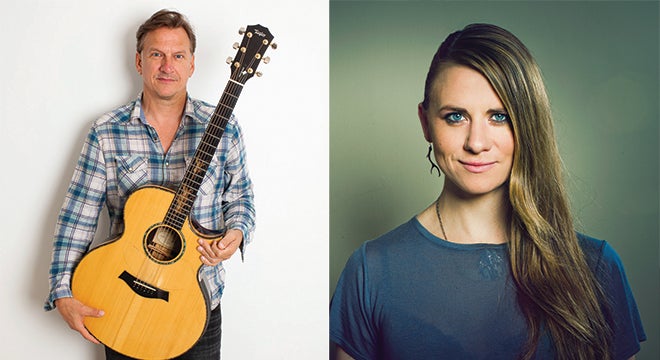 Ellis Paul / Mariana Bell
Fri, Aug 19, 2016
Ellis Paul / Mariana Bell
About Ellis Paul
Ellis Paul's songwriting credentials are unassailable. They are as genuine as the fifteen Boston Music Awards he has earned, as indelible as the tattoo of Woody Guthrie that adorns his arm, and as authentic as the musical roots he draws upon with every note he plays. He emerged out of the Boston music scene during a time when contemporary folk was beginning to come into the mainstream. Now, with 20+ years of playing 150 to 200 shows annually, 19 record releases, a documentary film, a book of poems/short stories, an award winning children's book project, as well as songs featured on Hollywood soundtracks, he makes Boston's music scene proud.
About Mariana Bell
Singer songwriter Mariana Bell delivers her soulful brand of folk pop across clubs in the city/the region and beyond, weaving elements of rock, jazz and country together with her trademark hook-filled melodies and evocative, passionate vocals. An unforgettable live show.
The Australian-born, Charlottesville-raised Mariana Bell began singing at age 6. As an alto in the Virginia Consort Youth Choir, she continued to hone her talent for melody and harmony, performing at the National Cathedral and the White House. Soon after moving to New York, she became a fixture at such venerable downtown locales as Rockwood Music Hall, CBGB's and The Living Room to name a few. In addition to singing backup vocals for various bands in need of some sweet harmony, she regularly performed with Irish band Doc and the Hods at the now-defunct but famed Bottom Line and innumerable Irish bars about town. Now Living in Los Angeles and touring nationally on the folk/indie circuit, you can catch her playing house concerts and venues in a town near you!
A graduate from Tisch School of the Arts at NYU, Mariana has had a long relationship with the stage. She composed music and performed in many productions there while honing her songwriting there. A high point was playing to an audience of over 500 with some of Broadway's biggest stars, as well as Neil Diamond, at the NYU October Festival, where NYU gave away $1 million in tickets to help Broadway recover from the devastating blow of 9.11 the previous month.
Mariana Bell has performed, written and recorded with an eclectic set of renowned musicians such as multi-instrumentalist Mike Meadows (Taylor Swift), pianists Vienna Teng and Josh Dodes (Toby Lightman), Rosi Golan, cellist Paul Brantley (Bela Fleck), guitarists Rusty Speidel (Mary Chapin Carpenter's debut album) and Justin Derrico (Pink), bassist Gary Granger, Jean Scofield (Daughter to Jazz Legend John), Andy Waldeck, The Paper Raincoat & Jared Scharff (SNL), and producer/engineer Eddie Jackson (James Taylor).
While critics have likened her music to that of a young Joni Mitchell, Mariana counts among her own influences Shawn Colvin, Fiona Apple, Bruce Cockburn, Dave Matthews, and Ani DiFranco. She has been a special guest on WNRN, WCNR the Corner, and the Eclectic Women's show on WTJU 91.1 FM Charlottesville, VA, as well as appearing on PlumTV in Nantucket, MA. Over the past several years, the singer has been touring across the country from Nashville to Los Angeles, and London to Australia winning audiences over with her unique and soulful live performances.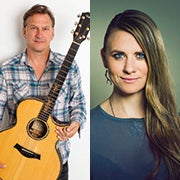 Doors

6:00 PM

Show

8:00 PM

Price

GA Seated with Standing Room

$18 Advance

$20 Day of Show
SHOWINGS
This event has already occurred.