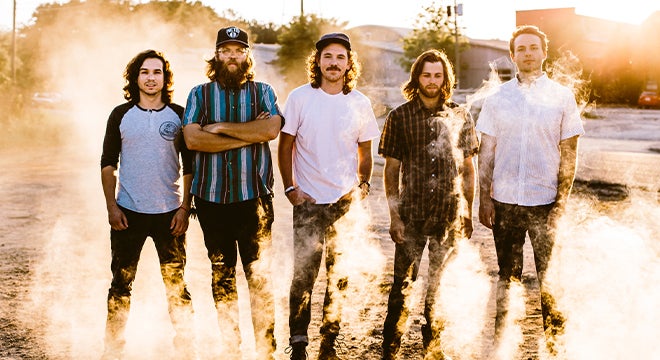 *CANCELED* Family and Friends
Fri, Apr 24, 2020
*CANCELED* Family and Friends
with Wanderwild (ft. Members of COIN) and Stray Fossa
Unfortunately, this show has been canceled. Refunds will be made at the point of purchase.
Whereas Family And Friends' first EP focused heavily on love, and the second on nostalgia, Felix Culpa is caught somewhere between adolescence and adulthood and finds Family And Friends at a pivotal moment in their maturation both as artists and individuals. With a classic coming-of-age narrative, the album's theme focuses on a precipice of life's journey, as we begin the quest for existential meaning and come to terms with the fact that people, relationships, and seemingly universal truths are more complicated than we perhaps realize. Balancing scintillating textures with bright guitars and beautiful vocal harmonies, Family And Friends' sharply observant lyrics are cloaked in the band's contagiously upbeat instrumentation, leaving the listener with a sense of hope by album's end.
Family And Friends' collaborative concept extends well beyond the members of the band. With a live show that begs audiences to feel as much a part of the experience as the musicians onstage, their fiery performances have been turning casual viewers into full-on believers all over the southeast. The band's infectious, dynamic anthems become even more intoxicating in a live setting, with epic builds that crash over the roar of two dueling drummers, who perform facing each other and feed off one another's energy. A Family And Friends show is pure, unadulterated fun with a lightning bolt of enthusiasm and a familiarity that is immediately endearing and undeniably gratifying.
Family And Friends includes Mike MacDonald (guitar, vocals), Casey Harper (vocals), David "Tuna" Fortuna (bass), Ryan Houchens (drums, vocals), Alejandro Rios (drums), and JP McKenzie (electric guitar). The forthcoming album title, which loosely translates to "blessed mistake", illustrates the notion that while we may continue to search for some semblance of meaning, the fact that we are here at all deserves to be celebrated, and Family And Friends intends to do just that.
SHOWINGS
This event has already occurred.