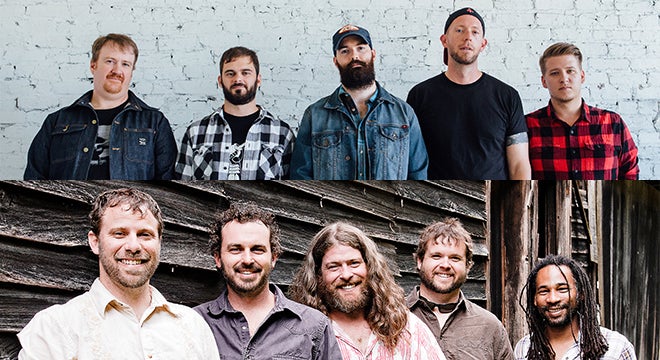 Folk Soul Revival / Big Daddy Love
Sat, Mar 26, 2016
Folk Soul Revival / Big Daddy Love
About Folk Soul Revival: Based in Bristol, VA/TN, a.k.a. the birthplace of country music, FOLK SOUL REVIVAL is one of southwest Virginia and northeast Tennessee's most beloved and sought after acts. Performing original roots-rock, the quintet's distinct, radio-ready sound and back-porch instrumentation have garnered success with high profile gigs opening for the likes of Travis Tritt, Jason Isbell, Eric Church, Justin Townes Earle, Dr. Ralph Stanley, and more. FSR's loyal fan base, fondly referred to as "The Congregation," consistently packs sold out shows across the southeast while singing along with the band word for word.
FSR is a mainstay act at Bristol Rhythm & Roots Reunion which boasts more than 60,000 attendees. The band has also performed at Floydfest and are among the best-selling acts to perform at the legendary Carter Family Fold and The Down Home.
FSR frontman Daniel Davis achieved 2nd place in the prestigious Chris Austin Songwriting Contest at Merlefest in 2013 for the song "Homesick." The band's third album, Prompting the Dapperness, rose to #12 on iTunes' country chart and reached #99 on the day of its release. The band also climbed to #10 on Billboard Magazine's Heatseekers chart (South Atlantic Division). Virginia Living readers also listed them among southwest Virginia's Top 3 bands in 2012. In 2011 FSR was voted Virginia Is For Lovers Band of the Year at Bristol Rhythm & Roots Reunion. Their second album, Words Off A Tongue, was listed among No Depression's Top 15. The band has also been spotlighted on Music City Roots and Sirius/XM's "Outlaw Country."
About Big Daddy Love: If you can judge a band by its name, you'd probably guess that Big Daddy Love is not a gentle string quartet--and you'd be right.
Their music has been described as "a blend of rock, bluegrass, southern soul, and psychedelic jams." One reviewer characterized them as "a band with teeth" (fortunately in both a literal and metaphorical sense), and they've been known to describe themselves as "Appalachian Rock." Genre descriptions aside, you'll notice six guys who are comfortable playing bluegrass, reggae, blues, and everything in between.
The sextet, based in Winston-Salem, North Carolina has played close to a thousand shows in more than half the states of the union, and lead singer Scott Moss says his head is still swimming from the band's success: "It's a total life change. You go from having a full-time job and playing on weekends to jumping in a van one day and playing 200 shows a year throughout the country. You have to be pretty committed to want that." The group is rounded out by Matteo "Joey" Recchio on electric guitar and vocals, Brian Paul Swenk on banjo, Ashley Sutton on bass guitar, Scotty Lewis on drums, and the newest member, Bill Stevens, on keys, organ, and adding the 3rd harmony vocals.
Along the way, their venues have ranged from listening-room coffee houses to the 20,000 seat PNC Arena in Raleigh, NC. Their festival resume ranges from local favorites like The Big What to larger regional festivals such as Bristol Rhythm & Roots up to the premier southeastern festivalFloyd Fest--where they won the "Under the Radar" contest their debut year recognizing the best up-and-coming band of the festival. As to the origin of their (toothful) name, "It started as a joke," says Moss, "but since solidifying this current lineup I believe the significance is obvious to the attuned listener. We're all about spreading love and joy everywhere we go. A lot of our songs are centered around love, respect, and family, and those are the underlying themes we wish to spread with our performances. We want everyone to smile and feel like they're at home with us--to be part of our story as we travel the country playing the music we love"
Big Daddy Love (or BDL for short) has released four CDs including the two most recent: Live at Ziggy's and This Time Around. One reviewer in GA wrote, "Big Daddy Love is a force. The festival scene has been eating them up. If you haven't been able to check them out yet, then you are missing out. It's a foot-stomping good time at every single show, and they are the nicest guys I have met in music."
If it's hard to remain humble in the face of so much praise, the band doesn't show it. "We're constantly amazed by how many people have jumped on board with us and do so much to help us in every way possible," says banjoist Brian Paul Swenk. "Whether it's kickstarter donations, or giving us a place to stay on the road, or even giving their cd's away to friends and coming back to buy another, we've learned that it takes hundreds of people to help a band find success in today's music industry."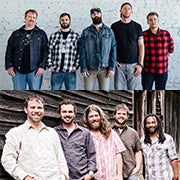 Doors

7:00 pm

Show

9:00 PM

Price

$10 Advance

$10 Day of Show

GA Standing Room
SHOWINGS
This event has already occurred.