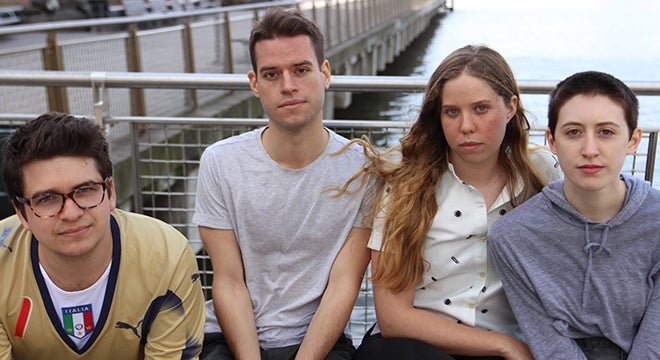 Sat, Sep 23, 2017
Frankie Cosmos
with Ian Sweet and Nice Try
About Frankie Cosmos:
Originally the solo project of prolific New York City-based songwriter Greta Kline, Frankie Cosmos has blossomed into a four-piece band including David Maine, Lauren Martin, and Luke Pyenson.
The first studio release as Frankie Cosmos, Zentropy (Double Double Whammy), garnered wide acclaim upon its release, including New York magazine's #1 Pop Album of 2014 and a Pitchfork Best New Track for "Birthday Song." Recorded as a two-piece with Aaron Maine on drums, Frankie Cosmos began performing live as a three-piece with Aaron's brother David on bass, and later as a four-piece with Gabrielle Smith on keyboard. The next studio release, 2015's Fit Me In EP (Bayonet), combined Kline's honest, lyrically-driven songwriting with Maine's affinity for synth-driven production, and earned the project another Best New Track for "Young." Lauren and Luke joined the group in late 2015 on keyboard and drums, leaving Gabrielle and Aaron to pursue their personal projects—Eskimeaux and Porches—and cementing the band's current lineup.
The group's most recent release is the critically-lauded Next Thing (2016, Bayonet), which has been praised for memorable lyrics that are both clever and concise, deeply personal and widely relatable; beautiful three-part vocal harmonies that enhance catchy pop melodies; and increasingly sophisticated instrumental arrangements that reflect a rapidly maturing band continuing to grow. The album received a coveted Best New Music designation from Pitchfork as well as exceptional reviews from the New York Times, Rolling Stone, and others. The band's live show, honed during extensive touring of North America, Europe, Oceania and Japan, has also received glowing feedback for its mix of energy, intimacy and levity.
In their off-time, the bandmates of Frankie Cosmos practice a variety of other jobs and hobbies including textile design, food journalism, massage therapy, cooking, mixed martial arts, reading, painting, and petting dogs.
About Ian Sweet:
"I have a way of loving too many things to take on just one shape," Jilian Medford sings over and over again on the title track of the Brooklyn-based band IAN SWEET's debut album, Shapeshifter, repeating it like a mantra. This is Medford's thesis statement, a narrator to carry us through Shapeshifter, which is above all else a meditation on loneliness and displacement. It's about losing love and your sense of self in the process, about grabbing at the little things in life that bring joy when nothing else is going according to plan. It's also an ode to the bandmates, and the friends, that see you through.
IAN SWEET started in 2014 with a string of text messages. Medford was a few days away from embarking on her first tour when the driver and drummer she recruited cancelled. Medford sent IAN SWEET drummer Tim Cheney -- whom she barely knew -- a series of desperate messages, asking if he knew how to drum and whether or not he would be willing to take two weeks off of life to go on tour. Cheney responded soon after with a simple: "Yes."
Medford and Cheney's friendship evolved from their time spent on the road into something that she describes as intuitive, telepathic. At the time, Medford had been performing solo under the moniker IAN -- in honor of the nickname her skater friends gave her in high school -- and put out a self-recorded EP titled Have You Ever Loved Anything This Much. That year, she and Cheney enlisted bassist Damien Scalise, and IAN SWEET became a trio. Medford describes Cheney and Scalise as polar opposites that compliment one another; two charged forces that she mediates, forming a platonic balance that brought Medford stability at a time when she didn't have any.
While she was writing Shapeshifter, Medford's life was in turmoil. She ended an emotionally abusive relationship in Boston, graduated from Berklee College of Music, and briefly moved home to the San Fernando Valley, thinking she would stay there. Medford was unsure of the band's future and suffering from a severe, undiagnosed panic disorder. When she returned to Boston to record the album in July of 2015 alongside Cheney and Scalise, Medford was reminded of everything she'd hoped to escape after graduation. She felt stagnant; trudging through a quicksand made up of heartbreak and severe depression, a process she references on Shapeshifter stand-out "Slime Time Live."
That's one of many lighthearted, nostalgic references on the album that subvert the pain beneath. Like its title suggests, most of the songs on Shapeshifter don't settle in a particular scene so much as they delve into a sensibility. Whether Medford's singing about Slime Time Live, eating ice cream in bed on "All Skaters Go To Heaven," or honoring her favorite athlete Michael Jordan on "#23," Medford displaces loneliness by falling in love with the small things that make her happy; like skateboarding, basketball, candy, and her preferred footwear: Crocs.
Accompanied by Cheney and Scalise's playful instrumentation, Shapeshifter becomes a celebratory purging, an album that finds humor in self-deprecation and vice. IAN SWEET's debut interrogates capital-e Existence through a candy-coated lens, their mathy precision scaffolding the chaos of Medford's personal neurosis and turning those anxieties into something hook-laden and relatable.
And though the narrative of Shapeshifter clings to an ex-lover, the yearning felt on this album isn't directed at a particular individual so much as it's turned inward.
"You know the feeling. When you really like someone, you forget to do anything for yourself, you forget all of the things that gave you your shape," Medford says. "The things that form your absolute."
On Shapeshifter, IAN SWEET prove that there is no one absolute; just the ease that comes with knowing everything will be OK as long as you hold tight to the pocket-sized things in life that bring happiness while you watch the rest of your world fall apart in slow-motion.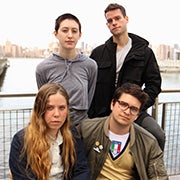 SHOWINGS
This event has already occurred.