Sat, May 26, 2018
Free Union EP Release
with Future Prospect and DJ Harrison
About Free Union:
Free Union is a Charlottesville-based collective helmed by Michael Coleman (vocals/rhythm guitar) and Rob Dunnenberger (drums). The collective's first EP, produced by Devonne Harris and Adrian Olsen, features music and vocals by Carrie Coleman (background vocals), Parker Hawkins (bass), John Markel (bass), and Butch Taylor (keyboards/background vocals).
The history behind the collective's name gives context to its message. Free Union, Virginia—originally named Nicksville after a free African American blacksmith—sought to unite people of all races at a time when the country was inherently divided. These principles of inclusivity are the underpinnings of this collective. Free Union brings people, musical styles, and ideas together to inspire a message of unity. You will get that sense from lyrics like If I could push a bit more, maybe we'd come out as equal. 'Cause love is not dead; it's just missing all of the people ("Good Day to Cry").
Free Union's goal is to deliver good music that is a true representation of its members and where they come from. For that reason, the collective's sound is not distillable. Its ever-evolving music is rooted in soul and incorporates rhythm and blues, rock, and pop into its sound. The hope, according to its front man, is that "when you hear it, when you feel it, you won't be able to keep from moving" and that "you'll wake up the next day with it still in your mind." The music will move your body and your heart; it will keep you thinking about what it will be like to one day have it all in the free world ("Free World").
-Chet'la Seebree
Future Prospect features a septet of Richmond, VA's finest and youngest musicians. Their music, rooted in the jazz tradition, is fused and intertwined with funk, R&B and hip hop, creating a balanced blend of flavor, high energy, and soulfulness. With appearances across the east coast including the Richmond Jazz Festival, Durham NC hotspot Beyu Caffe, Washington D.C.'s Twins Jazz Club, and Rockwood Music Hall in New York City, the band promotes a sound that can be heard by all ages, and encourages a lively environment that invokes dancing and the occasional sing-a-long.
Future Prospect has independently released two EPs (Future Prospect and A Future Prospect Christmas) on Bandcamp, and has released one full-length album entitled The Climb under the Jellowstone Records imprint of Ropeadope Records. Peaking at #6 on the iTunes Jazz Charts, The Climb has generated buzz not only at home, but internationally as well. Featured as Album of the Week by Brazilian music blog Na Miro do Groove alongside appearances on several internet radio show playlists, music lovers across the globe have picked up on Future Prospect's infectious sounds. Audiences can find The Climb on all major online music distributors.
DJ Harrison is Richmond VA-based producer and multi-instrumentalist Devonne Harris.

The son of a radio DJ who introduced him to the world of record collecting, Harris grew up with music, progressing from violin, to high school drum-line, to the Jazz Studies program at Virginia Commonwealth University. He also continued working with other instruments and developed an interest in sampling. His development as a producer – at first, without a computer or sampler – came first learning to replay samples on the drums, piano, bass or guitar.

DJ Harrison finds himself inspired by local musicians in the Richmond scene that's as diverse and nonexclusive as they come. Among rappers, producers, punks and bluegrass bands, he falls within reach of an expansive pool of musicians to collaborate with. He lives and works in Jellowstone, a house turned recording compound occupied by his band mates in Butcher Brown, a "garage punk jazz funk" group.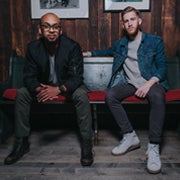 Doors

6:30 PM

Show

8:30 PM

Price

$10 General Admission
SHOWINGS
This event has already occurred.