Fri, Dec 1, 2017
Gold Connections, Mo Lowda & Morning Teleportation
Will Marsh is an artist with lo-fi resources but a hi-fi imagination. The debut EP from Marsh's Gold Connections project may have the fuzzy production that indicates it was recorded on a low budget. But as a songwriter, by the end of the first tune Marsh makes it clear he's clever, imaginative, and knows just how to build a melody. Gold Connections' five tracks are full of indie pop goodness, with a plentiful selection of hooks, but Marsh also has a feel for rock & roll, and "Popular Fiction" and "Faith in Anyone" show he knows the value of a good, crunchy guitar figure. "Isabel" and "New Religion" show Marsh happens to have a sure hand for more contemplative material, and the semi-acoustic closer, "Salt," ends the disc with a demonstration of his grasp of dynamics. As a lyricist, Marsh seems to suffer from a bit of the disillusionment and alienation (romantic and otherwise) that are par for the course for a smart twenty-something with a guitar and a home-recording rig. But if his themes are common, his execution is better than average, and he knows just enough to let his tunes carry the weight, and they consistently deliver the goods. Gold Connections is an impressive debut from a guy with good ideas and the know-how to make something out of them, and if this is far from flawless, a couple spins will make anyone excited about the prospect of what Marsh and his cohorts might do with a bigger budget and the resources of a for-real recording facility.
Known for their progressive song writing and energetic live performances, Mo Lowda & the Humble's beginnings were in the beer-soaked basements of Philadelphia. Following the release of their first full-length, Curse the Weather, the band started to hit the road. 2015 was highlighted by shows throughout the country and plays at notable summer festivals such as Firefly. The band's 2016 sophomore release, 'Act Accordingly', is a short and sweet embodiment of the band's natural progression; refining their already formidable sound. Since, the band has seen a line up change, with the addition of bassist/multi instrumentalist Jeff Lucci; bringing an elevated dynamic to the band as they continue through 2017 with endless tour dates and the creation of LP2.
Morning Teleportation formed in 2008 when Tiger Merrit (vocals/guitar) moved from Chicago to Bowling Green Kentucky for college and met up with childhood friend Travis Goodwin (keyboards/saxophone/vocals). From the beginning the band has been a roller coaster ride of Rock and Roll sound traveling in and out of psychedelia, indie rock and jazz. Most of the last few years has been spent either in the studio or on the road playing for crowds at Bonnaroo and Sasquatch and supporting the likes of The Flaming Lips, Cage The Elephant and Modest Mouse.
To see the band perform live is to witness a cacophony of improvisational mayhem and melodic twist and turns. Merrit's vocals dart sharply in and out of the hectic back beat that the rhythm section holds down. The sound may be more modern but make no mistake, these are boys who want nothing more than to have a good time in the classic rock idiom. If they can make the crowd smile they can leave happy.
Morning Teleportation is a house party, a futuristic hootenanny and a backroom jam session all rolled into one.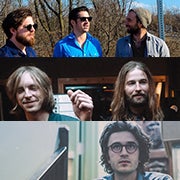 Doors

6:30 PM

Show

8:30 PM

Price

$10 General Admission
SHOWINGS
This event has already occurred.