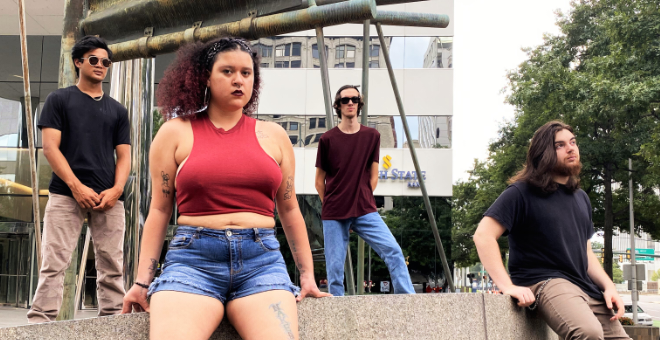 Harli & the House of Jupiter
Fri, Aug 5, 2022
Harli & the House of Jupiter
with Burning Sun & Angelica X
Harli & The House of Jupiter is a soul-punk band from Richmond, Virginia made up of Harli Saxon (vocals, guitar, viola, keys), Jonathan Daughdrill (guitar), Rian Tugas (bass) and Chris May (drums).
Growing up in Charlottesville, Virginia, multi-instrumentalist Harli Saxon witnessed everything from discrimination and poverty to abuse and the foster care system, and she turned to songwriting as a refuge. In 2016, Saxon found a kindred spirit in guitarist Jonathan Daughdrill and combined their diverse influences of blues, soul, punk, and metal, to create a unique style that they call "soul punk." They formed Harli & The House of Jupiter and set off on a mission: to make music that informs, inspires change, and challenges society to do better. In 2020, they were joined by drummer Chris May and relocated to Richmond, VA. Bassist Rian Tugas completed the lineup in 2021.
Over the years, Harli & The House of Jupiter has played on some of the biggest stages in Central Virginia, including The Jefferson Theater and The Sprint Pavilion. Their next single, produced by Mike Moxham of OTO ZEN, will be released in 2021.
The Burning Sun is an indie-rock trio from Burlington, VT (unceded Abenaki territory). Katy Hellman is the band's primary songwriter and the powerful voice at the center of their artistic vision. Working closely with Steven LeBel and Bo Malcolm, their collaboration is a prism refracting eclectic influences. The New Pornographers, REM, and The Cranberries all serve as important touchstones, but the resulting songs are in a world of their own. Unpredictable melodies, intricate rhythm changes, and atmospheric guitar tones capture elements of psych and prog; however, the band derives its signature sound from Hellman's soaring vocal delivery, which is best described as sharing a lineage with rock singers like Grace Slick, Sandy Denny, and Florence Welch. The Burning Sun lays bare the grandness (and absurdity) of being alive; the explosive highs and chaotic lows. Bursting with personality and conviction, their music urges us to never lose sight of life's possibilities.
About Angelica X:
The music of Will Evans and Angelica X exists stylistically somewhere in the space between avant-garde jazz (BAM) and indie rock. While the cast of characters who make up Earthish Uncle Angelica X varies slightly depending on the show, the band consists of Will Evans on trumpet and some variation of Tim Turner on saxophone, Olivia Hadley on trombone, Brett Jones on guitar, Kris Monson on bass, and Kofi Shepsu on drums. At times frenetic and explosive, at times simmering, at times soft and tranquil, the group values sweetness and vulnerability as much as it does intensity and fire. In their music, traces of influence from Alice Coltrane, Ornette Coleman, and Ambrose Akinmusire to Sonic Youth, Frank Ocean, and Joanna Newsom are audible.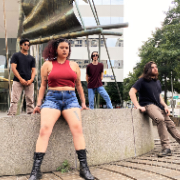 Café

6:00 PM

Doors

7:30 PM

Show

8:00 PM

Price

$7 - GA
SHOWINGS
This event has already occurred.