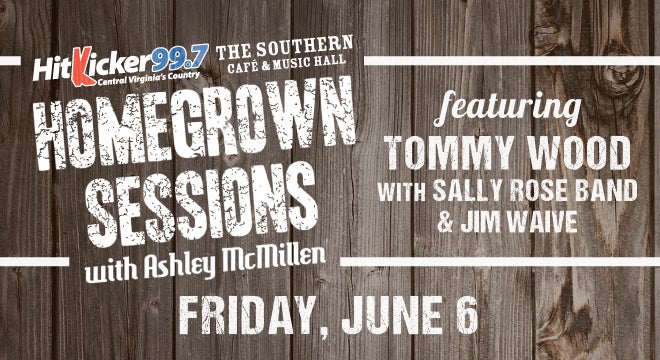 HitKicker Homegrown Sessions hosted by Ashley McMillen
Fri, Jun 6, 2014
HitKicker Homegrown Sessions hosted by Ashley McMillen
ft. Tommy Wood with Sally Rose Band & Jim Waive
HitKicker 99.7 and The Southern Café and Music Hall are joining forces to give country music fans in Central Virginia a place to call home: The HitKicker Homegrown Sessions hosted by Ashley McMillen featuring the very best local and regional country music talent! The third installment of the Homegrown Sessions will be on Friday, June 6th and features Tommy Wood with Sally Rose Band & Jime Waive! The Hitkicker Homegrown Sessions is a recurring event at The Southern Café and Music Hall, located on Charlottesville's Downtown Mall.
More About Tommy Wood: Musical seeds were planted in rich, melodious soil for country music recording artist Tommy Wood. Tommy admits that even at that tender young age he just couldn't get close enough to the music that attracted him with words that soaked into his ears...and heart. Keeping his hand to the plow for his fans means ALWAYS working on fresh material and getting new country songs to them either through live performances, on CD or via TommyWood.net, Facebook,Twitter, YouTube and the world wide web.
Faith, family and music are settled in the eyes and heart of this loyal troubadour that his most ardent and truehearted country music fans regard as part minstrel, part balladeer and certified, down-home country singer. He's had the honor and pleasure of opening for Tracy Byrd to an audience of over thirty-five hundred, Trace Atkins, Billy Currington, Ty Herndon, Tracy Lawrence, Josh Gracin of American Idol and other mainstream recording artists. Longtime music fans will attest that Tommy is fun to be around, goodhearted and clean minded.
At every performance, people are instantly drawn in to the happy mood that fills the air because Tommy and his band, Nite Shift adore their fans and love bringing them the kind of quality, richly-toned melodies that country music fans are craving. Parents appreciate the heartfelt country ballads that can be heard by the whole family. Rest assured that there's never an off color remark to be heard, either -- on or off the stage and after every performance, Tommy is known for sticking around until every autograph is signed, too.
More About Sally Rose Band: The Sally Rose band is a duop, honky-tonk music machine. Led by vivacious front woman Sally Rose, the family band tells stories. Catherine "Shootin Moon" Monnes sews in colorful textures with cello and electric fiddle. Sweet Pete Stallings adds undeniable funk/punk undertones on electric guitar and co writes a handful of the songs. Benjamin Jensen and Chris Dammann tighten the mix with a jazz influenced rhythm section. Together, mother and daughter sing haunting, blood harmonies that intertwine seamlessly.
Sally Rose has released four albums in the past, mostly duo/solo folk projects. But now with a full swingin' band, you'll fall even more head over heels for her heart filled lyrics and sweet but gritty vocals. This past Halloween the band shot a music video for their radio hit "Bones" with Emmy Award winning filmmaker Johnny St Ours. The SRB's first recording "Oh my stars!" flaunts a whole new edge for the blossoming starlet. By the end of your first listen, you'll feel twitterpated. The hooks will sink in and your bones will want to shake and shimmy!
More About Jim Waive: Jim Waive is a local Country/Americana musician that frequently plays solo as well as with his backing band, Jim Waive and the Young Divorcees. Jim currently has two albums available on iTunes and has shared the stage with such country greats as Dwight Yoakum, Randy Travis, Kenny Rogers, Dr. Ralph Stanley, Elizabeth Cook, Jesse McReynolds and The Blind Boys of Alabama.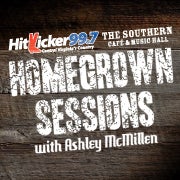 Doors

7:30 PM

Show

8:00 PM

Price

$5 Advance

$5 Day of Show
SHOWINGS
This event has already occurred.