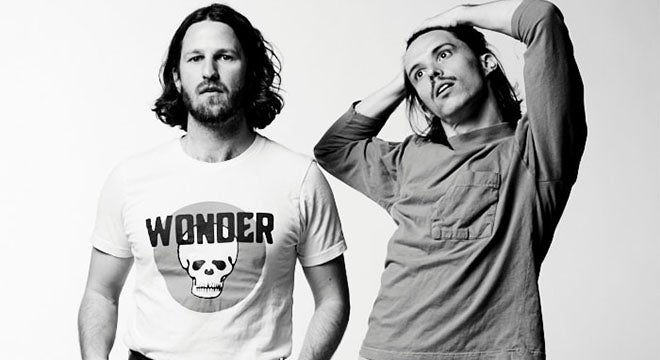 *CANCELED* Illiterate Light
Fri, Apr 3, 2020
*CANCELED* Illiterate Light
with Babe Club
Formed in the summer of 2015, Illiterate Light transcend expectations of typical rock music through their limitations as a duo. Jeff Gorman elevates his gritty guitar melodies and honest lyricism by stomping out thunderous synth bass with his feet as Jake Cochran layers lush vocal harmony and explodes with body convulsing energy around his minimalist standing drum kit. Gorman and Cochran's incessant writing, commanding live performance, and constant touring promise a bright future as they finish their debut album with Vance Powell (Jack White, Kings of Leon, Chris Stapleton) and Adrian Olsen (Foxygen, Natalie Prass). "Better Than I Used To" is the first taste of what's to come from Illiterate Light.

Spanning the better part of a decade, the creative evolution between Gorman and Cochran is far from ordinary. The duo has run an organic farm in the Shenandoah Valley, toured the mid-Atlantic in bands by bicycle, and lived in small communities while pursuing modes of alternative education. Their eclectic background is mirrored in their sound and lyricism, floating between postmodern confusion and vibrant optimism. Though shaped by the DIY music scene of their hometown Harrisonburg VA, the duo has grown immensely through immersion in the thriving communities of both Richmond, VA and Nashville, TN.
Capturing Blondie's mid 70's new wave era, and early 90's alt-rock sensation PJ Harvey - Babe Club's sound is marked by raw guitars, textural synths, and lustrous drum beats. With a clever songwriting style reminiscent of Aimee Mann and Patti Smith, their alluring melodies are fused with powerfully evocative and existential lyrics yielding songs that explore self-realization, honest emotions, friendship and themes of love.
In 2013 Corey Campbell and Jenna Desmond of Babe Club met in college. Jenna, a psychology student, would sneak into the piano practice rooms to write songs, where she met Corey who was studying music. Shortly after meeting, they began trading demos back and forth on their phones. Post college, they toured together in the indie rock band, Susto, playing supporting roles, where they honed in on their writing style. They continued collaborating, passing laptops back and forth between van seats, Eventually piecing together the vibes and songs that make Babe Club.
"After 9 months of heavy touring, having some time off made me realize I had no solid female friendships. I had no one to relate to about the changes I was going through personally, and the changes we were all going through as a country. I was pretty insecure at the time, and I got sick of being on the defense when people would assume things about me. This song was me about taking accountability for myself, understanding that change doesn't happen overnight, it takes time. This song is about longing for companionship, and stability and that s—t takes work!!
Oct 2018 Babe Club released their debut song "Hate Myself" which garnered the attention of NPR's new Music Friday playlist.
"I lost contact with a lot of ladies in my life at first and felt alone because I had no one to relate to. So hence "I hate myself". I think in general when people start working full time, everyone gets busy, and keeping friendships and staying social is really hard sometimes."
Babe Club has just finished recording their first EP with producer Dan Gleason of Grouplove. A release date is will be early 2020 . In the meantime, they will be collaborating and writing with their friends.
SHOWINGS
This event has already occurred.