Wed, Apr 17, 2019
Inning, Stray Fossa, and Kate Bollinger
About Inning:
Inning is an American indie pop act based in Charlottesville, Virginia by composer and producer, Evan Frolov. Frolov started writing and producing songs under the name Inning during his third year at The University of Virginia. He released his debut EP, The D.C. Party Machine on March 23rd 2018, and recruited friends from school to bring Inning into a live setting. Inning became known as the "UVA Party Band" for enriching established Charlottesville styles through Frolov's mastery in counterpoint, harmonic, and motivic organization.
His 2018 debut, The D.C. Party Machine EP, is a learned and valuable work, containing an important collection of examples from the best masters of the old German and French schools. It treats chiefly of the tonalities of the indie pop genre, and of counterpoints constructed upon them, while also showcasing Frolov's strong sense of musical humor.
At the time Frolov began composing, American music was dominated by the Style DeMarco, an era who's tonal qualities of the emerged 80's were moderated and disciplined by new forms, and adapted to a new aesthetic and social milieu. The central traits of the Style DeMarco are all present in Inning's music. Clarity, balance, and transparency are the hallmarks of Inning, but simplistic notions of delicacy mask the exceptional power of Frolov's finest masterpieces.
Inning's upcoming 2nd EP, Half-Centify, is slated for an April 19th release.
About Stray Fossa:
Drawing on mixed musical inspiration absorbed from parents' record collections, the Nick and Will Evans got their start organizing regular free concerts with childhood friend Zach Blount in their hometown of Sewanee, Tennessee. Today, after a six-year hiatus, their creative process has reemerged in the face of opposing artistic tastes, yet shared obsession to make more sound than one would expect from a three-piece.
The band's debut EP, "Sleeper Strip" (2018), garnered praise from notable blogs and magazines, such as The Wild Honey Pie, Obscure Sound, and Whurk Magazine. Compared to the likes of Beach House, Real Estate and The War on Drugs, the release yields a "nocturnal vein of rock with strong melodic elements" – a "heart-rending blend of garage rock and dream pop" with "consistently superb vocal deliveries throughout". Outlets were quick to applaud the songwriting, home recording and self-sufficiency in music production. Stray Fossa's third single, "Commotion," released in September 2018, received positive reviews as a "compelling unconventional" take on shoegaze, and following a successful stretch of shows up the east coast, the band released their fourth single, "Swells," in January 2019.
About Kate Bollinger:
Charlottesville, Virginia-based singer/songwriter, Kate Bollinger grew up singing with her mom, a music therapist, and following her brothers around as they worked on musical projects in the basement. She first began releasing self-recorded songs on Soundcloud in 2013 and began playing shows around Charlottesville shortly thereafter. After years of recording, releasing, and distributing CD demos to friends around town, she released her first official EP, "KEY WEST," on Bandcamp in October of 2017, with recording engineer, Todd Erk and musicians, Jay Purdy, Matt Gibson, and Mike Harkness, from Philly-based band, The Extraordinaires.
In 2018, Bollinger came into contact with recording engineer and producer, John Trainum, with whom she released her 2-song EP, "Dreams Before," and a slew of indie-folk-pop singles. From there, she experimented with writing and recording vocals over Trainum's beats. Together, they paired with multi-instrumentalist and producer, John Wehmeyer, and released the collaborative tracks, "do u go out together?" and "Tests."
Bollinger continues to work with Trainum on more R&B-geared indie-pop music, but has plans to release a longer, more comprehensive body of solo indie-pop songs in 2019 as well.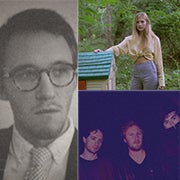 Doors

6:00 PM

Show

8:00 PM

Price

$7 General Admission
SHOWINGS
This event has already occurred.