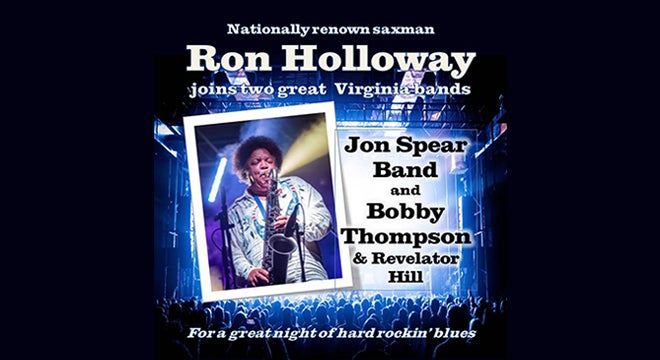 Ron Holloway with Jon Spear Band & Revelator Hill
Thu, Sep 21, 2017
Ron Holloway with Jon Spear Band & Revelator Hill
About Jon Spear Band:
Nominated by Blues Blast Magazine for the prestigious "Best Live Blues Recording of 2016" award, the Jon Spear Band has received numerous favorable reviews and extensive airplay both in the U.S. and internationally. Their debut CD "Old Soul" included several award-winning original songs and was ranked #38 on the Roots Music Report's Top Contemporary Blues Album Chart for the Year of 2015 and also charted in the UK, France and Spain. Their second CD "Live Music is Better" has likewise been popular on the blues charts and enjoyed extensive radio airplay. They were a 2016 WAMMIE nominee for best Blues/Traditional R&B Recording (Washington Area Music Association), and have opened for nationally touring acts including Debbie Davies, Delbert McClinton, the Iguanas, the Chris Duarte Group, and Memphis Gold. They've also appeared at the 31st and 33rd International Blues Challenge in Memphis, TN. Although their ages span several generations, the band's members share a common determination to use their exceptional talents to create unique and memorable music. Members include Dara James (guitar, vocals and harmonica), Andy Burdetsky (bass), John Stubblefield (drums), and Jon Spear (guitar and vocals).
About Ron Holloway:
Ron Holloway is one of the busiest tenor saxophonists on today's music scene in any genre! Recently, Ron toured extensively with The Warren Haynes Band, in support of two critically acclaimed releases on the Stax Records label. Holloway is a frequent guest of Gov't Mule, Tedeschi Trucks Band and The Allman Brothers Band. Over the years, he has been a member of an eclectic roster of groups, including; the Susan Tedeschi Band, the Dizzy Gillespie Quintet, Gil Scott-Heron and Root Boy Slim.
Since 2014, however, audiences have been filling venues to see Holloway's latest project: His own band. A high energy, sax-driven funk machine named The Ron Holloway Band.
In the Biographical Encyclopedia of Jazz, renowned jazz critic Ira Gitler describes Ron Holloway as "a bear-down-hard-bopper who can blow authentic R&B, and croon a ballad with warm, blue feeling." While true, this only begins to touch upon the versatility of the tenor saxophonist! The quest for complete expression has been a hallmark of Ron Holloway's music from the beginning.
Holloway combines passion and a broad dynamic range to generate an exciting and distinctive sound...Like [Sonny] Rollins, Holloway strives to push the tenor sax beyond the limits of its dynamic range. He notes that the instrument was originally designed to play a range of two and a half octaves. By using special fingering techniques, Holloway can hit registers spanning almost five octaves. Holloway demonstrates his extraordinary range while maintaining precise control over a melody. As Holloway hits the highest register, Dr. [Billy] Taylor remarks, "That's amazing to me". -- NPR.org
Ron proudly endorses Theo Wanne products and is the recipient of no less than forty-two Washington Area Music Awards, two of them for Musician of the Year. "Among the many things I would like to do, is reflect the entire history of the tenor saxophone in my playing. The saxophone is a relatively young instrument but what an illustrious legacy it already has. There's much to be done!"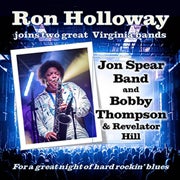 SHOWINGS
This event has already occurred.