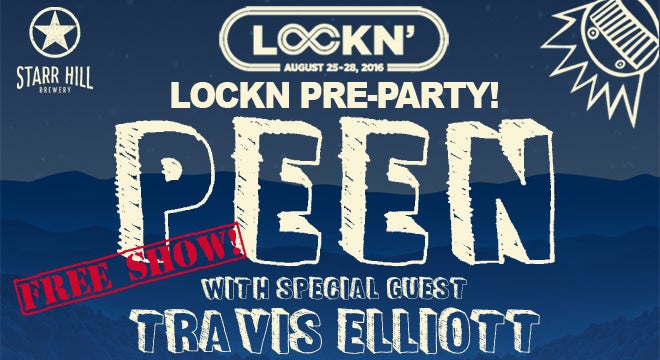 LOCKN' Pre-Party with Peen
Thu, Aug 18, 2016
LOCKN' Pre-Party with Peen
and Special Guest Travis Elliott
Get ready for LOCKN' with a free LOCKN' Pre-Party featuring Charlottesville's very own pre-eminent Ween tribute band, Peen! And kicking off the night is Charlottesville's very own pre-eminent special guest, Travis Elliott. Starr Hill Brewery will be on tap to help get you #HOPN2LOCKN as they continue their Summer of IPA. And of course, there will be LOCKN' tickets to win!
Get Down and Get Brown! Fans first, the members of Peen formed out of a mutual love for the band Ween. You may recognize band members Ross van Brocklin, Aaron Ahlbrandt, Mike Ketola, John Spagnolo, and Chris Coleman from various projects in the Central VA area. Thrilled with the announcement that Ween would be playing at LOCKN' this year, the guys saw no other option than to reunite and bring the awesome sound to the people once again. Turns out these dudes still know how to rock - and can't wait for the opportunity to share the rock with you.
SHOWINGS
This event has already occurred.