Fri, Mar 8, 2019
Lord Nelson and special guest Will Overman
with Eric Knutson
We play rock 'n roll. You dance. Let's work together.
Will Overman's incomparable voice is at once melodic as it is relentless, as refreshingly unique as it is familiar and evocative. Overman's music — call it Americana, a mix of folk, country, rock, and pop — is as energetic as it is passionate. It can be haunting and evocative yet sincere, sweet. Musically and lyrically, Overman draws deeply from his Virginia roots, producing a rare combination of enticing straight-ahead, hard-charging rhythm and riffs and introspective melodies paired with sleek vocals. He takes on love, life and loss. All with an edge driven deep in reality. Whether performing solo or with a full band, Overman is a poet, reminiscent of a young Bruce Springsteen, (think "Nebraska") or Bob Dylan. He's a folksinger and a rocker (think "Born to Run"), whether performing solo or fronting a talented group of musicians swinging from flawless riffs to intoxicating beats. And while his music is rooted deeply in the South, it transcends genres and convention, blending essential elements of rock, folk, and country, wrapped in a thin varnish of pop sensibility, to create a concoction reminiscent of Ryan Adams, Josh Ritter, with the softness of James Taylor. Overman has quickly built a reputation as a fan favorite at music festivals including MerleFest, Rooster Walk Music and Arts Festival, Front Porch Fest and Appaloosa Roots Music Festival, and Lynchfest. He was a finalist in the "Rockn to Lockn" contest.
Overman has played hundreds of shows from Burlington, Vermont to Columbus, Ohio, New York City and Washington, D.C., to Nashville and Knoxville, Tennessee, and in between. He's busked in lonely subway stations and performed to sold-out crowds in Charlottesville.
In 2017, Overman found himself at a crossroads, both literally and figuratively, professionally and personally. He said farewell to the band that has borne his name over the past several years and embarked on his first solo project since 2013.
"Crossroads," his newly released solo EP produced by Rockfish Music, is without a doubt his most self-reflective work yet. He recently submitted one of the singles, "Decatur," to NPR's Tiny Desk Concert.
Drawing comparisons to Jason Isbell and Damien Rice, Overman carries an unwavering commitment to his music and to his fans. Soulful and unforgettable. Addictive and sometimes playful. Meaningful and real. Those factors, plus a transcendent passion and unyielding commitment to his craft, are what truly define this rising, must-see young artist, who has only just begun what promises to be a long and fruitful musical journey.
About Eric Knutson:
Born and raised in Alaska, Eric followed his early love of music where it led. He earned a degree in classical guitar in Colorado, then ended up in Nashville. After a few years as a guitar-slinger for hire, he landed a steady gig as a staff writer at a small publishing company on music row. He wrote piles of songs and had the opportunity to learn from some of the best writers in a town devoted to the craft.
Recently, Eric and his family jumped at the opportunity to move to the Blue Ridge Mountains of Virginia. As luck would have it, he fell in with a fantastic group of artists and musicians, and has begun making records purely for the love of making music. 'Other Ways of Being Here' is the first of these. There is more coming.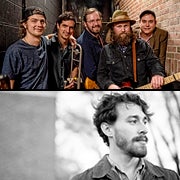 Doors

6:00 PM

Show

8:00 PM

Price

$12 General Admission

$40 Limited 4-Packs ($10 per ticket)
SHOWINGS
This event has already occurred.