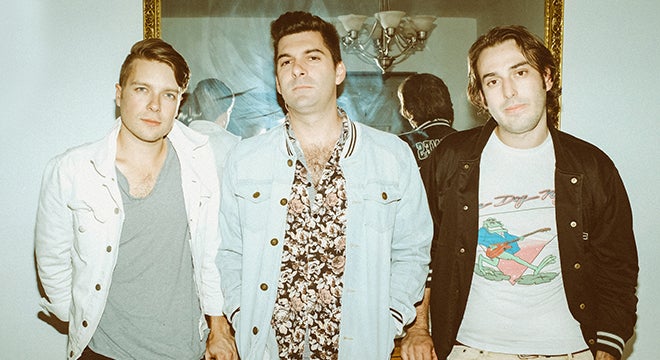 Sun, Sep 22, 2019
Magic City Hippies
with SEGO
If you're playing in Miami, you've got to get bodies moving.

Over the years, the city has been home to Latin pop royalty and ascendant Soundcloud rappers; played host to bass-booming EDM fests and the golden years of disco legends. It's also why Miami's latest genre-defying dynamos, Magic City Hippies, are primed to take their infectious indie-funk around the world.

"We're always out to entertain people," promises singer-guitarist Robby Hunter. "Miami is a nightlife city," he adds with a tinge of excitement. "People are oriented towards staying out all night. Anything you do has to make them dance."

As Magic City Hippies approach the Aug. 16 release of their standout debut album Modern Animal -- a mosaic of poolside grooves and lingering, sun-kissed melodies -- the trio's origin story remains central to its crowd-pleasing mission statement.

First it was just Hunter -- hustling the Miami streets, plugging his guitar and looping pedals into whatever power source he could find. Sometimes crowds formed; sometimes others joined in. On a good night, he'd maybe earn a hundred bucks. The next stop was Barracuda Bar & Grill, a popular Coconut Grove dive where Hunter became a regular performer and forged a sublime chemistry with the rest of Magic City Hippies' present-day lineup: guitarist John Coughlin and drummer-producer Pat Howard. They began playing '90s rock and hip-hop covers to weekend warriors and college crowd regulars, before live-testing their first original tracks in 2011. "There was something special when we played those sets," Howard remembers. "We'd go for four hours, not even rehearsing. Then Robby came to the table with some originals."

The easygoing psych-rap nugget "Corazon," released when they were still called Robby Hunter Band, shot to No. 1 on the Hype Machine in 2013; after shifting to Magic City Hippies, "Fanfare," the swaggering opening track off 2015's Hippie Castle EP, topped Spotify's Global Viral 50 chart, thanks to a burgeoning online fanbase. With brothers Ferny (keyboard) and Guillermo Belisario (bass) added to a now-indomitable live lineup, Magic City Hippies embarked on extensive tours supporting bands like Hippo Campus and Moon Taxi. Crowds doubled and tripled, confidence soared. Still unsigned and completely independent in their approach, Magic City Hippies pushed distractions aside and worked tirelessly towards their first LP.

"We've been touring for three years," Hunter says. "The album has a lot to do with the toll it's taken on our relationships and lives." No kidding: Robby was fired from a full-time job and ended a relationship of over eight years. Swirling single "SPF" comes to terms with a cheating partner through beams of Toro Y Moi-inspired Auto-Tune and bass licks. "What Would I Do" rides a catchy bossa hook towards the sonic equivalent of a Miami sunset. The sultry "Modern Animal" explores the liberation of open relationships through an irresistible Tame Impala rhythm and a safari of synthesizers. Clearly, inspirations abound -- Hunter occasionally raps a la Odelay-era Beck or Anthony Kedis when he's addicted to the shindig -- but their self-described "indie funk" sound remains uniquely their own. "People always say it's hard to find another band we sound like," Howard says. "I'm proud of that -- any song could be a single."

Modern Animal is set to crown Magic City Hippies as one of streaming's ascendant indie bands, while taking their captivating live show to major festivals like Lollapalooza, Bonnaroo, and BottleRock, alongside plenty of North American headline gigs through 2020.
"U.S.A.! U.S.A.! U.S.A.!" Not what one would expect to hear chanted vehemently from the members of an indie rock band in 2019… But Sego seems to get off on doing things one wouldn't expect from an LA indie band today. Being proficient at their instruments instead of relying on computer tracks to play their new album Sego Sucks live, recording said album in a church in far away Canada in the winter, thus committing to the deliberate notion of an album more than an amalgamation of 'laptop studio' singles. And yes, chanting "USA, USA, USA" as the main reprise of a reflective tune about entitlement culture. One must ask why? Why take it there? Or one may not ask and instead bounce and bop their way through each energetic turn, just happy to have their blood pump a little faster than the "everything chill all the time" pace that we've all become accustomed to.
And therein lies the trick of Sego. It's a gosh-damn choose your own adventure story of music for adrenaline huffers and introspective socio-philosophical types alike. Not that the two are mutually exclusive.
I would say Sego hails from Utah, but when does anyone say that someone 'hails' from anywhere other than in gratuitous band bios, ya know? Sego is not only aware that their Utah upbringing is different from most Angeleno transplants, but they exhibit a sense of pride in the perspective it has given them. Perhaps this is why singer Spencer Petersen finds ways to separate himself from the status quo. Like using a flip-phone still. And recording interludes with one of the many tape machines he has stock-piled in his studio. Sego Sucks is the cathartic result of a person like Spencer sorting his way through a natural resistance to being smothered by Modernism.
Sonically, the 10-track LP is woven with the changes of becoming a four piece band. Originally Spencer Petersen and Thomas Carroll, the band added members Alyssa Davey on bass and Brandon McBride on guitars and keys in 2018. The sound became more focused, but the raucous spirit that has kept people sweating since the beginning is just as tangible and, dare I say, primal as ever. The extensive touring they've done throughout North America, Europe, and the UK has also shown to be a strong influence. There's heat, there's resistance, there's intelligence. Did Sego fool us and write a modern day punk album that could be played on the radio?
To go to a Sego show is to be standing amongst very different people having very different experiences. To your left is someone intently staring at Spencer digging through his many acid-tongued references trying to decipher his cryptic slant on absolutism. Behind you is a gear-nut scratching their heads trying to understand what far corner of the brain one can write such dissonantly triumphant guitar parts. In front of you is someone falling in love with Tom, Brandon or Alyssa depending on who the light falls upon in any given moment… or perhaps all 4 at the same time, the way it was always intended to happen when a band is really a band. But perhaps most common is the person to your right, who is dripping in sweat, dancing with their eyes closed and losing themselves completely in an anoetic experience particular to when music is being played live. And loud.
While only on their sophomore album, Sego exhibits the kind of maturity in songwriting and pride in a live performance that makes for the band that your cool older brother worships and turns you on to the second your frontal lobe develops enough to spark your curiosity in taste.
– Chris Hess (SWIMM)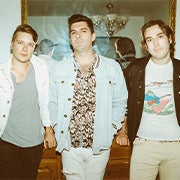 Doors

6:30 PM

Show

8:30 PM

Price

$15 Advance

$20 Day of Show
SHOWINGS
This event has already occurred.