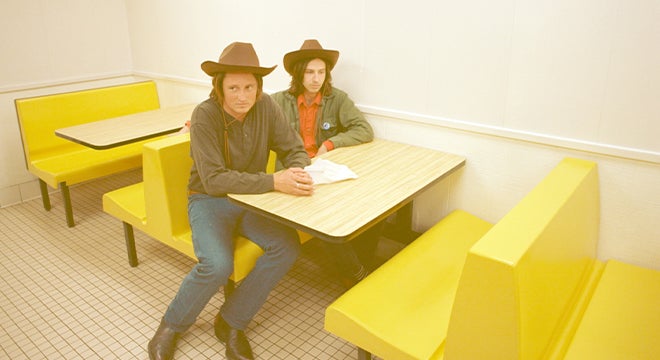 *POSTPONED* NEW DATE TBD - Mapache
Thu, May 7, 2020
*POSTPONED* NEW DATE TBD - Mapache
with Tim Hill
This show has been postponed. We are working on confirming a new date so please check back for updates. Tickets purchased for this show will be honored for the new rescheduled date.
"This record is about as close to the sound of home as you can get," says Mapache's Sam Blasucci. "We recorded it with a bunch of our friends in the house where we were living in a neighborhood that we loved. It's a family vibe through and through."

It made perfect sense, then, for Mapache to name their new album in honor of the place at the heart of it all: Liberty Street. Produced by longtime collaborator Dan Horne (Circles Around The Sun, Allah-Las), From Liberty Street captures Mapache at their finest, weaving airtight harmonies around stripped-down, organic arrangements that blur the lines between traditional folk and modern cosmic country. The songs here draw on everything from Mexican boleros and Hawaiian-steeped surf to Bakersfield twang and lonesome cowboy campfire tunes, and Blasucci and his musical partner, Clay Finch, deliver them with the kind of easygoing charm and natural intuition usually reserved for blood brothers or married couples. It's an instantly engaging chemistry they share, a captivating musical bond that mirrors the comfort, closeness, and camaraderie of the album's homespun roots.

"When we lived in that house on Liberty Street, Sam and I shared a tiny little room with two twin beds in it," says Finch. "The studio was right downstairs, so we had the freedom to try all kinds of new ideas without any pressure or limitations. All the other folks who lived in the house were musicians, too, so it made for this communal atmosphere where everyone was always collaborating and creating together."

The freedom of living where they recorded meant that Mapache could take their time experimenting with sounds and textures in the studio, a far cry from the way the LA duo captured their self-titled debut, which was cut live and raw around a single microphone. Praised by Aquarium Drunkard as sounding like "a blazed up Everly Brothers" and given a six-star review by UK magazine Shindig, that record helped the band earn festival appearances from Hardly Strictly Bluegrass to Pickathon, where Rolling Stone named their set one of the weekend's top highlights, as well as tour dates with Chris Robinson, Beachwood Sparks, and Mandolin Orange among others. The Boston Globe hailed the duo's "intricate, intertwined acoustic guitar and close harmonies wedded to simple, plainspoken lyrics," while No Depression fell for their "lilting melodies," and Saving Country Music declared that the pair "can fill up a room with more soul soaring harmony than most symphonic assemblies." The music also caught the attention of veteran indie label Yep Roc Records, which recently reissued the group's debut album in advance of From Liberty Street's arrival.

While much has changed for the men of Mapache since that first album—the pair's amped up tour schedule and newly inked record deal enabled both to leave their day jobs recently—their friendship remains much as it did in high school, when the two Los Angeles natives first met and bonded over a shared love of skateboarding and songwriting. After graduation, Finch headed north to study music at Chico State, while Blasucci headed south to Mexico, where he served as a missionary for two years and immersed himself in the local art and culture.

"Traditional Mexican music has always been an important influence on our sound," says Blasucci, who sings multiple tracks on the album in Spanish with Finch. "With this record, we had more time than ever to dive into that world."

"Writing and singing in Spanish was also reflective of life on Liberty Street," adds Finch. "Mexican culture and music are intertwined into the fabric of the neighborhood and shaped our experiences living there."

Though the album was captured at home on Liberty Street, many of the tunes first came to life on the road, where Blasucci and Finch have been spending more and more time lately. That increased level of itinerancy helped shape the restless spirit of the music, which reflects both the freedom and the isolation of a life spent in transit.

"A lot of these lyrics started coming together late at night in hotel rooms around the country," says Blasucci. "When you're on the road traveling from place to place and you don't have anything tying you anywhere in particular, you naturally start to look for some sort of spiritual home or stability, and I think a lot of songs on this record are searching or pleading for something more concrete and rooted."

Album opener "Life On Fire" sets the mood from the outset, showcasing the band's sonic growth with a bold arrangement that marries Grateful Dead psychedelia with Louvin Brothers harmonies as it lays the groundwork for a collection all about longing, desire, and change. The breezy "Coyote" pulls from Californian lore to reflect on the loneliness of wandering and waiting for love, while the waltzing "Cactus Flower," which features Sara Watkins on fiddle, wishes for a partner to skip town with, and the duo's take on the classic bolero "Me Voy Pa'l Pueblo" dreams of returning home after a long journey.

It can be easy to close your eyes and forget what year it is listening to Blasucci and Finch's hypnotic guitar work, which calls to mind David Rawlings in its virtuosic mix of country, jazz, folk, and blues, but the duo's lyrics are often distinctly rooted in the present era. The effervescent "Face Is Blue," for instance, laments the digital addictions that keep us glued to our glowing screens, while the intoxicating "Cowboy" takes a tongue-in-cheek look at modern city life.

"We see a lot of cowboys in hats and boots driving Audis and hailing Ubers here in LA," says Blasucci. "There's a level of satire to that song that comes from being able to laugh at yourself, but at the end of the day, it's also an ode being what you want to be and who you really are at heart."

"There's a real thread of melancholy running through it," adds Finch. "It's poking fun at this LA country scene that we're so happy and proud to be a part of, but there's also a sense of longing for love and travel and adventure."

It's a bittersweet feeling the duo captures perfectly on "To Play For All Of You," a poignant meditation on gratitude and the road that Blasucci and Finch wrote together with alternating verses. "To play for all of you / It's a dream come true," they sing, later adding, "Home ain't always where your heart is / Home is where your soul is, home is where you'll always go."

They may not live there anymore, but one thing's for sure: Liberty Street will always be home for Mapache, and with this gorgeous new album, we're all invited to visit.
About Tim Hill:
A ladybug on a warm leaf, a lazy dog asleep on a diving board, a thirsty LA scene wrapped in a tequila duvet. Tim Hill's songs stall you in a cul-de-sac of forever summer, offering all shades of sonic blue, blurred Mexican mirages and the heavy velvet of a closing night. Los Angeles born. Whittier grown. He translates what he knows; a hometown where the Dodgers rule the roost, time carved out for slow endeavors is paramount, and coffee is the blueprint for the day. He seasoned his musical skillet as a keyboardist touring with artists such as Nick Waterhouse, Curtis Harding and the Allah Las. In 2018, he released a 45 entitled "Paris, Texas," b/w a cover of Warren Zevon's "Steady Rain," under the Allah Las' label, Calico Discos. His presence mirrors the soul of a weathered saguaro as he pushes loveless notes through an apathetic ache. The audience sways to the molasses and is given a glimpse of what it would be like to not care. Tim Hill's full-length release, "Payador", puts itself on the villa's shelf, painted with sounds of introverted West coast visions. Some songs are fraught with above-the-palm tree vocals and lonely harmonica solos while others park their front tire on top a warm Hollywood curb. Its full throttle suburban shade, acoustic strands of sun and that Spanish radio station floating from your neighbors window.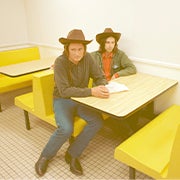 Doors

6:00 PM

Show

8:00 PM

Price

$15 Advance

$17 Day of Show
SHOWINGS
This event has already occurred.