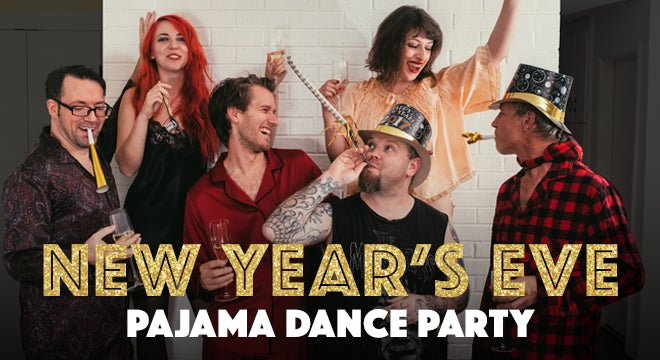 New Year's Eve Pajama Dance Party
Sat, Dec 31, 2016
New Year's Eve Pajama Dance Party
featuring Lauren Hoffman's Secret Storm, Shagwüf, Synthetic Division, Ships in The Night Just Sex & DJ Cadybug

It's time to put 2016 to bed... and what better way than with a New Year's Eve Pajama Dance Party?Wear your sexiest or coziest sleepwear and join some of Charlottesville's most restless bands for a sleepless night of festivities. Resolution Fairies will be on hand to document your best hopes for 2017, a Pillow Talk Lounge will provide a comfortable place to enjoy a drink and five bands plus a DJ will keep you moving forward and dreaming... so dress up and get down on New Year's Eve!

The electronic music project of Shawn Decker, Synthetic Division is inspired by the stylings of 80's synthpop, while keeping things fresh by infusing modern elements of dance music into a classic and dance-friendly sound. Synthetic Division takes pride in moving not only your feet, but your spirit as well.

Just Sex blends playful and personal lyrics with elements of Trap, Dance and soulful downtempo music. The sounds Just Sex present are far from the small basement practices and closet-sized studio it emerged from, as evidenced by the Tropical and Garage House sounds and a healthy serving of sub bass frequencies.

With ethereal vocals floating effortlessly over electronic waves of synth and drum machines, Ships In The Night brings an atmospheric edge to the electronic music scene. Having toured Europe as well as the east coast, Alethea Leventhal continues to win hearts with a focus on deeply personal lyrics and robust melodies.

Brimming with sensual intensity, climaxing with anthemic rock choruses, honest, haunting, sultry, sexy… These are words that have been used to describe the work of Lauren Hoffman & The Secret Storm - an alternative rock band formed around the eclectic songwriting of Lauren Hoffman and featuring cello, electric violin, rock guitar and rhythm section, piano, synth, and vocal harmonies.

Imagine Star Wars, Waynes Wolrd and Spinal Tap had a three way and made a rock n roll baby...Shagwüf is born. Stylistically they are reminiscent of LA's 'X', heavily influenced by Pixies while high kicking towards the punk end of the hard rock spectrum. Shagwüf thrashes with just the right amount of hard blues and psychedelia to invoke early metal pioneers like Sabbath with a slightly twangy, swampy edge that is sure to keep your head banging.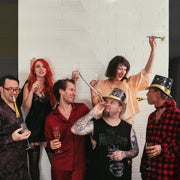 Doors

6:30 PM

Show

8:30 PM

Price

GA Standing Room

$15 Advance

$20 Day of Show
SHOWINGS
This event has already occurred.