Sat, Feb 10, 2018
Noah Gundersen - *SOLD OUT*
with Aaron Gillespie
In America today, anyone can engage in spiritual surrender. Performing the rite is simple: one first gathers with their community in a room of mirrors (in peripheral vision these mirrors appear as windows). Next, the agendas, hopes, and grievances of each individual are written down and cast along pulsed radio frequencies to data centers. From here they are automatically sifted through a neural network of graphics processing units, and contributed to an artificial intelligence engine. The principal aim of the ritual is to preserve the cosmic movement of collective perception. Secondary aims include catharsis, prosperity, and (occasionally) procreation. Because of the persistence of social stresses and mounting political dread, the ritual's cyclic performance is necessary (twice daily, once at dusk and once at dawn).
Paradoxically, even those who question the efficacy of this tradition must do so from within the same framework, in the form of status updates, tweets, or blog posts. In the early part of 2017 Noah wrote:
"This is our voice. The Aether. An invisible platform. A maze of wires and boxes safely containing our proclamations… While white men with pens close their doors, stuff their ears with cotton, and break the world... we piss in the ocean… we drown in white noise."
(Once upon a time, Noah Gundersen poetically sang that the storms which make us tremble also "fill our organs up with air,"...allowing us to sing "honest songs". What of our songs now? Are they just piss in the ocean? White Noise?)
A longtime fan responded via Facebook, referring to the entry as "a goddamn dumpster fire of a post".
"Your early records are masterpieces," he commented, "...but this scramble to be anything but what your parents are is killing your authenticity."
Authenticity can be a fickle mistress it seems. Noah has been peddling sincerity and introspection in musical form for almost a decade; songs that give listeners a taste of the emotional nectar in the pit of another human's gut. He's been dredging up viscous fistfulls of his own being and shaping them into little waxen votives, candles meant to illuminate the territory between shameless confession and hopeless redemption, for all of the other twenty-somethings who've been groping around in that long existential shadow.
At some point this whole process must have lost its charm. It was two years ago that Noah, like some artistic ouroboros, began to sing the words "Am I earning the right to live by looking in a mirror? There's nothing more sincere than selfish art?" The cyclic ritual of self-induced nausea, staring in the mirror mouth agape, waiting to wretch new words and sounds, was catching up with him. Not long after, in the early part of 2016, he sat down for a show and felt like he was dying.
"Instead of my life up to that point flashing before my eyes, it was my future. A future playing songs I didn't believe in... pouring my soul out into a vehicle I no longer recognized or loved."
Noah turned to a fellow songwriter, who shared this mote of reassurance from dancer and choreographer Martha Graham:
"No artist is pleased... There is only a queer divine dissatisfaction, a blessed unrest that keeps us marching and makes us more alive than the others."
This crisis was an opportunity for the serpent to relinquish hold of its own tail, for forward motion. To turn his gaze away from reflection, and maybe instead at the mirror itself, alternate voices and distorted perceptions that throw their weight onto the human psyche in powerful ways, but evade expression in introspective storytelling.
So, that's White Noise, I think: the fluorescent glow of queer divine dissatisfaction. The distorted buzz manufactured by dumb metal phalluses thrust into a vacuum of waves and signals. It doesn't dwell on (and in fact seems uninterested in) introspection. Not a guiding light. Not the reasoned problem-solving of the ego, but the muddled demands of the id. It's a myriad of interpolated signals, symbols, and voices, like a tube-TV greedily flipping through channels on auto-program:
Sometimes things go wrong. No matter the resistance, some paths careen towards places you never wished to travel. Earlier this year, Aaron Gillespie went there. He experienced what he can only articulate as "a tumultuous time of life turned upside down," and as he pulled himself out of personal wreckage, few people came to his aid. Left alone, Gillespie went to his studio. "I started writing this record when I was mourning," he explains. "It's been a really weird year, and healing comes differently to people. This helped me cope."

In the early months of 2016, when the mire was thick, Gillespie spent four days in his studio recording. Although he's been a successful musician for years (playing with musical outfits Underoath and The Almost), his newest solo pursuit showcases his musicianship in a new light. When you listen to Out Of The Badlands, you'll be listening to Aaron Gillespie's most vulnerable project to date.

The record is a compilation of reworked past releases, covers, and original songs, all of which were recorded and produced by Gillespie himself. "The production shows where I was at the time. I didn't need any noise in my life, I didn't need anything fake. There's no programming," he explains. "I did it all myself. It's as naked as I could get it to be. It's raw and honest—it's what I sound like at my worst, with a broken heart."

The covered tracks from Underoath—"A Boy Brushed Red" and "Reinventing Your Exit"—are, to Gillespie, sacred and nostalgic. His other songs, like the cover of The Almost's "Say This Sooner," include honest lyrics he still needs to sing. His original songs, however, are too sentimental to discuss. "'Raspberry Layer Cake' is the most honest song I've ever written," he confesses, "and I won't talk about it."

To Gillespie, life is about what you do with the negative. Although sometimes things go wrong, and some paths end up in a place you never wished to travel, it's up to you what to do when you get there. "When you're really going through something," he notes, "when you're really being wrung over the washboard, you can find beautiful art inside yourself." Out Of The Badlands, out August 19th on Tooth & Nail Records, is the result of that wringing.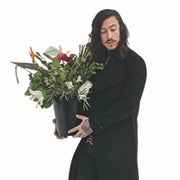 Doors

7:00 PM

Show

9:00 PM

Price

$17 Advance

$20 Day of Show
SHOWINGS
This event has already occurred.