Thu, Feb 20, 2020
Orion & The Melted Crayons, Dirty Grass Players, and Pierce Edens
About Orion & The Melted Crayons:
Based in Charlottesville VA, Orion and the Melted Crayons creates their signature sound by blending developing lyrics, intricate harmonies and musicality with smacking grooves. With a penchant for finding the joy in the world, the TMC catalog contrasts soaring highs and everyday vibes with poignant pain atop a bed of sweet chords and interlocking poly-rhythm. Songwriter and producer Orion Faruque, a Charlottesville native, returned to Virginia after years spent traveling the continental US and released an acoustic project called the Breathe E.P. in May 2018. After the release, he promptly got to work assembling a team of multiinstrumentalist's to support his songwriting centered around hope being our umbrella from the world. Over the course of 2 years, the band has grown from an acoustic based project to a full blown funk rhythm section comprised of Orion Faruque on Electric Guitar, Ryan Blanton on Lap Steel, Elie Bashkow on Violin/Mandolin, Ryan Goodrich on Trumpet/Keys, Nan Macmillan on Acoustic Guitar, Austin Angulo on Drumset and Grady Tollison on Bass Guitar. The band loves swapping instruments to better serve the song so you may find them playing musical chairs during their next show. As the Melted Crayons, the band's musical friendship brings a dynamic and conversational feel to the songs. They are constantly learning from each other and expanding their musical knowledge. TMC scales from a duo/trio for smaller venues all the way up to a full band for large venues.

About The Dirty Grass Players:
Hailing from Baltimore, The Dirty Grass Players have established themselves with one toe-tappin' foot in traditional bluegrass and blazing musicianship that pushes boundaries. Comprised of Mikey Sallemi on Bass, Alex Berman on Banjo, Ben Kolakowski with the guitar, and Ryan Rogers on mandolin, this four piece is
successfully bringing their growing fan base a down, dirty and heated performance. Their ability to seamlessly transition from down home bluegrass to spirited improvisation makes each performance unique. Throw in some Allman Brothers, Pink Floyd or a dash of southern rock and you'll quickly understand what they mean by Dirty Grass. Their self-titled debut CD The Dirty Grass Players captures this energy and as 2017 winner of Charm City Bluegrass & Folk Festival Band Competition clearly indicates, this is just the beginning. Successfully touring the Mid-Atlantic and festival appearances, this year finds the group expanding along the East Coast and building on this momentum. For anyone that enjoys a musical throwdown by skilled musicians it is time to get your grass dirty. The last 2 years have consisted of a busy touring schedule that has kept The Dirty Grass Players from releasing new music, but in 2019 they are excited to get new tunes out into the world. Their first single "Grand Voyager" - released in April of 2019 - is a fast-pickin' tune that pays homage to their humble
beginnings. Reminding their fan base why they love them, this tune will also help any non-bluegrass-lover transition into becoming an appreciative consumer of bluegrass music, or should we say "Dirty Grass". Stay tuned for the full album dropping in the fall.

About Pierce Edens:
Stripped Down Gussied Up is a heaping handful of intriguing juxtapositions; paradoxical natures set to play against one another. The result is a complex work that defies easy classification. Lyrics about rage, love, murder, loss, and rebirth all play out over a lushly treated yet spare musical backdrop that is both acoustic and not; distinctly rooted in Appalachian traditions, yet unmistakably modern, sweetly nostalgic, and urgently current. After years of bar-band, bombastic rocking bluegrass and blues arrangements (with the occasional departure into classical music and folk) we see Edens taking a more nuanced approach that highlights the talents apparent in both the recording members of the group. Kevin Reese, making his recording debut with Edens, shines though with his searing guitar breaks while simultaneously supporting the song in appearances on a myriad of Appalachian stringed instruments and subtly sweet harmonies throughout. Edens, meanwhile brings his signature twisted vocal bray and dark, detailed songwriting to bear, while also adding a muscular rhythm backing both on guitar and percussion. The result yields an impossibly big sound for a duo. From the soaring melancholy of "Sirens" to the haunting heavy thud of "Body" to the ambling good-nature of "It's Alright, It's All Wrong," Stripped Down Gussied Up is full and complete work, masterfully done, and lovingly touched with humanity, in all it's grimy, glorious idiosyncrasies.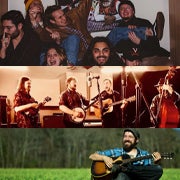 Doors

6:30pm

Show

8:30 PM

Price

$12 Advance

$14 Day of Show
SHOWINGS
This event has already occurred.